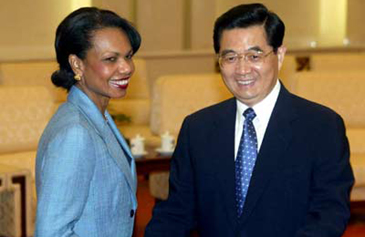 US Secretary of State Condoleezza Rice (left) meets with Chinese President Hu Jintao in Beijing's Great Hall of the People July 9, 2004. Courtesy Reuters
Condoleezza Rice will make her first trip to Asia as U.S. secretary of state next week to discuss with the Chinese and others how to resume talks on North Korea's nuclear program and to encourage India-Pakistan peace moves, the State Department said Wednesday.
President Bush has pledged to stress diplomacy in his second term and is sending Rice to the region on what will be her fifth foreign trip since taking up her post in late January. After travel that has focused on Europe and the Middle East, where she was well-received, Rice will visit India, Afghanistan, Pakistan, Japan, South Korea and China on a March 14-21 trip, the State Department said.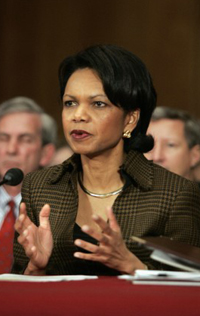 Condoleezza Rice
"In South Asia, the secretary will highlight positive momentum in the region, including our transformed relationship with India, our continuing commitment to Afghanistan's reconstruction and our long-term engagement with Pakistan," the department said in a statement. It said Rice would also review efforts to reconvene the six-party talks aimed at stopping South Korea's nuclear weapons programs. Japan, China and South Korea are, with Russia and North Korea, taking part in that effort. North Korea, which announced it had a nuclear bomb last month, has refused to return to the talks since mid-2004. India and Pakistan, which came close to war in 2002, have made peace overtures this year. The Pakistani president, Gen. Pervez Musharraf, hopes in the coming weeks to make his first visit to India since 2003 and the nations plan to launch a bus service linking parts of disputed Kashmir next month.
Rice was expected to have talks with Musharraf which could indicate how far Bush is prepared to press his case for the spread of democracy in autocratically run states. The general has been a strong ally in Bush's war on terrorism.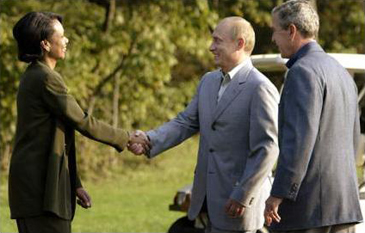 Condoleeza Rice, Vladimir Putin, George Bush
Rice's visit to Afghanistan follows a State Department report this month expressing concern that four years after the U.S.-led invasion to oust the radical Taliban leadership the country was "on the verge of becoming a narcotics state."
Profile: Condoleezza Rice
Ms Rice's intellectual brilliance is undisputed
Condoleezza Rice is the first black female to be appointed as US secretary of state. She was also the first to occupy the key post of national security adviser. She is the most academic member of the Bush foreign affairs team and - because of her gender, background and youth - one of the most distinctive.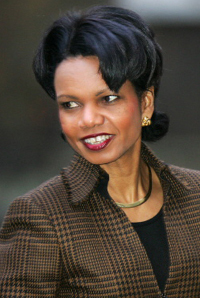 Condoleezza Rice
Personally close to Mr Bush, she spends almost every weekend with the president and his wife Laura at Camp David. She has been one of his key supporters during the wars in Afghanistan and Iraq, and in the continuing war against terror. Despite a somewhat stern demeanour, which has earned her the nickname "warrior princess," Ms Rice has consistently been one of the most popular members of the Bush administration and a proven ally for a president who came to office with little experience of foreign affairs.
Against all odds
Ms Rice was born in 1954 and grew up in Birmingham, Alabama under the shadow of segregation. Racism was so ingrained in her childhood that she says she hardly noticed it. My parents had me absolutely convinced that, well, you may not be able to have a hamburger at Woolworth's but you can be president of the United States When she was just eight years old, Ms Rice was standing inside her father's church when she felt the floor shake. A Ku Klux Klan bomb had exploded at a Baptist Church two blocks away, killing four young black girls, one of them her classmate since kindergarten.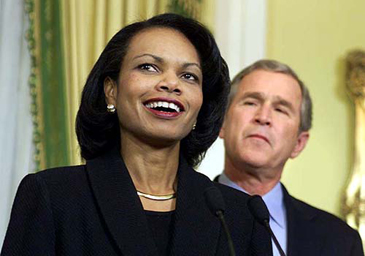 Condoleezza Rice (front) with President George Bush
She has often said that to get ahead, she had to be "twice as good," and her childhood chiselled her strong determination and self-respect. Ms Rice's mother was a music teacher who taught her to play the piano. Her father was a pastor and college principal, who shared his enthusiasm for sport with his daughter.
Change of heart
In an interview with Newsweek magazine, Ms Rice said that despite growing up with racial segregation, personal expectations were high. "My parents had me absolutely convinced that, well, you may not be able to have a hamburger at Woolworth's but you can be president of the United States," she said.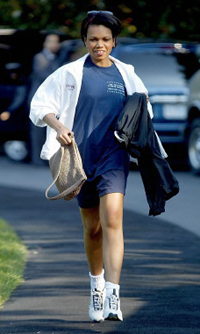 Condoleezza Rice jogging
Rice is a close friend as well as political ally of Bush. Her parents taught her that education was the best armour against segregation and prejudice. Regarded as one of America's brightest and best, Ms Rice went to the University of Denver at 15 and graduated with a degree in political science at the still tender age of 19. A concert level pianist, she had originally enrolled as a music student, with the intention of becoming a classical pianist. But while at Denver she came under the influence of Josef Korbel, a Czech refugee and father to the US' first woman secretary of state, Madeleine Albright. Under his guidance, she became interested in international relations and the study of the Soviet Union and switched courses.
Testing times
A masters and doctorate followed and, at the age of 26, Ms Rice became a fellow at Stanford University's Centre for International Security and Arms Control. After serving as the Soviet affairs adviser on Bush senior's National Security Council, Condoleezza Rice returned to Stanford in 1991 and, in 1993, became the youngest, the first female and first non-white provost.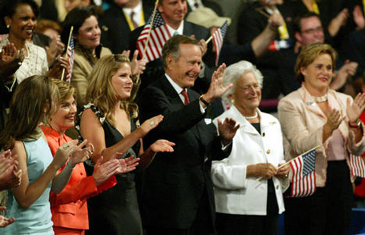 Condoleezza Rice (left on last row) with Bush family
Until her appointment as national security adviser, she was a member of several boards of directors, including that of the Chevron Corporation (which named one of its oil tankers Condoleezza Rice, but later renamed it Altair Voyager). When the Bush administration came to power, her influence over early foreign policy strategy was considerable. She led the tricky negotiations with Russia over missile defence, and is thought to have spearheaded the unilateralist tone of the first months of the Bush presidency. But it was in the wake of the 11 September 2001 attacks in Washington and New York that she really proved her strength, standing staunchly by the president during the difficult days ahead and the subsequent wars in Afghanistan and Iraq.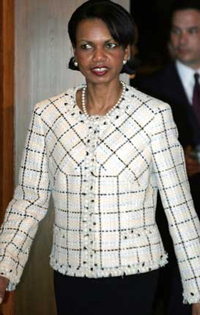 Condoleezza Rice
She is thought to be one of the most significant creators of the controversial Bush doctrine of pre-emptive action against states thought to be a threat against the US. "The United States has always reserved the right to try and diminish or to try to eliminate a threat before it is attacked," she stated firmly in an interview shortly before the war in Iraq. But controversial as this view may be it has done nothing to diminish her popularity, both inside and outside the White House. In fact, her steely determination in these times of conflict may serve her well as she prepares to take up the post of secretary of state.
The above articles are from Reuters and BBC.
Photos of Condoleeza Rice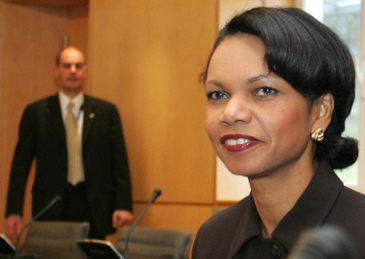 Condoleezza Rice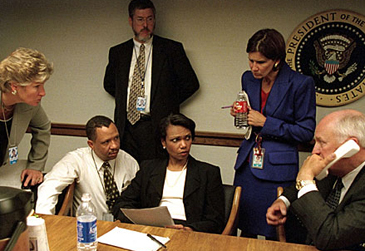 Condoleezza Rice (center) at work with her staff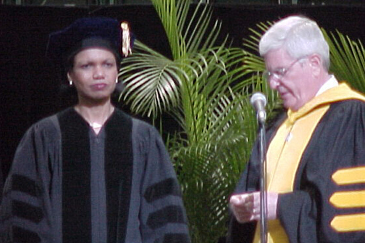 Condoleezza Rice (left)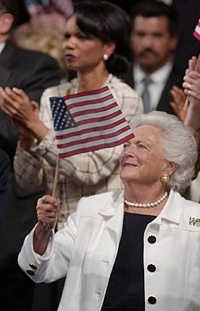 Condoleezza Rice (upper) seen with Mrs. Bush