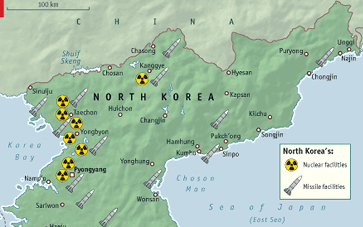 North Korean nuclear facilities Courtesy Economist
North Korea has no nuclear weapons,despite its repeated claims to the contrary, Itar-Tass quoted a high-ranking Russian official as saying on Thursday.Russia's Deputy Atomic Energy Minister Sergei Antipov made the comment during an interview with Russian news agency Itar-Tass in Tokyo. He is currently visiting Japan to discuss cooperation between the two countries on several nuclear projects, according to a Tokyo datelined story filed by Yonhap News.
"Pyongyang has no possibilities to produce arms-grade (nuclear) charges," he was quoted as saying in the interview.He did not rule out the possibility of the North completing the process of producing plutonium from its 8,000 spent nuclear fuel rods. However, the availability of materials does not mean that North Korea has developed nuclear weapons from them, "since the
technology of their production is by an order more difficult than the use of atom for peace," the Russian official said.Pyongyang declared on Feb. 10 that it has produced nuclear weapons and will boycott negotiations until Washington softens its "hostile" policy toward it.The six-nation disarmament talks, which involve the two Koreas, the U.S., China, Japan and Russia, convened three times to try to resolve the North's nuclear dispute, but little progress has been made. A fourth round, scheduled for last September, did not take place after North Korea boycotted it.
In the meantime, Russia knew about North Korea's Feb. 10 declaration that it possesses nuclear arms and is indefinitely boycotting six-party nuclear talks at least two days ahead of the official announcement, a diplomatic source told Kyodo News ..The North Korean Foreign Ministry announced Feb. 10 that Pyongyang has manufactured nuclear weapons and that it would indefinitely boycott the six-way talks involving China, Japan, North and South Korea, Russia and the United States. It was not immediately clear whether Russia obtained the information through official channels or its own sources. Several Chinese government sources told Kyodo News that Beijing was not notified of the North Korean declaration in advance. When U.S. Ambassador to South Korea Christopher Hill met with Chinese officials in Beijing in mid-February, Chinese officials expressed surprise at the North Korean announcement because China did not hear anything about it in advance, according to another diplomatic source. The six have met for three rounds of talks on North Korea's nuclear ambitions since August 2003. But the fourth round, which had been scheduled to be held by the end of last September, did not take place after North Korea accused the United States of "hostile" policy toward Pyongyang.