Dalilah Ahmad, former director of communications at Tourism Malaysia, has been appointed the tourism agency's deputy director general (II) on March 1, 2005.As deputy director general, she shares the task of managing Tourism Malaysia's diverse roles and responsibilities with another deputy director general (I), Mirza Mohamad Taiyab. The departments that fall under her purview are Information Technology, Planning and Research, Administration, Industry Development, Domestic Promotions and Tourism Services.Throughout her tenure with Tourism Malaysia — a period of more than 25 years — Dalilah has accumulated vast experience and an intimate knowledge of the industry that will serve her in good stead in her new appointment.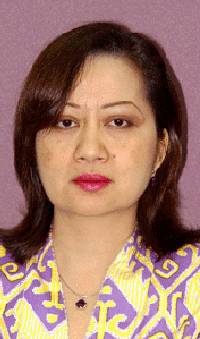 Deputy Dir. Gen. Dalilah Ahmad
Her debut in the tourism industry was on 18 October, 1976, as Assistant Director in the Research and Training Division of the Tourist Development Corporation (TDC) as it was called at the time. From there, her career in the agency took off with postings in the marketing and enforcement divisions as Assistant Director. Promoted to the post of Director of Finance and Administration in 1991, she was involved in the setting up of Tourism Malaysia's regional and overseas offices in France, Vancouver and Perth. She later headed the Enforcement and Facilitation, Special Events, and Domestic Promotions divisions in the years that followed.A lady who spearheaded many "firsts" in her career with Tourism Malaysia, Dalilah played a pivotal role in implementing several pioneering projects including important national-level events such as Flora Fest and Floral Parade, Pesta Malaysia, Shopping Carnival, World Amateur Inter-Team Golfing Championships, the Cuti-Cuti Malaysia campaign, and the Citrawarna celebrations and street parade. She was also influential in setting up the Visitor Service Centres in KLIA and KL Sentral, and the Shopping Carnival Secretariat to oversee the Shopping Carnival events. Her leadership was instrumental in conceptualising the Malaysia Tourism Awards, an event that acknowledges outstanding achievements in the tourism industry.In November 2002, Dalilah was appointed to set up and lead the newly-created Communications Division. During her service as Director of Communications, she played a key role in assisting the Ministry of Tourism handle major crises such as the SARS and Tsunami situations faced by the region, as well as establishing valuable contacts with the local and international travel trade and media fraternity.Born on 3 June in Johor Bharu, Dalilah received her formal education at the Sultan Ibrahim Girls' School and Tun Fatimah College. She graduated from University Malaya with a Bachelor's degree in Arts, majoring in English.Dalilah is married to Mohd. Nazuri Hashim Shah, Director General of the Malaysian Timber Industry Board, and they have two lovely daughters, Natasha Nadia and Darlina Diyana.