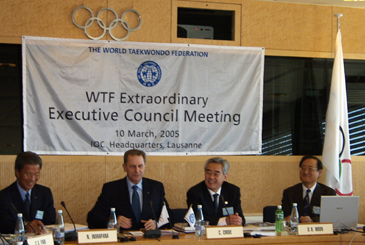 Dr. Jacques Rogge (second from left), president of the International Olympic Committee, talks during the extraordinary Executive Council meeting of the World Taekwondo Federation, at the IOC Headquarters in Lausanne, Switzerland, on March 10. Also seen is Dr. Chungwon Choue (second from right), president of the WTF, Dr. Nat Indrapana (far left), IOC member from Thailand, and Dong-hoo Moon, WTF secretary general.
LAUSANNE, Switzerland (March 10, 2005) — The Executive Council of the World Taekwondo Federation approved in principle a series of policy recommendations developed by the Reform Committee at the IOC Headquarters here today, that could form the foundation for a major overhaul of the WTF.The Executive Council also endorsed the formation of a temporary task force at the WTF that would develop detailed action plans for reform recommendations, which require changes to Taekwondo competition rules and other WTF regulations.Among the recommendations to be applied starting at the 2005 World Taekwondo Championships in Madrid, Spain, next month, are changes to the competition format such as a shortened duration for the men's contest, and a new "sudden death" overtime round.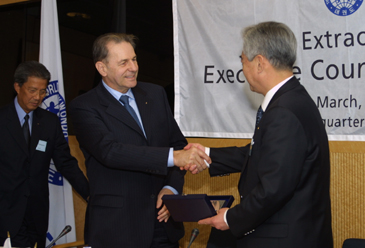 Dr. Jacques Rogge shakes hands with Dr. Chungwon Choue.
The amendments call for a shortened contest duration for men, from three minutes per round to two minutes, based on the existing three-round system, and the introduction of a sudden death round that will decide a match that is tied after three rounds.The Taekwondo competition area would become more compact, shrinking from the present 12-by-12 meters to a 10-by-10 meter square. At the same time, the number of judges would be increased to four — one at each corner of the competition floor — from the current three. These two revisions would apply to WTF-promoted competitions starting in 2006.Executive Council members also endorsed in principle the awarding of points by fist techniques, while making it compulsory for athletes to wear gloves as an added safety measure.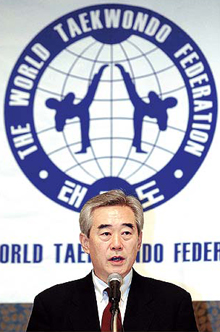 WTF (World Taekwondo Federation) President Chungwon Choue delivers a speech at his inaugural ceremony held at the Plaza Hotel in downtown Seoul June 25, 2004.
Besides those changes, council members endorsed a series of promotional and marketing programs, along with a strengthened Solidarity Program for the WTF's 177 member National Associations. They also shared the view that the proposed task force should research further before deciding on other matters of great concern, such as the introduction of electronic protectors and colored uniforms."Today's meeting was extremely meaningful and historic," said WTF President Chungwon Choue. "What the Executive Council decided today is that we should ceaselessly carry out our reform plans with determination and conviction."Choue also said, "With the Executive Council's approval, I strongly believe that not only the Executive Council members, but also all members of the Taekwondo family will take part in the reform initiatives, thus greatly enhancing our status as an Olympic sport federation."Also attending the extraordinary Executive Council meeting was IOC President Jacques Rogge, who expressed a great deal of interest in the WTF's ongoing reform efforts. After four months of research and discussion, the WTF Reform Committee, chaired by Dr. Nat Indrapana, an IOC member from Thailand and vice president of the WTF, produced a set of recommendations for the world governing body of Taekwondo in late February.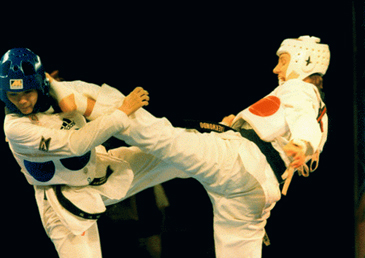 A Taekwondo competition
The 11-member Reform Committee was charged with drawing up recommendations aimed at making Taekwondo more action-packed and appealing to global audiences, and transforming the WTF into a more global-minded and professional organization.Their recommendations spanned a broad area of competition format, refereeing, public relations, marketing, doping, development and solidarity, membership, WTF organizational structure, headquarters administration, ethics guidelines, finance, competition management, international relations, IT and internal communications, and a Reform Fund.For further information, please contact the PR division of the WTF at (82) 2-557-5446.