The U.S. deficit in global goods and services trade in January rose 4.5 percent from the previous month to $58.27 billion — its second-highest level ever — due to all-time high imports, after the deficit fell in December for the first time since September, according to the Commerce Department Friday.
Economists continue to expect the weakness of the dollar to help narrow the deficit, boosting US exports and limiting demand for imports. But there remains no indication that this process has started. Instead, the weakness of the dollar seems to have been overshadowed by the strength of domestic demand in the US.The politically sensitive deficit in goods with China rose 6.9 percent to $15.26 billion, the third highest, on lower exports, while that with Japan fell 9.3 percent to $6.21 billion, the lowest since last May, the department said in a preliminary report. The all-time high deficit in goods and services trade of $59.4 billion was posted last November. The global trade figures are measured on a balance of payments basis after seasonal adjustment, and the country-by-country and regional breakdown is based on unadjusted customs-cleared data.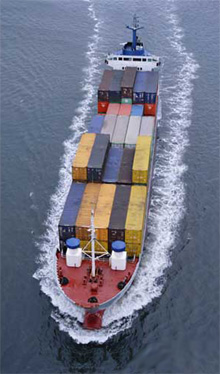 In global goods and services trade, U.S. imports climbed 1.9 percent to a record $159.10 billion on record imports of consumer goods, automobiles and parts despite lower oil prices. The January import average price per barrel of crude oil came to $35.35, the lowest since last July. Petroleum imports fell 5.3 percent to $16.53 billion, but the goods trade deficit with members of the Organization of Petroleum Exporting Countries rose 4.1 percent to $6.05 billion. U.S. exports also hit a record, rising 0.4 percent to $100,83 billion on all-time high shipments of industrial supplies, automobiles and parts and second-highest exports of consumer goods. As for goods trade with China, exports fell 19.9 percent to $2.61 billion, while imports rose 1.9 percent to $17.86 billion.
Exports to Japan fell 10.5 percent to $4.00 billion, and imports fell 9.8 percent to $10.21 billion. The January U.S. deficit in global goods trade rose 4.0 percent to $62.28 billion, while services trade produced a surplus of $4.01 billion, down 2.5 percent. A breakdown of goods trade in January showed that the U.S. deficit with the four newly industrialized economies in Asia — Hong Kong, South Korea, Singapore and Taiwan — expanded 132.1 percent to $1.86 billion after a sharp fall of 67 percent in December. The U.S. deficit with the European Union fell 21.9 percent to $8.06 billion.