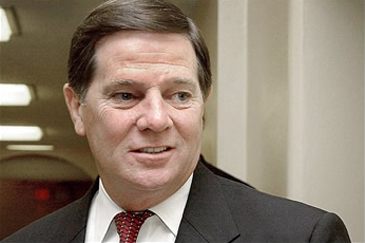 US House Majority Leader Tom DeLay
House Majority Leader Tom DeLay, whose aggressive use of power has earned him ethics reprimands in the past, is drawing fresh fire on Capitol Hill this week over his role in a Texas political-financing operation and reports of possible travel irregularities in violation of House of Representatives rules.
House Democratic leader Nancy Pelosi on Thursday renewed her call for the House ethics committee to determine whether DeLay's activities require further investigation. Some House Republicans worried that the revival of an ethics flap surrounding DeLay could distract him from pushing President Bush 's second-term agenda. DeLay was treated Thursday at the Naval Medical Center in Bethesda for heart arrhythmia and wasn't available to comment. After tests, he was sent home to rest. His office said the condition has been monitored for years. While DeLay hasn't been charged with wrongdoing, questions are swirling over what he knew about three events involving fund raising and travel: -Two DeLay associates are under indictment in Texas as part of a criminal investigation into a political action committee that DeLay helped create in 2001. The prosecutor, a Democrat, has said the committee was designed to direct corporate donations to Republican state candidates, a violation of Texas law. On Wednesday, DeLay told reporters that he was aware of the committee's fund raising and that it had been cleared by lawyers. - In 2000, DeLay played golf in Scotland on a trip arranged by Republican lobbyist Jack Abramoff, who's now under investigation by a federal grand jury and a Senate panel for selling access to members of Congress. National Journal, a magazine that covers Washington, reported last week that Abramoff paid for DeLay's hotel, which would violate House rules. -In 2001, DeLay took an expense-paid trip to South Korea under the auspices of the Korea-U.S. Exchange Council, an organization registered as a foreign agent. House rules prohibit members from accepting travel or other gratuities from registered foreign agents. The group registered as a foreign agent three days before DeLay's August trip.
Other House members - Republican and Democrat - have since traveled to Korea at the council's expense. This incident was first reported Thursday by The Washington Post and the facts have been confirmed independently.
DeLay's spokesman dismissed the flap as politics as usual.
"Majority Leader DeLay is a fixture within the conservative movement and has a strong record of accomplishments, which makes him an inviting target for liberals and Democrats alike. It goes with the territory. He understands that," said Dan Allen, his spokesman. DeLay has said that the case in Texas is politically motivated and that neither he nor his associates did anything wrong.
On the two instances of overseas travel, DeLay reported the trips in his disclosure forms. He said last week that he isn't aware that Abramoff covered any of the costs of the Scotland trip. He said his trip to Scotland was part of a broader visit to Great Britain, where he met with conservatives. According to DeLay's disclosure forms, the $28,106 trip was paid for by the National Center for Public Policy Research, a conservative think tank. National Journal, however, reported that Abramoff submitted a bill to his law firm for DeLay's hotel expense.
"The trip was paid for by the National Center for Public Policy Research, as is reflected in my public disclosure forms," DeLay said. "All this other stuff I have no idea." The center says it paid all DeLay's expenses. On Wednesday, DeLay defended the work of Texans for a Republican Majority, the committee he helped create to elect more Republicans in Texas. "It was my idea. Or it was our idea, those of us that wanted to enhance the Republicans who served in the House of Representatives in the Texas Legislature," he said. "When you have lawyers advising you every step of the way in writing, it's very hard to make a case stick." The new attention to DeLay's ethics comes as Democrats question the impartiality of the ethics committee, known as the Committee on Standards of Official Conduct. It admonished DeLay three times last year for improper behavior. Furious over the committee's action, Republicans muscled through a rules change early this year that requires a majority vote in the ethics committee to start an investigation; the committee is evenly split between Democrats and Republicans, so the change allows a partisan deadlock to block any inquiry. On Thursday, committee Democrats refused to accept the rules change, leaving the panel unable to carry out its major duties. Though any House member could file a complaint that would initiate at least a review by the ethics committee, Pelosi said she would leave it to the panel to decide whether to proceed against DeLay. "It is the responsibility of the ethics committee," she said. "Will the Republicans on the committee move forward to investigate the issues that are in the public domain?"
DeLay left the Capitol early Thursday after experiencing fatigue, according to a statement by his office. Capt. Michael Curran, head of cardiology at the medical center, said in the statement that DeLay has arrhythmia, a common and treatable condition that DeLay's personal doctor in Texas has been monitoring for years. "After completing a series of tests and successful treatment of the arrhythmia, I discharged Mr. DeLay so he could return to his residence and rest in comfort for the remainder of the day," Curran's statement said.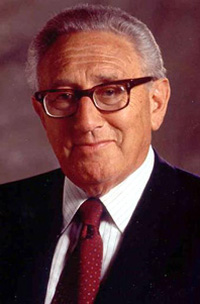 EX-US State Secretary Henry A. Kissinger
At least seven other House members, from both parties, took the trips. Former secretary of state Henry A. Kissinger resigned from the board of the group. A Kissinger aide said he had not known about the registration as an agent of a foreign government or political party. The exchange council, founded in 2001 under the charities section of the tax code, is largely funded by a South Korean holding company — Hanwha Group — and has another prominent board member in Edward J. Feulner, president of the Heritage Foundation. Sources familiar with the operations of the exchange council said yesterday that the group apparently did not need to file under the Foreign Agents Registration Act and is exploring how to rescind its registration so that lawmakers would be free to accept its trips. Such a move might also mitigate the potential ethical issues for the lawmakers from both parties who have accepted trips to Korea over the past four years, the sources said. The council said in a statement that it is "examining whether such registration was ever appropriate for an organization like KORUSEC." "Members of Congress were assured by KORUSEC that these exchanges met with the approval of the [ethics committee], as we believed to be the case," the statement said. "We regret if we were in error and are moving with dispatch to take the necessary corrective action."
| | |
| --- | --- |
| | Hanwha Chairman Kim Seung-Yeon — South Korean prosecution sought a-year-and-half jail term Sept. 7, 2004 for Hanwha Chairman Kim Seung-Yeon who was suspected of supplying illegal money to political circle in the last presidential election. Photo Courtesy of Hangyerye |
House Minority Leader Nancy Pelosi (D-Calif.) said her party is backing a resolution to "overturn what the Republicans did on that opening day and to make the ethics process indeed bipartisan again." In a clear reference to DeLay, Pelosi said at her weekly news conference: "In order for whatever accommodation they wanted to make for whoever they wanted to make it, there is no ethics process under the rules that they have put forth."
Pelosi, who has an aide who accepted a trip from the exchange group last fall, said the committee should look into DeLay's handling of the matter but made no mention of her aide. "This will be a challenge to this new order or lack of order in the ethics committee," she said. The committee "has had a coup launched against it where they removed the chairman and took out two Republican members of the committee, replacing them with people who have already contributed thousands of dollars to Mr. DeLay's defense fund. Is this ethics committee capable of reviewing matters regarding Mr. DeLay that are now in the public domain?" Ron Bonjean, communications director for House Speaker J. Dennis Hastert (R-Ill.), said it was unclear last night how the logjam could be broken. "Democrats have chosen to shut down the ethics process," he said. "It's up to the House Democrats to put the ethics process.
The above article is compiled from Washington Post., UPI and other wire services.