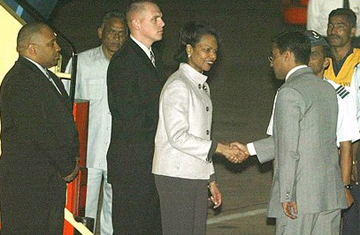 US Secretary of State Condoleezza Rice in India Courtesy AP
NEW DELHI, March 15, 2005 — Secretary of State Condoleezza Rice asserted Tuesday that North Korea's "isolation from its neighbors has deepened" as it has bolstered its nuclear stockpile in the past year, even as South Korea and China continue to maintain close economic links to the North. Speaking to reporters as she traveled to India for the first leg of a week-long Asian tour, Rice also brushed aside North Korea's pronouncement Tuesday that it might increase its nuclear arsenal to maintain a balance of power in East Asia and help prevent a U.S. attack. Rice reiterated the administration's position that it had "no intention" of attacking or invading North Korea. She said the Bush administration understood that South Korea needed to seek good relations with its neighbor, but she said "the relationship is not moving as rapidly as it once was" because the North continues to develop weapons. Rice, who praised nuclear rivals India and Pakistan for reducing tensions in recent years, planned to meet with senior Indian leaders Wednesday and then fly to Islamabad, the Pakistani capital, for talks with officials. She will also make her first visit to Afghanistan before flying to East Asia on Friday for discussions about the crisis over North Korea's nuclear ambitions.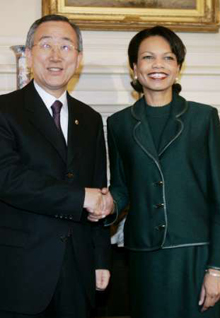 South Korean Foreign Minister Ban Ki-Moon (left) shakes hands with U.S. Secretary of State Condoleezza Rice in her office at the State Department in Washington, Feb. 14, 2005. Photo courtesy REUTERS/Larry Downing
Indian and Pakistani media have reported that during the talks, Rice will explore the possible sale of F-16 fighter jets to both nations — a shift in policy that would signal a new, more pragmatic approach to security relations with India and Pakistan. But officials traveling with Rice said she was not planning to announce any agreement. The United States has close economic and political ties with both nations, but it reacted with alarm in 1998 when India tested nuclear weapons and Pakistan immediately followed. The Clinton administration imposed economic sanctions on both countries as a result. Rice, who frequently cites President Bush's campaign for greater democracy abroad, declined to criticize Gen. Pervez Musharraf, Pakistan's president, for backing out of a promise to give up his post as army chief of staff. Musharraf, who seized power in a bloodless coup in 1999, has allowed a limited return to democratic institutions but retains ultimate power. She said Musharraf had "tried very hard to rid Pakistan of the kind of extremism that frankly, three or four years ago threatened to make Pakistan a state that was a supporter of terrorism." Musharraf broke a longstanding policy backing the Afghan Taliban regime in late 2001 and has cooperated closely with U.S. anti-terrorist efforts since then. Rice praised Musharraf for his efforts to promote economic reform but said: "We expect a commitment to a democratic path for Pakistan." On East Asia, Rice said the "unity of message and purpose" of the five nations negotiating with North Korea "have been very clear, the Chinese most especially."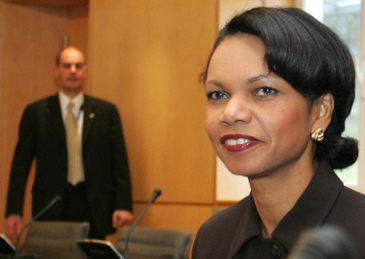 Condoleezza Rice
But U.S. officials say they are disappointed that China has not done more to prod North Korea to return to the talks. Chinese and South Korean officials, meanwhile, have publicly pressed the Bush administration to show more flexibility in its proposal to dismantle North Korea's weapons program. In fact, North Korea's economic ties have flourished with China and South Korea since the Bush administration confronted the North over a clandestine nuclear program in 2002. In Pyongyang, the North Korean capital, the European Union also has opened an extension of its Seoul-based chamber of commerce. Nearly a year ago, Vice President Cheney visited the region and told an audience in Shanghai that "time is not necessarily on our side." He said North Korea could peddle nuclear technology to terrorist groups and warned that as North Korea's neighbors faced the reality that it had nuclear weapons, "we may have a nuclear arms race unleashed in Asia." Experts estimate that North Korea's nuclear reactor could have produced enough weapons-grade plutonium for another nuclear weapon since Cheney issued his warning.
The above article is from Washington Post.
Profile: Condoleezza Rice
Ms Rice's intellectual brilliance is undisputed
Condoleezza Rice is the first black female to be appointed as US secretary of state. She was also the first to occupy the key post of national security adviser. She is the most academic member of the Bush foreign affairs team and - because of her gender, background and youth - one of the most distinctive.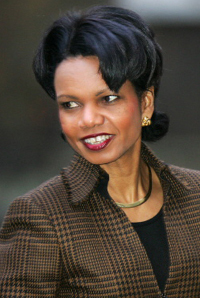 Condoleezza Rice
Personally close to Mr Bush, she spends almost every weekend with the president and his wife Laura at Camp David. She has been one of his key supporters during the wars in Afghanistan and Iraq, and in the continuing war against terror. Despite a somewhat stern demeanour, which has earned her the nickname "warrior princess," Ms Rice has consistently been one of the most popular members of the Bush administration and a proven ally for a president who came to office with little experience of foreign affairs.
Against all odds
Ms Rice was born in 1954 and grew up in Birmingham, Alabama under the shadow of segregation. Racism was so ingrained in her childhood that she says she hardly noticed it. My parents had me absolutely convinced that, well, you may not be able to have a hamburger at Woolworth's but you can be president of the United States When she was just eight years old, Ms Rice was standing inside her father's church when she felt the floor shake. A Ku Klux Klan bomb had exploded at a Baptist Church two blocks away, killing four young black girls, one of them her classmate since kindergarten.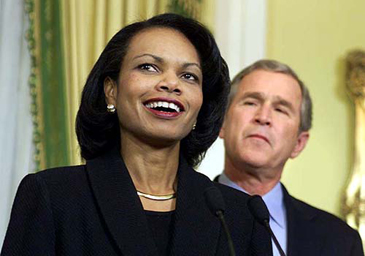 Condoleezza Rice (front) with President George Bush
She has often said that to get ahead, she had to be "twice as good," and her childhood chiselled her strong determination and self-respect. Ms Rice's mother was a music teacher who taught her to play the piano. Her father was a pastor and college principal, who shared his enthusiasm for sport with his daughter.
Change of heart
In an interview with Newsweek magazine, Ms Rice said that despite growing up with racial segregation, personal expectations were high. "My parents had me absolutely convinced that, well, you may not be able to have a hamburger at Woolworth's but you can be president of the United States," she said.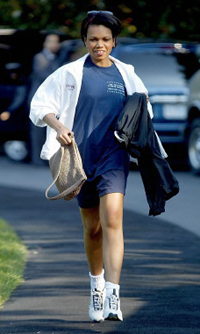 Condoleezza Rice jogging
Rice is a close friend as well as political ally of Bush. Her parents taught her that education was the best armour against segregation and prejudice. Regarded as one of America's brightest and best, Ms Rice went to the University of Denver at 15 and graduated with a degree in political science at the still tender age of 19. A concert level pianist, she had originally enrolled as a music student, with the intention of becoming a classical pianist. But while at Denver she came under the influence of Josef Korbel, a Czech refugee and father to the US' first woman secretary of state, Madeleine Albright. Under his guidance, she became interested in international relations and the study of the Soviet Union and switched courses.
Testing times
A masters and doctorate followed and, at the age of 26, Ms Rice became a fellow at Stanford University's Centre for International Security and Arms Control. After serving as the Soviet affairs adviser on Bush senior's National Security Council, Condoleezza Rice returned to Stanford in 1991 and, in 1993, became the youngest, the first female and first non-white provost.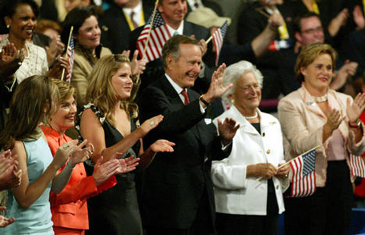 Condoleezza Rice (left on last row) with Bush family
Until her appointment as national security adviser, she was a member of several boards of directors, including that of the Chevron Corporation (which named one of its oil tankers Condoleezza Rice, but later renamed it Altair Voyager). When the Bush administration came to power, her influence over early foreign policy strategy was considerable. She led the tricky negotiations with Russia over missile defence, and is thought to have spearheaded the unilateralist tone of the first months of the Bush presidency. But it was in the wake of the 11 September 2001 attacks in Washington and New York that she really proved her strength, standing staunchly by the president during the difficult days ahead and the subsequent wars in Afghanistan and Iraq.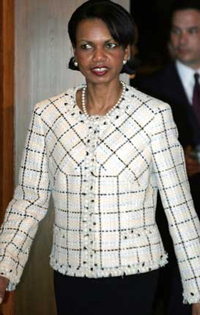 Condoleezza Rice
She is thought to be one of the most significant creators of the controversial Bush doctrine of pre-emptive action against states thought to be a threat against the US. "The United States has always reserved the right to try and diminish or to try to eliminate a threat before it is attacked," she stated firmly in an interview shortly before the war in Iraq. But controversial as this view may be it has done nothing to diminish her popularity, both inside and outside the White House. In fact, her steely determination in these times of conflict may serve her well as she prepares to take up the post of secretary of state.
The above articles are from Reuters and BBC.
Photos of Condoleeza Rice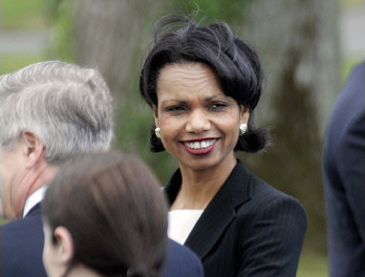 Condoleezza Rice smiling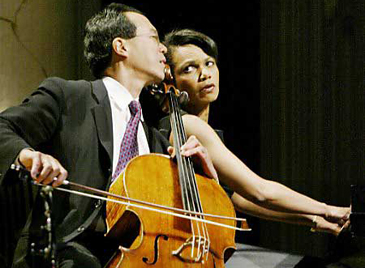 Condoleezza Rice performing with Yo-Yo Ma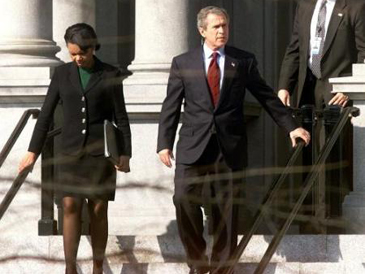 Condoleezza Rice with President George Bush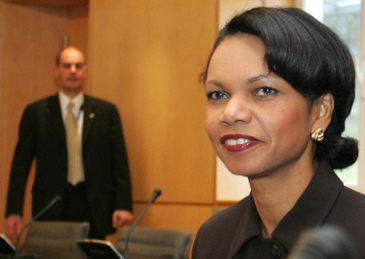 Condoleezza Rice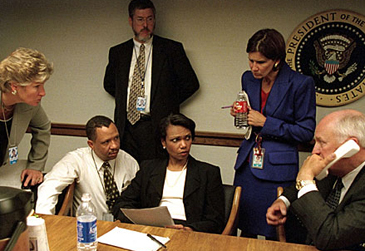 Condoleezza Rice (center) at work with her staff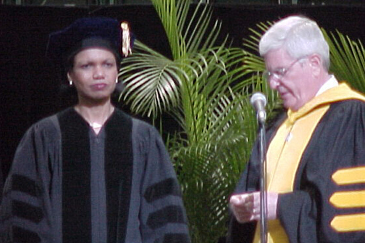 Condoleezza Rice (left)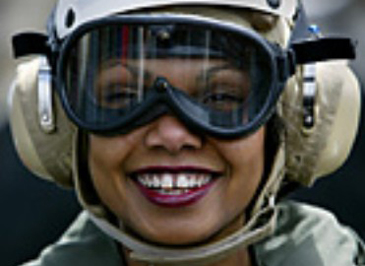 Condoleezza Rice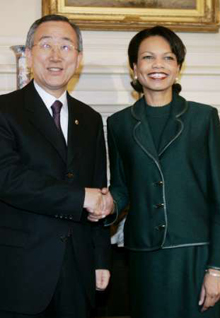 South Korean Foreign Minister Ban Ki-Moon (left) shakes hands with U.S. Secretary of State Condoleezza Rice in her office at the State Department in Washington, Feb. 14, 2005. Photo courtesy REUTERS/Larry Downing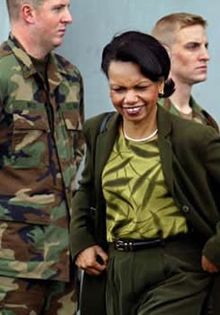 Condoleezza Rice with US soldiers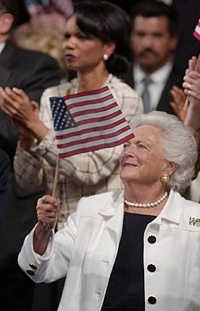 Condoleezza Rice (upper) seen with Mrs. Bush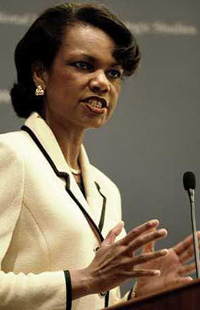 Condoleezza Rice