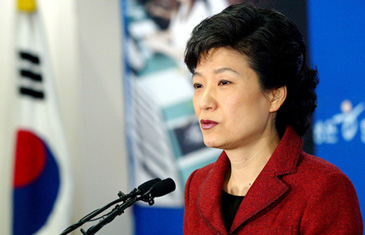 Main opposition GNP President Park Geun-Hye
From the beginning, Park Geun-Hye's political path was paved by tragedy. She lost her mother, then South Korea's first lady, to a North Korean assassin in 1974. Five years later, Park bowed before the coffin of her father, Park Chung Hee, the nation's longtime military ruler, who had been gunned down by his intelligence chief. But as her political star has begun to rise in South Korea, now a democracy, Park, 53, has transformed herself from a subject of national sympathy into a stateswoman. Over the past 12 months, she has taken the helm of the Grand National Party, shaking up the nation's largest opposition force, which had lost public support during corruption scandals and an unpopular attempt to impeach President Roh Moo Hyun.Park is now considered an early contender for the 2007 presidential race and has hinted at a bid to become South Korea's first female leader. She travels to Washington on Tuesday on her first official visit to the United States as head of the GNP. In three days of meetings with Bush administration officials and U.S. legislators, she says, she will call for strengthening U.S. ties with South Korea, the world's 10th-largest economy. Those ties have weakened in recent years, analysts say, as political differences over North Korea have divided presidents Bush and Roh. Bush has sought largely to isolate communist North Korea, but Roh has chosen a policy of engagement and reconciliation in the hope of coaxing the Pyongyang government into broader economic and political change. South Korean officials recently announced that they would not reverse the course of their economic projects in the North, including a new industrial complex, despite the North Korean government's declaration last month that it has nuclear weapons. In response, Park's GNP called for a parliamentary inquiry into Roh's North Korea policy.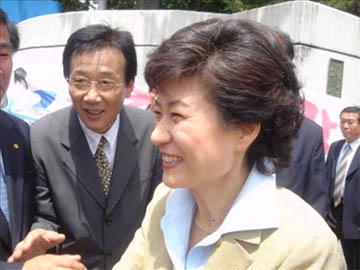 Park Geun-Hye surrounded by her supporters
In an interview Monday before her departure for Washington, Park said South Korea needed to do more to force the North back to international talks aimed at dismantling its nuclear weapons program. South Korea and China have advocated a softer line with North Korea, while the United States and Japan have pushed for a tougher stance. "If North Korea cooperates, we need to send the message that we are ready to help them economically," Park said. "But if they do not, then they need to realize that such a situation would make economic cooperation impossible." Park said she was pressing for an official statement outlining the economic penalties the North would suffer if it did not abandon its nuclear weapons program. Park's biggest hurdles lie not in Washington but in South Korea, where her father's legacy is being debated as never before. Park Chung Hee, who came to power in a 1961 coup, is revered by some as an anti-communist hero who set South Korea on the path to prosperity, but despised by others as a repressive violator of human rights. The governing Uri Party, including several of Roh's top aides who were arrested during Park Chung Hee's era, have moved to create a truth commission that is compiling a list of South Koreans who collaborated with the pre-World War II Japanese government during its long occupation of the Korean Peninsula. GNP officials view the commission as an attempt to sully the image of Park Chung Hee, who served as a soldier in the Japanese army during the occupation. A public disgrace of Park could kill the political ambitions of his powerful daughter. Park Geun Hye's foes are also moving to list those who illegally benefited under her father's dictatorship. "She's got her father's looks and her mother's hairstyle, but South Korea is no longer an old dynasty you inherit. ... We're living in democracy now," said Jung Chung Rae, a legislator from Roh's Uri Party. "We won't object to her growing into a mature politician in the future, but we absolutely oppose her riding on the back of such nostalgia." Park said she agreed that "Korean history needs to be reexamined," acknowledging past human rights excesses. But she insisted such a review should be conducted by neutral parties and viewed in the context of the Cold War. In addition, she said, there should be an investigation of people who "committed pro-North Korean acts under the guise of the pro-democracy movement" during her father's rule. Park may have difficulty connecting with younger South Koreans, who have no memory of the Korean War, tend to be more anti-American and often view her father and her party as relics of the repressive past. But she has moved to attract younger politicians to the party, incurring the wrath of some members. "The past is the past," she said. "I'm looking toward the future."
Special correspondent Joohee Cho contributed to this report for Washington Post.