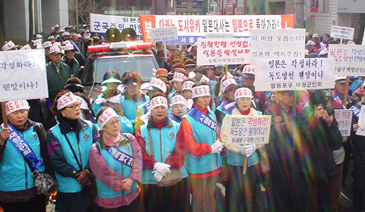 Hundreds of South Koreans are shouting anti-Japanese slogans in front of Japanese Embassy in Seoul.
Japan has recently given itself a tough diplomatic task by stirring up territorial and historical disputes with South Korea that had been lying dormant for some time.A Japanese prefectural government's bill to designate a commemorative day for an island claimed by both countries and the planned publication of a controversial history textbook critics deride as nationalistic have sparked angry reactions from South Korea.The reactions since last month were "much more severe than we had anticipated," a senior official at the Japanese Foreign Ministry said, suggesting they were strong enough to dash optimism about future bilateral ties.Critics have urged Japan to wake up to the reality that bilateral ties are not close yet despite a recent boom in Japan of South Korean pop culture, saying it could even affect multilateral attempts to settle the North Korean nuclear issue."It was a big mistake that Japan thought, or tried to think, that there were few problems left unresolved with South Korea," an expert in Korean Peninsula politics, Yasuhiko Yoshida, said.The professor at the Osaka University of Economics and Law was referring to the Japanese government's attempt to play up close ties with South Korea, with which Japan co-hosted the World Cup soccer finals in 2002."But anger against Japan still simmers in South Korea" and Japan misinterprets the reality, Yoshida said.
| | |
| --- | --- |
| | Members of civic and citizens groups are burning slogans and pickets during anti-Japanese demonstrations in front of Japanese Embassy in Seoul March 15, 2005. |
On Wednesday, the Shimane Prefectural Assembly enacted an ordinance to designate Feb 22 as "Takeshima Day," despite fear among some central government officials the move would provoke South Korea.Takeshima is an uninhabited island in the Sea of Japan which is controlled by South Korea. Sovereignty over the island, called Tokto in South Korea, has long been a source of dispute between Japanese and South Koreans.When a group of Shimane prefectural assembly members submitted a bill for the ordinance last month and some South Koreans began to criticize the move, many Japanese government officials seemed to play down their reactions.The senior Foreign Ministry official said at that time, "South Koreans get easily excited about something, but easily forget it too."Another top official at the ministry said the anger South Korea is expressing is so fierce that "it may take a long time for South Koreans to calm down."With the deterioration in bilateral ties in mind, Yoshida urged Japanese Prime Minister Junichiro Koizumi to "work more closely" with South Korean President Roh Moo Hyun on talking North Korea into abandoning its nuclear programs through the six-party talks.It would not be a good idea for Koizumi to remain aloof from Roh, who is clearly pursuing a dialogue-oriented policy toward North Korea, he indicated.China, Japan, South Korea, Russia and the United States are urging North Korea, the sixth member of the talks, to return to the stalled negotiations immediately.The controversial history textbook, edited by the Japanese Society for History Textbook Reform, is another cause of concern in bilateral ties for the Japanese government.Many South Korean newspapers criticized the textbook last week for trying to distort Japan's colonial rule of the Korean Peninsula from 1910 to 1945 even though the book has yet to be published.The Japanese government plans to screen the textbook next month in order to decide whether it can be used in the academic year from April 2006.Fuso Publishing Co published its first edition in 2001, sparking anger from various Asian countries, including China and South Korea.The top official at the Japanese Foreign Ministry indicated there are few immediate measures in hand to deal with the South Korean dissatisfaction, simply saying, "I believe the Ministry of Education, Culture, Sports, Science and Technology will handle the issue appropriately."Chung Dae Kyun, an expert on Japan-South Korea relations, voiced concern that bilateral ties might be soured and return to the level before then South Korean President Kim Dae Jung's visit to Japan in 1998.Kim said the country would try not to take up issues related to bilateral history and start to open doors to Japanese pop culture, in a statement he jointly signed with late Japanese Prime Minister Keizo Obuchi after a summit in Tokyo."Bilateral ties have seemed to get closer since then, but being aggressive to neighboring countries is still highly regarded in South Korea," said Chung, professor at the Tokyo Metropolitan University.
The above article is from Kyodo News.