| | |
| --- | --- |
| | Kim Jong-Il's family — The photo, taken in 1981, shows Kim Jong-Il with his oldest son Kim Jong-Nam (front row). Three others (second row) Kim's sister in law Sung Hye-Rang and her daughter Lee Nam-Ock and son Lee Han-Young. Sung and her children defected to South Korea later. Sun Hye-Lim, Kim's wife, was in Moscow for medical treatment when this photo was taken. |
North Korean leader Kim Jong-Il's hidden mistress and their daughter are living in Japan, a South Korean monthly magazine revealed in its March 18, 2005 issue.Wolgan (or Monthly) Chosun said that its story on Kim Jong-Il is based on several South Korean and Japanese sources including a Japanese business partner with Kim Jong-Nam, the eldest son of the North Korean leader.The monthly said that Kim's daughter, known as Mieko (美惠子), and her mother visit Pyongyang every year on the occasion of Kim Jong-Il's birthday. Kim's mistress and daughter usually bring presents with them for Kim Jong-Il.
| | |
| --- | --- |
| | Koh Young Hee, third wife of North Korean leader Kim Jong-Il. She was said to be Kim's favorite companion. She was the mother of two of Kim's three sons — Kim Jong-Chul and Kim Jong-Woon. Koh, who met Kim Jong-Il in Pyongyang while she was performing a member of a dance troupe made out of Korean resident in Japan. She died of heart failure in June 2004. |
The magazine revealed that Kim "secret woman" is in her early 50s. It said that she came to first meet with Kim nearly three decades ago when she made a tour of Pyongyang as a member of dance troupe of Jochongryon or pro-North Korean federation of Korean residents in Japan.Their daughter Mieko, who is in her late 20s, is now living in Tokyo, the conservative monthly confirmed. It said that Mieko looks like a girl from well-to-do family with neat and clean countenance.The monthly also said that she has a good personality enough to have a very friendly relations with her half brother, Kim Jong-Nam, the oldest son the Norh Korean ruler. The two step siblings exchanged Emails with each other until very recently.
| | |
| --- | --- |
| | Kim Jong-Nam, the oldest son of Kim Jong-Il, is now considered as the most likely candidate to succed the North Korean leader. The son of Kim's first wife has been viying for power with his half brothers — Kim Jong-Chul and Kim Jong-Woon, sons of Koh Young-Hee, the deceased third wife of Kim Jong-Il. |
Every year Mieko purchases a gift for her father, Kim Jong-Il, before she enters Pyongyang for her father's birthday, which is February 16. Normally she attends Kim Jong Il's birthday party.According to Japanese sources she took part in Kim's birthday party both in 2003 and in 2004, respectively.The monthly added that Mieko and her mother are treated as VIPs by the Japanese Police Agency.
Who Is Kim Jong-Il — Profile
| | |
| --- | --- |
| | North Korean leader Kim Jong-Il is seen smiling during his meeting with Russian President Vladimir Putin in Vladivostok, Aug. 23, 2002. Courtesy Reuters |
Kim Il-Sung's eldest son, Kim Jong-Il, was born on February 16, 1941 in Khabarovsk, USSR, as the eldest son of Kim Il-Sung and his first wife, Kim Jong Suk. The year of his birth has subsequently been changed to 1942 to make a more convenient 30-year age difference between himself and his father. The junior Kim started out as a guidance officer in the party's cultural and propaganda departments, owing to his playful nature, and this stint was followed by creation of his own clique and involvement in personnel reshuffling in the Organization and Guidance Department. His involvement in purging Kim Il-sung's guerrilla cronies and those who were not personal friends of his father was his way of proving his loyalty to the elder Kim. Kim Il-Sung began gradually preparing Kim Jong-Il as heir apparent since 1971. Between 1971 and 1980, Kim Jong-Il was given positions of increasing importance in the Korean Workers Party [KWP] hierarchy.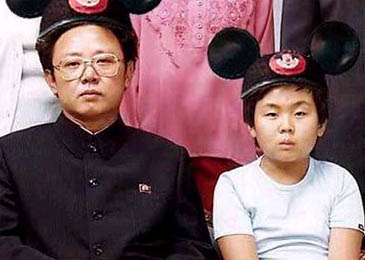 North Korean leader Kim Jong-il with Disney-defecting son
The junior Kim wrested the post of party organization secretary from his uncle in September 1973, and solidified his status as heir by virtue of his entry to the politburo in February of the following year. Beginning in the fall of 1975, North Koreans used the term party center to refer to Kim Jong-Il. Kim Jong-Il is reported to have concentrated a great deal of effort on the performing arts, and many artists began to use the term when referring to Kim. However, for a few years after its initial introduction the term was used only infrequently because Kim Il-Sung's efforts to promote his son met some resistance. At the Sixth Congress of the KWP in 1980, he was selected as a member of the Central Committee, a full member of the politburo, and a member of the military committee. It was at this congress that Kim Jong-Il became the formal successor to his father. Since the Sixth Party Congress, Kim Jong-Il's succession was consolidated with his phased assumption of control over the civil administration, followed by his designation as supreme commander of the Korean People's Army in December 1991.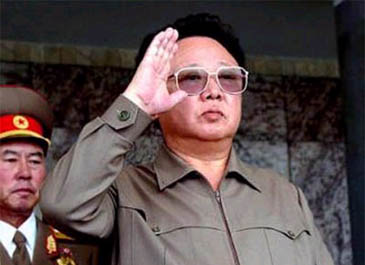 Kim Jong-Il salutes marches at 55th anniversary of the DPRK celebrations.
At a plenary session of the North Korean Worker's Party congress on December 24, 1991, Kim Il-Sung announced that Kim Jong-Il would replace him as supreme commander of the North Korean People's Army. Kim Il-Sung was awarded the rank of generalissimo (taewnsu) on April 13, 1992. On April 20, 1992, Kim Jong-Il, as supreme commander of the armed forces, was given the title marshal (wnsu) of the DPRK. Kim Il-Sung was the president and chairman of the National Defense Commission with command and control of the armed forces until Kim Jong-Il assumed the latter position in April 1993. Kim Jong-Il's appointment as commander of the Korean People's Army suggested that the succession issue finally had been solved because the military was once considered Kim's weak point; he already has full control of the state and the economic administration. Kim Jong-Il also managed political affairs and KWP businesses as a primary authority and handles symbolic roles such as meeting with foreign leaders and appearing at national celebrations. In addition, Kim Jong-Il played a prominent role in the KWP propaganda machine — mass media, literature, and art. Many literary and art works—including films, operas, and dramas — were produced under the revolutionary tradition of the KWP and Kim's guidance. Kim used popular culture to broaden his public image and gain popular support. Following the death of Kim Il-Sung on 08 July 1994, Kim Jong-Il inherited supreme power. There had never been this kind of dynastic succession in a communist regime before. Kim Jong-Il was named General Secretary of the Korean Workers' Party in October 1997, and in September 1998, the Supreme People's Assembly reconfirmed Kim Jong-Il as Chairman of the National Defense Commission and declared that position as the "highest office of state." Graduates of the first class of the Mangyngdae Revolutionary Institute, established in 1947, support Kim Jong-Il's power base. Many of these graduates occupy key positions in government and the military. For example, O Guk-nyol and General Paek Hak-nim— the latter, the minister of public security—are members of the Central Military Commission, KWP Central Committee, and the SPA; Kim Hwan, the former minister of chemical industry and a vice premier as of mid-1993, is a member of both the KWP Central Committee and the SPA; and Kim Yong-sun, a candidate member of the Politburo, is the director of the International Affairs Department, KWP Central Committee.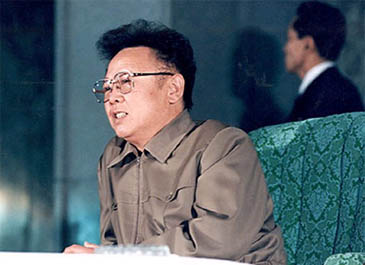 North Korean leader Kim Jong-Il
Kim Jong-il micro-manages every detail of government business. Kim Jong-il created a system of summarizing an account of events from all over North Korea into a daily report format during consolidation of his power within the party. Even county or municipal parties are to report directly to the party center if the event is deemed significant enough to warrant its attention. Kim Jong-il's impatience and extemporaneous behavior contrasts markedly with Kim Il-sung's magnanimity and charisma. The elder Kim was mindful of advice from others, while Kim Jong-il is arrogant and self-centered in policy decision. In addition, the junior Kim does not take kindly to criticism or opinions different from his own. Kim Jong-il's personality can be characterized by suspicion, and is extremely emotional in his expression of his likes and dislikes, which borders on double personality. Many of the stories about Kim Jong-Il's eccentricities and decadent life-style are exaggerated, possibly circulated by South Korean intelligence to disredit the Northern regime. Kim Jong-Il is a movie fanatic, and is said to hav a collection of over 20,000 films. In 1978, in order to advance the North Korean film industry, he ordered North Korean agents to abduct the famous South Korean movie director Shin Sang Ok and his ex-wife, actress Che Eun Hui, and kept them for eight years while making them produce propaganda films. During that time, the two became very well acquainted with Kim Jong-Il, and after escaping in 1986, they wrote a book exposing his decadent lifestyle. The concentration and maintenance of political power in the hands of one man over a period of decades defines the political system in North Korea. Kim Jong-Il was born into this system and is in a sense a prisoner of it himself. He cannot reform the system without undermining his own legitimacy. The only rational option for him has been to uphold the system. Economic and political reforms would let loose a tidal wave of resentment against the police state, and would aggravate rather than improve the economic situation.
Photos of Norh Korean leader Kim Jong-Il