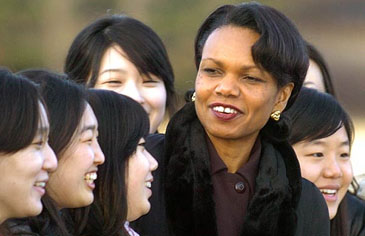 US Secretary of State Condoleezza Rice is surrounded by a group of students from Ewha Women's University at Seoul Airport (K-16 Air Base of US Army) in Seoul March 19, 2005. Photo Courtesy Yonhap
US Secretary of State Condoleeza Rice came to Seoul on March 19, 2005 for a two-day official visit to South Korea.Rice arrived at Seoul Airport (K-16 Air Base) in Seoul on a special flight at 5:35 p.m. At the airport she was greeted by 16 students from Ewha Women's University, who major in international relations.After the short meeting with the coed students, Rice flew by a Black Hawk copter (UH-60) to nearby Tango, an underground command control center of US-Korea Combined Forces Command on the outskirt of Seoul at 6:10 p.m.US Ambassador to Seoul Christopher Robert Hill accompanied Rice to the command control center. Hill was recently appointed by Rice as assistant secretary of state for US State Department's East Asia and Pacific Affairs, a position dealing with North Korea's nuclear issues. Rice was greeted by Gen. Kim Jang-Soo, deputy commander of ROK-US Combined Forces Command(CFC), and Cmdr. William J. Fallon of the US Pacific Command (PACOM) as well as US Gen. Leon J. LaPorte, commander of USFK (United States Forces Korea) and ROK-US Combined Forces Command(CFC).Gen. LaPorte gave a briefing for the visiting US secretary of state. LaPorte led Rice to the situation room where she met with some 200 soldiers of both countries gathered there for a joint military drill.Rice made an impromptu speech for the cheering soldiers. In the speech Rice thanked the South Korean government for all the hospitality they showed her everytime she visited Seoul. She expressed her thanks to the soldiers for all the efforts they make everyday protecting freedom at the frontline.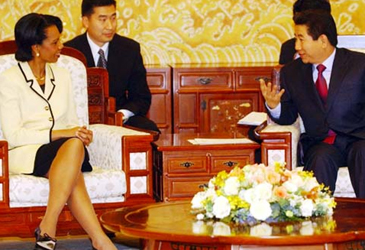 US Secretary of State Condoleezza Rice talks with South Korean President Roh Moo-Hyun at Cheongwadae on March 20, 2005.
Rice also thanked the South Korean government for sending its troops to Iraq and Afghanistan at the request of the United States. She praised South Korea for achieving democracy whereas she called North Korea a threatening country in difficulties. Her speech received accolade after accolade from the combined US and Korean soldiers.On March 20, 2005 Rice paid a courtesy visit to President Roh Moo-Hyun at the presidential blue house of Cheongwadae at 10 a.m. Rice talked for some 70 minutes with President Roh Moo-Hyun on issues ranging from South Korea and Japan relations, Northeast Asian affairs, North Korea's nuclear problem, and South Korea and US relations.During the conversation President Roh pointed out that Japan's claim to Dokdo islets and distortion of its history emerged as the "major hurdles" in developing bilateral relations between South Korea and Japan.She also met with Unification Minister Chung Dong-Young and Minister of Foreign Affairs and Trade Ban Ki-Moon for consultations on resuming six-party talks on North Korea's nuclear issue.At noon Rice had an official meeting with her South Korean counterpart Ban Ki-Moon at the Ministry of Foreign Affairs and Trade (MOFAT) building in Seoul.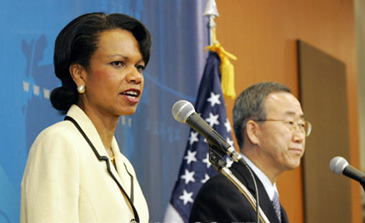 US Secretary of State Condoleezza Rice (left) is holding a press conference with Minister Ban Ki-Moon of Foreign Affairs and Trade Ministry at the ministry building on March 20, 2005.
After the meeting Both Rice and Ban held a press conference ,which was broadcast live on TV, Rice said that the United States has no intention of invading or attacking North Korea.During the press conference Rice urged North Korea to come to the six-party talks by emphasizing the importance of participation of each nation concerned with Korea Peninsula — North and South Koreas, China, Japan, Russia, and the United States.She said that "the United States is negotiating with North Korea within the framework of the six-party talks."In an unexpected move Rice called North Korea "a sovereign state," becoming the highest US official to verbally recognize the sovereignty of North Korea. In the past months she had indignated North Korea by referring to it as an "outpost of tyranny." Rice had a luncheon with Ban after the press conference.In the afternoon, Rice flew to Beijing, the last leg of her Asian tour.