Aishwarya Rai in London
The star of Bride and Prejudice, Indian former Miss World Aishwarya Rai poses for the cameras before entering the foyer of the London Palladium Oct. 4, 2004. The film had it's World Premiere at this famous theater.
Courtesy AP/Dave Caulkin
Crews transformed a historic section of downtown Oakland into a tableau of bright lights and cameras this weekend as Indian super star Aishwarya Rai, the queen of Bollywood, filmed her latest American movie, "The Mistress of Spices," about an Oakland shop owner trained in the art of healing with spices. On Sunday, Old Oakland became a veritable outdoor set — complete with adoring fans clamoring for autographs — as the Legogo bargain store at 8th and Washington streets was dressed up as the lead character's spice shop and an adjacent postal store did its duty as a taqueria. A parked taco truck played itself. Some passers-by were enamored of the 31-year-old Rai, who was crowned Miss World in 1994 and whom actress Julia Roberts — with whom Rai is compared in India — proclaimed "the most beautiful woman in the world." Others were starstruck by actor Dylan McDermott, who plays Rai's love interest, Doug, as her character, Tilo, decides whether to give up her supernatural powers for an Earthly love. The movie is based on the 1997 novel of the same name by Chitra Banerjee Divakaruni of Fremont.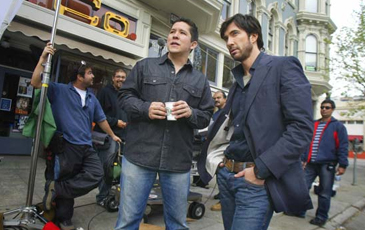 Actor Dylan McDermott (right) consults with Mistress of Spices director Paul Mayeda Berges on the set in downtown Oakland. Photo Courtesy Chronicle/Liz Mangelsdorf
"It's a wonderfully told story," said Rai, relaxing in a turquoise sari between takes Sunday as extras scurried about. "I look for work that is meaningful and where I can be able to contribute to tell a story." Rai said she has visited the Bay Area before, but that this is the first time she has made a film here. She will also be shooting outdoor scenes in San Francisco. The crew filmed interior scenes on a soundstage in London. Rai, whose nickname is Ash, said she hopes to become a successful star in America and expressed gratitude for her legions of fans in India who have embraced Bollywood, the Bombay-based studio system. Rai made her English-language debut and gained international media attention with the February release of "Bride & Prejudice," a musical by Gurinder Chadha, who also directed the film "Bend It Like Beckham." Chadha spent time Sunday filming joggers and murals around Lake Merritt for background scenes for "Spices," which is to hit theaters next year. "It's kind of like an ode to the Bay Area," Rai said of the movie; her husband, Paul Mayeda Berges, is director. "It's a classic immigrant tale with layers of magical realism," said Berges, former head of the San Francisco International Asian American Film Festival.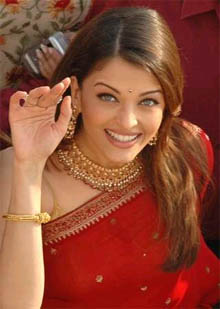 Aishwarya Rai in Agra
Courtesy Reuters
As sunshine peeked intermittently through clouds Sunday, crews filmed a bearded McDermott, clad in a green jacket and jeans, crossing Washington and examining artwork in front of Old Oakland's storied Ratto's Italian Deli. At one point, teenage girls spotted him and shouted, "Woo-hoo, Dylan!" "I love Oakland," said McDermott, who starred in the TV show "The Practice." "It's a very cool place. It's a great place to shoot, there's character and charm to it." Teresa Jue, 14, ran to get McDermott's autograph. "He's tall, dark and handsome," she said, clutching a piece of paper inscribed, "Teresa, all my best." But Deena Mowji, 20, of San Jose and Julie Patel, 22, Oakland came to see Rai. "She's an actress we grew up watching," Mowji said. "We admire her as an Indian woman who's advanced from Bollywood to Hollywood," Patel said. Glenn Jones, whose EZ Ship postal store was turned into the taqueria next door to the spice shop, took in the filming. "It doesn't happen every day. I'm flattered they chose our neighborhood, our city and our store," he said. And Rai? "She's gorgeous," he said. A 35-year-old Indian woman from Richmond woman who serves as an extra in the film said of Rai, "She's an up-and-coming actress trying to make it big in Hollywood — I think she already has." The woman, who didn't want her name used, added, "She's more beautiful than what you see on screen. I'm just staring at her." Suzanne Portero, 60, of Berkeley, happened on the movie set, which police closed to traffic. "It's a great place to film something," she said. Old Oakland has been featured in the movie "True Crime" featuring Clint Eastwood, the Don Johnson TV show "Nash Bridges" and various commercials.
E-mail Henry K. Lee at hlee@sfchronicle.com.The above article is from San Fancisco Chronicle.