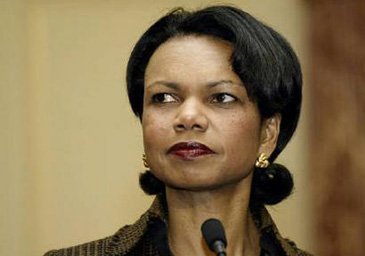 US Secretary of State Condoleezza Rice
Secretary of State Condoleezza Rice yesterday (March 19, 2005) became the most senior U.S. official to visit a highly sensitive joint command center for American and South Korean forces that would be the battle headquarters in a conflict with North Korea.
But just before touring Command Post TANGO, or Theater Air Naval Ground Operations, south of Seoul, Miss Rice said the United States is "committed to diplomacy" to resolve the standoff over the North's nuclear-weapons program. This morning, Miss Rice said economic and security incentives were available if North Korea were to return to six-party talks and abandon its nuclear arms.
She said Washington had no intention of attacking North Korea — an attempt to allay Pyongyang's fears that the United States has a "hostile" policy against it. "There is a lot for North Korea, that could benefit North Korea, if they are prepared to come back to the six-party talks and to do so seriously," Miss Rice told Internet-based reporters at an event briefly disrupted by a protester demanding she do more to stop human rights abuses in North Korea.
Condoleezza Rice — US Secretary of State Condoleezza Rice visited a command post in South Korea, greeting U.S. Marines and South Korean soldiers while acknowledging they face a close-in threat every day from the North.
Photo Courtesy Getty Images
Her visit yesterday to the bunker coincided with joint war exercises for thousands of American and South Korean troops held twice a year, which was immediately denounced by Pyongyang as preparation for war. "I know that you face a close-in threat every day, and I know that you face also the fact that the Republic of Korea, a great democracy now, faces the threat across the divide of a state that is not democratic, that is not free and that does not have the best interests of its people at heart," she told the troops. "In parts of the world, the Cold War has ended, and we've been able to be on a continent like Europe that is now whole and free," she said. "But, of course, divisions remain here in Korea." The secretary flew to the bunker, which is built into a mountain, on a Black Hawk helicopter after arriving from Tokyo at Seoul's military airport. She then was given a classified briefing. Miss Rice, who often speaks of "the freedom divide," thanked the troops for serving "on the front lines of freedom." Earlier in Tokyo, she challenged North Korea to return "immediately" to the six-party talks on its nuclear-weapons program. "We are committed to diplomacy, but I think it goes without saying that no one is going to be prepared to allow the North Koreans to just go down a road that threatens everyone," she said at a press conference with Japanese Foreign Minister Nobutaka Machimura. "We have been very careful to have people choose their own diplomatic paths and their own mix of incentives and leverage to deal with the North Korean problem," Miss Rice said. Still, she said, "China has a particular opportunity and responsibility here, and I will soon be discussing in Beijing how the United States and China can advance our common interests on this and others." In addition to the United States, China and North Korea, the six-party process also includes Japan, South Korea and Russia. Miss Rice flies today to Beijing, where she will meet with President Hu Jintao and other top Chinese officials. Along with North Korea, she will discuss thorny bilateral issues such as political openness, human rights and Taiwan. On the eve of her visit, Chinese police formally charged a dissident with trying to subvert the state. Zhang Lin, who was detained in late January after he tried to pay his respects to the family of deposed Communist Party chief Zhao Ziyang shortly after his death, was charged by police in the town of Bengbu, in his home province of Anhui, to the southeast of Beijing. "His wife, at 9 this morning, received a notice from police that he has been formally arrested and charged with attempting to subvert state power," Ren Wanding, a friend and Beijing-based activist, was quoted as saying by wire reports.
The above article is from Washington Times.