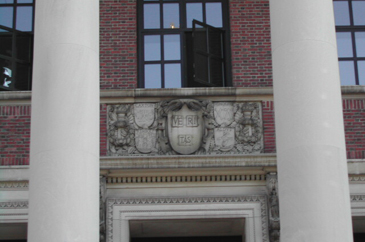 Harvard Library
Her life had been "'a great American story" about a young black woman who overcame an impoverished, chaotic childhood to succeed in the world of academia, according to her lawyer.But then her ascent stopped, Desiree Goodwin told federal jurors yesterday, after she went to work as an assistant librarian at Harvard University in 1994, with the promise that she'd have a chance to advance.Taking the stand in her race and gender discrimination case against Harvard, Goodwin said she was shocked in December 2001 when a supervisor offered the first explanation as to why she had been bypassed for a promotion 16 times between 1999 and 2001."'You'll never get a job at Harvard," Goodwin said she was told by her supervisor, Barbara Mitchell, who allegedly added that others viewed Goodwin as a "'pretty girl" who dressed in sexy outfits, including tight pants and low-cut blouses.During opening statements yesterday in the case in US District Court, her lawyer, Jonathan Margolis, told jurors that Goodwin was discriminated against because she is black and a woman.Goodwin, who also works part time at the public library in Arlington, where she lives, said she had never been criticized before for the way she dressed and didn't think she dressed inappropriately. She said she was also told she had offended some superiors by writing an article in a guide for Harvard staff promoting a local nail salon.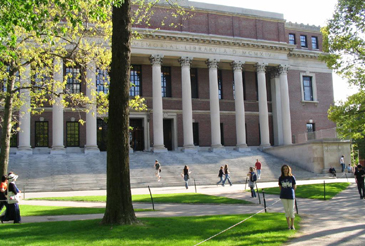 Harvard Library
But Harvard lawyer Richard J. Riley told jurors that the case will focus on eight positions that Goodwin applied for but didn't get because "'competition was stiff for all library jobs at Harvard" and they went to candidates deemed more qualified. Riley said Goodwin's failure to win a promotion was "'unfortunate for her and she's understandably disappointed and frustrated." But Harvard's decisions, he said, had nothing to do with race or gender. "It was a fair process that was followed."On the stand, Goodwin described how she grew up in poverty, moving 20 times before she was 9. The oldest of 10 children, Goodwin said, she helped her father take care of her brothers and sisters from the time she was 9 years old, because her mother had left them.Goodwin, now 40, graduated from Cornell University and later earned master's degrees in English literature and library science. She worked for Boston College before becoming an assistant librarian at the Frances Loeb Library at Harvard's Graduate School of Design.Goodwin said she believed she was more qualified than some who were chosen for promotions. And she read excerpts from some of her job evaluations, which described her as reliable, capable, and highly motivated.Some of her co-workers respected her, Goodwin said, "but I really believe that others do not respect me, and those are the people who are in a position to decide whether or not I can advance."Judge Joseph L. Tauro told jurors the trial is expected to last about two weeks.
The above article is from Boston Globe.