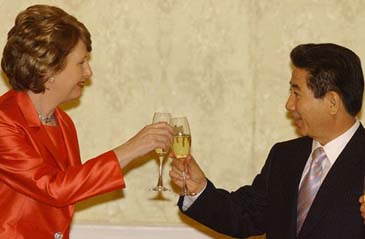 Presidential Toast : Irish President Mary McAleese (left) is making a toast with South Korean President Roh Moo-Hyun during the state banquet held at Cheongwadae March 23, 2005.
Irish Ambassador to Seoul Mr. Conor Murphy and Mrs. Lilian Murphy hosted a reception and a cultural event in honor of the state visit to Seoul by Irish President Mary McAleese and her husband Dr. Martin McAleese at the Millennium Seoul Hilton on the evening of March 24, 2005.Some 300 high-profile guests attended the cultural event and the following reception held at Hilton's Convention Center. A number of top foreign envoys to Seoul attended and congratulated both President McAleese and Ambassador Murphy on the special occasion.
| | |
| --- | --- |
| | Irish Ambassador Conor Murphy hosted a Irish cultural event and a reception for Irish President Mary MaAleese and her husband Dr. Martin McAleese at Millennium Hilton Hotel's Convention Center in Seoul on March 24, 2005. Hundreds of high-profile guests — both foreign and Korean nationals — attended the function and were greeted by the Irish ambassador and presidential couple. Amb. Murphy has been very active in Seoul's diplomatic circle. |
The participating ambassadors included Amb. Volodymyr Furkalo Ph.D. of Ukraine, Amb. Rene Francisco Umana (Chinchilla) of Honduras, Amb. Enrique Panes of Spain, Amb. Zaid Al-Sherida of Kuwait, Amb. Uzi Manor of Israel, Amb. Babiker Ali Khalifa of Sudan, Amb. Valeriu Arteni of Romania, Amb. Carlos M.L. Frota of Portugal, Amb. Tomas Smetanka of the Czech Republic, Amb. Selim Kuneralp of Turkey, Amb. Othman Jerandi of Tunisia, Amb. Mauel Arturo Tellez Miralda of Guatemala, Amb. David Taylor of New Zealand, Amb. Kim Luotonen of Finland, Amb. Hector Galvan of Dominican Republic, and Amb. Ahmed S. Al-Midhadi of Qatar.Among the many South Korean dignitaries was Korean Air Chairman Cho Yang-Ho, who serves as the Island's honorary consul general.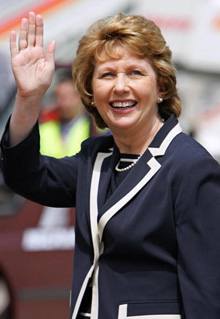 Irish President Mary McAleese waves to her supporters with bright smile.
In her speech the Irish president stressed the significance of mutual friendship and cooperation. Her beautifully- yet carefully- crafted speech received standing ovation from the audience. During the speech she described Korean people as the "Irish of Asia" when pointing out similarities between Korean and Irish people. "Korean temperament and character are similar to the Irish," she said.Along with Ambassador Murphy and his wife Lilian Murphy, President McAleese and her husband Dr. Martin McAleese greeted nearly all the guests in person at the start of the reception.With this visit President McAleese became the first Irish head of state to visit South Korea since the two countries established diplomatic ties in 1983.Prior to the event, President McAleese received a honorary doctor's degree in law from Ewha Womans University for her contribution to world peace, in a special ceremony held on the same day.Ewha University President Shin In-Ryong said "As a politician with outstanding leadership, President McAleese mediated social conflicts and is devoted to the human rights for women and minorities. She is a role model for all the women on earth."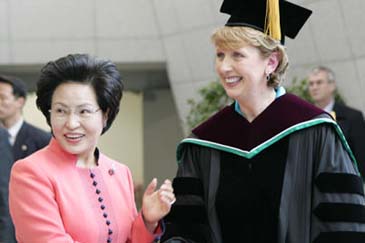 President McAleese with First Lady : Irish President McAleese (right) shakes hands with South Korea's First Lady Kwon Yang-Sook after she received an honorary doctor degree in law from Ewha Womans University March 24, 2005.
Close to 200 political and social leaders including South Korea's First Lady Kwon Yang-Sook attended the ceremony held on campus of Ewha, which is the world's largest women's university in terms of student number.On March 21, the first day of her five-day visit to South Korea, President McAleese, her husband Dr. Martin McAleese, and the 40-member presidential entrouge flew from Seoul to Jeju Island, which was recently designated as "Peace Island." On March 23, President McAleese held a summit meeting with South Korean President Roh Moo-Hyun at the presidential blue house of Cheongwadae on ways of boosting bilateral relations, particularly on cooperation in the IT industry.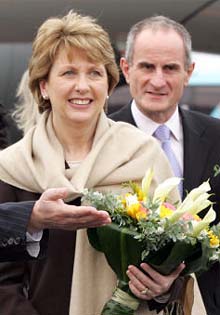 Irish President Mary McAleese
and her husband Dr. Martin McAleese visits Jeju Island on March 21, 2005.

The topics the two leaders discussed included the overall political situation in Northeast Asia and North Korea's nuclear standoff, and increasing economic collaboration between Dublin and Seoul.They held a lengthy conversation on economic issues, particularly on sharpening competitive edges in the state-of-the-art IT industry with both countries. The current political climate in Ireland was also talked about.Two-way trade volume reached 1.5 billion US dollar in 2004, with South Korean exports reaching 677 million US dollar and imports at 829 million US dollar.South Korea's investment in Ireland exceeded 55 million US dollar by the end of last year, while Irish investment in South Korea totaled $140 million US.During her stay in Seoul, the Irish head of state also met with business, social, and educational leaders of Korea.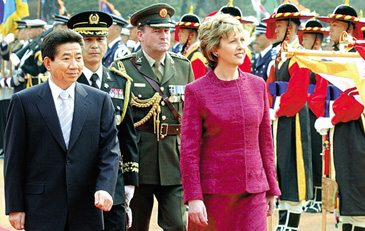 Irish President Mary McAleese (right), along with South Korean President Roh Moo-Hyun, was reviewing the South Korean military before their summit meeting at the presidential blue house of Cheongwadae on March 23, 2005.
President McAleese was accompanied by a special delegation of Irish business people and other influential figures from the Irish cultural and educational sectors.President McAleese visited Japan last week as part of a 10-day trip to Asia.
Profile: Irish President Mary McAleese
Mary McAleese was inaugurated as the eighth President of Ireland on Nov. 11, 1997. She was a barrister and served as a professor of law at Trinity College in Dublin. Born in Belfast, she is the first President to come from Northern Ireland. Since 1976 she has been married to Dr. Martin McAleese, an accountant and dentist. They have three children between them.
President McAleese with husband — Irish President Mary McAleese enters a press conference with her husband Martin at Aras an Uachtarain, Dublin Tuesday, September 14, 2004 where she announced that she will stand for a second term in office as President. "It is my desire and ambition to serve my country and serve it well for a further term as president," she said.
Courtesy EPA/Cathal McNaughton
The eldest of nine children, President McAleese grew up in Northern Ireland through the violent times of "The Troubles." Her family was one of the many adversely affected by the conflict.She majored in law at Queen's University in Belfast and graduated from it in 1973. She became a member of the Northern Ireland Bar Association in 1974. One year later, she was appointed Reid Professor of Criminal Law, Criminology and Penology at Trinity College in Dublin.In 1987, she returned to her alma mater, Queen's, to become director of the Institute of Professional Legal Studies. In 1994, she became the first female vice chancellor of Queen's University.President McAleese worked as a TV and radio journalist covering current affairs. Her journalistic stints include radio presenter with Radio Telefís Éireann.She is a champion of such social issues as justice, gender equality, social inclusion, anti-sectarianism, and reconciliation. Her presidential slogan "Building Bridges" reflects her continuing commitment to serving her country.