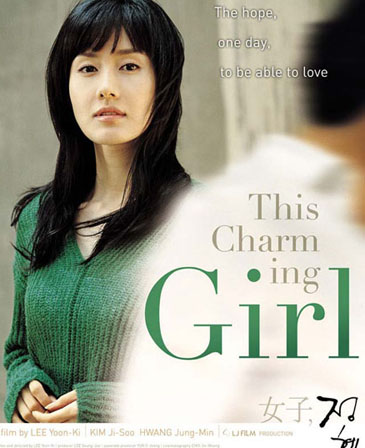 South Korean director Lee Yoon-Ki's "This Charming Girl"
The 7th Deauville Asian Film Festival in March 2005 turned out to be another delightful chapter. I consider this to be an amazing effort at showcasing exclusively Asian cinema in the heart of French territory. Imagine a tiny town such as Deauville (which is a twin of Trouville) hosting an Asian cinema event every March for seven years now. Not just this, but the festival also takes pain to ensure a more or less uniform representation of Asian countries. Admittedly, this spring, there were no movies from states such as Pakistan, Bangladesh and Sri Lanka. This is an area that the festival must address: it is important to give a wider representation to South Asia, because some interesting stuff is being made in this region. However, India was represented this March, and happily the work chosen turned out to be by a renowned director, Buddhadeb Dasgupta. His "Swapner Din" (Chased by Dreams) in Bengali – the auteur's 14th in a span of 27 years – had the classic Dasgupta touch, where several styles mix and mingle to give us a fairly gripping film. The director is a poet and novelist as well, and he uses these creative forms to enrich his cinema. Often, Dasgupta is criticized for being overtly literary when he makes a movie. So what, I would ask. Are not literature and poetry a basis for celluloid fare? Indian cinema has always borrowed liberally from folklore, and, therefore, to blame Dasgupta on these grounds will be unfair.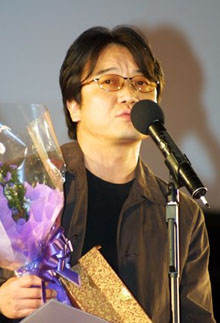 Film director Lee Yoon-Ki
"Swapner Din" traces the dividing force of borders, and if they happen to be between nations, the crueler they can be. The film's three protagonists, a government movie projectionist, who tours towns and villages with cinema on social issues, his driver and an illegal woman immigrant from Bangladesh come together in a journey filled with hope and dreams. All of them chase their own dream, and while the projectionist succeeds in having his fulfilled, the other two are disappointed. Unfortunately, Dasgupta could not clinch any award. The top prize went to a Taiwanese work, "Holiday Dreaming" by first-time director, Fu-Chun Hsu. This is set in a military camp, where two trainee marines face fun and fear. There is little story here, and the movie weaves around mundane adventures till the two men are ordered to capture a rookie soldier. Somewhat amateurish, "Holiday Dreaming" appeared like an upset win, when it walked away with the festival's top honor, Grand Lotus Prize. The seven-member International Critics' Jury – of which I was a part – also chose this film.
The Lotus Jury Prize went to Lee Yoon-Ki's "This Charming Girl" from South Korea. Intermittently ponderous that produced a yawn, this film traces the memories of a young girl who tries to get control of her life, punctuated by her mother's death and disturbed by an incident of sexual molestation in her childhood. There are long sequences when nothing happens: we see the young and beautiful heroine eat a plate of noodles or play with her pet kitten or watch television or just stare into space. Surely, the director was asking us to play patience with his maiden movie. Or, is it that most of us are so used to Hollywood's pace and slick editing styles that we find it difficult to appreciate anything that is far removed from this kind of cinema. Anyway, Deauville did have some films that catered to "our" tastes. My favorite this season was a Japanese work by Shinji Aoyama, who has given us interesting movies such as "Eureka" (2000) and "Desert Moon" (2001).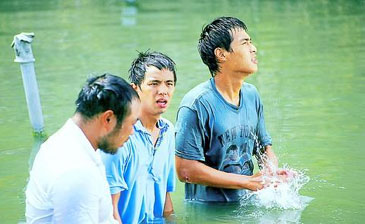 Taiwanese director Fu-Chun Hsu's "Holiday Dreaming"
This time, he presented "Lakeside Murder Case," dealing with a universal phenomenon: parents' desire to see their children achieve what they themselves could not. Aoyama uses a posh residential school in Japanese countryside to weave the story of couple who are about to admit their daughter there. It is a gripping drama of murder and mystery that takes bizarre turns around a lake across the school.Koji Yakusho, the veteran Japanese actor, plays the father of the girl, and he aptly conveys his guilt and reluctance at having to go through this elaborate exercise in order to put his child through what he knows would be a hard life. The movie is a powerful indictment of the grueling education system prevailing in not just Japan, but also in many other countries, including India, where most boys and girls are robbed of childhood pleasures by an unimaginative school system and boringly bookish classroom routine. Also for Japan was "Marebito" (The Stranger from Afar) by Takashi Shimizu, who gives an eerie tale of the netherworld. He uses graphic shots of his protagonist photographer feeding human blood to a woman he finds in Tokyo's hazy below-the-surface tunnels. Beyond a point, I failed to understand what exactly Shimizu was trying to convey: was he merely attempting to shock viewers? There seems to be a strange turn in much of modern Japanese cinema, which is now trying to probe life beyond what all of us see. In this battle to find a new meaning to our existence, Japanese directors end up presenting often-unpalatable fare. In "Marebito," the lead character patiently collects human blood, sometimes through murder, and stores it in his home refrigerator. The woman hungrily devouring it is a scene hard to stomach. Thankfully, the Festival did not have much of this stomach-churning cinema. There were some rather delightful films. Thailand's "The Overture," by Itthi-Sunthorn Wichailak, focuses on a young boy's passion to play the Xylophone. Encouraged by his country bumpkin father, the boy finds that he has to eventually make a vary hard choice between living with his parents at home or with his music master in the city. There is some great music here, and the finale in a rail station is portrayed with classic cinematic grandeur. Another quaint old-feel movie was, "Electric Shadows" by China's Xiaon Jiang. Set at the end of the Chinese Cultural Revolution, Jiang paints the pain of a woman who cannot realise her ambition to become a singer, given the political adversity of the time. She finds solace in the movie heroines of the day, and ultimately in the arms of a cinema projectionist. It is a feel-good film that does not claim anything beyond telling us a good story.
Technically competent, "Electric Shadows" puts across this: cinema is all about entertainment. There is no point in great shots that say nothing.
Technique can merely be a vehicle to promote a thought. Form without content is like food without flavour. The Deauville Asian Film Festival, on the whole, was a fulfilling experience by the Atlantic.