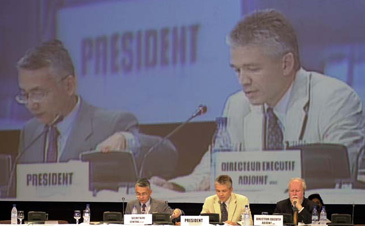 The plenary session of the first Prepratory Meeting of the Tunis Phase of WSIS, in Hammamet
Amb. Othman Jerandi of Tunisian Embassy in Korea is currently undertaking intensive efforts to appeal to the professionals from the private sector that operate in the field of the information and communication technologies on the importance of the World Summit on Information Society (WSIS) that will be held in Tunisia in Nov. 16-18, 2005.The WSIS to be hosted by the government of Tunisia is the second phase of the World Summit on the Information Society. The first phase took place in Geneva by the Swiss government in Dec. 10-12, 2003. The hosting of the world summit was endorsed by the UN General Assembly Resolution 56/183 on Dec. 21, 2001.Ambassador Jerandi strongly considers this Summit uniting the governments, the non-governmental organizations as well as the private sector, to be a significant opportunity to put in relation all Information and Communication Technologies (ICT) professionals across the world.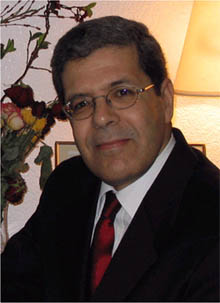 Amb. Othman Jerandi
This Summit set by a United Nations agency — the International Telecommunication Union (ITU) — under the Tunisian proposal, will not only deal with the digital divide issue but will also connect the leading countries in the field of Information Technologies such as South Korea with the developing countries within the framework of a global strategy to ensure that no human society will be left behind in this particular domain that will highlight this century.On the fringe of this Summit that will gather thousands of professionals and official from all over the world, an exhibition will be organized and during which firms operating in the domain of Information and Communication Technologies will have the chance of presenting and promoting their products as well as getting together and exchanging contacts with other professionals from the participating countries that will also be in attendance in this global Summit.For further details call Tunisian Embassy in Seoul at 82-2-790-4334/5 or log onto
the official website of WSIS.