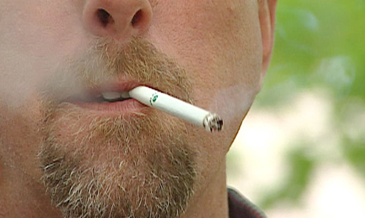 An American man is smoking a cigarette.
Many smokers have unrealistic ideas about just how dangerous their habit really is. A new study by researchers at Rutgers University and the National Cancer Institute found that many smokers underestimate their risk of developing lung cancer and buy into common myths that make smoking seem less harmful.The findings come from a national telephone survey of more than 6,000 people, including 1,245 current smokers. The study was published in the journal Tobacco Control (Vol. 14, No. 1: 55-59). The survey asked people to judge their own risk of developing lung cancer, and the chances that other people, both smokers and nonsmokers, would develop lung cancer.Current smokers thought their own risk of lung cancer was much lower than that of the average smoker. When asked to compare their lung cancer risk to that of a nonsmoker, about 21% of smokers said it was only a little higher, 23% said it was about twice as high, 22% said it was five times as high, and 23% said it was 10 or more times higher.
The American Cancer Society has resources to help you Kick the Habit. In reality, a smoker's lung cancer risk is between 10 and 20 times higher than that of a nonsmoker, depending on how many cigarettes are smoked, and how long the person has smoked. Lead study author Neil Weinstein, PhD, who has done extensive research on this subject, said he wasn't surprised by the misconceptions seen in the survey.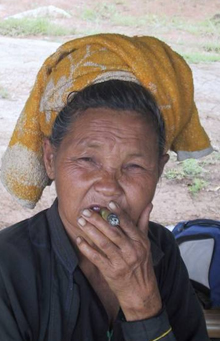 A Burmese woman smoking
"Even though people know smoking is unhealthy, there isn't much they encounter that tells them how big the risk is," said Weinstein, a professor in the Human Ecology department at Rutgers and an associate member of the Arizona Cancer Center in Tucson. "It's a continuing challenge, not only in smoking but in all sorts of health behaviors, to help people realize the size of the risk, not just that there is a risk."The National Cancer Institute has a tool developed by American Cancer Society researchers that allows smokers to calculate their personal lung cancer risk. Smokers were also more likely to believe certain myths about lessening the danger of smoking.More than half said exercise undoes most of the effects of smoking, and 28% said vitamins could do that, too. Nearly 36% said developing lung cancer depends on genes more than anything else. "People don't like to believe that their activities put them at risk," Weinstein observed, "and they're creative at finding reasons — at least convincing to themselves — that their risk isn't as high as people say it is." Although inherited genes do play a role in some lung cancers, tobacco smoking is directly responsible for more than 87% of lung cancer cases, according to ACS statistics. Smoking damages the lungs on a cellular level, making them more susceptible to cancer.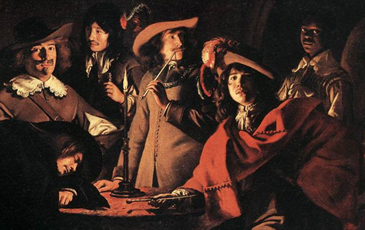 Smokers in an Interior — 1643, Oil on canvas, 117 x 137 cm, Musée du Louvre, Paris
Studies of exercise and lung cancer have had mixed results. And while a healthy diet with lots of fruits and vegetables may play some role in preventing lung cancer, so far no studies have been able to show that vitamins can reduce the risk of lung cancer. In fact, in one study, beta-carotene supplements actually appeared to raise the risk of lung cancer in smokers.The survey shows that people are confused about the risks of smoking, Weinstein said, despite public campaigns to educate them about the dangers."One big issue is that even if we can get people to acknowledge that smoking is not healthy, we can't assume that smokers agree that it's unhealthy for them," he said. "They find various reasons for thinking that the way they smoke and the kind of cigarettes they smoke and all kinds of other pseudo-factors mean that it's not as bad as for other smokers."Some of the survey results point to topics doctors could broach with smokers — the huge difference in lung cancer risk, for instance — to help clarify the dangers, Weinstein said."We need to try different ways of approaching them," he said.