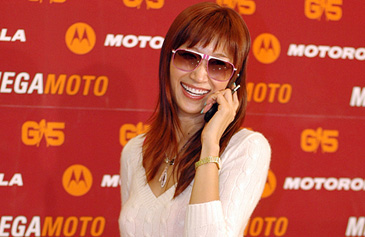 A South Korean fashion shows using a cell phone in an ad.
South Korean Ministry of Information and Communication said Thursday it will conduct research into whether radiation from mobile phones damages human DNA.
The move came following the report that a two-year laboratory study by local scientists found that radio waves from mobile phones put mice DNA at risk. The study, conducted in 2003 by Seo Jeong-sun, a professor at Seoul National University, showed a possible link between a mobile phone's electromagnetic waves and DNA damage in genetically vulnerable mice.The ministry promised to spend 130 million won (US$126,880) for the first year of the new proposed research to be led by Prof.Seo whose first study has proved that electromagnetic waves from cell phones may have some harmful effect on DNA of genetically vulnerable animals.The second study is aimed at studying whether the result applies to genetically vulnerable people. However, no study so far has found that mobile phone radiation had a harmful effect on a healthy human body in real-life situations. The second study will focus on genetically vulnerable human and animal DNA and results are expected at the end of 2006, and he will report them to the World Health Organization.