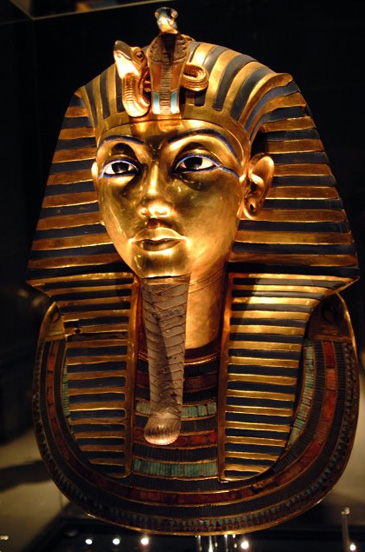 Burial Mask of Tutankhamun — 1325 BCE, Gold inlaid with blue glass and semi-precious stones, height 21 1/4"

An exhibition featuring 180 pieces of ancient Egyptian monuments will be held at the National Library of Korea in Seocho-dong in Seoul from April 6 to 12, 2005.It will be the first exhibition of Egyptian monuments to be held in South Korea. The Egyptian Embassy in Seoul organized the exhibition on the occasion of the 10th anniversary of establishing full diplomatic relations between the Arab Republic of Egypt and the Republic of Korea.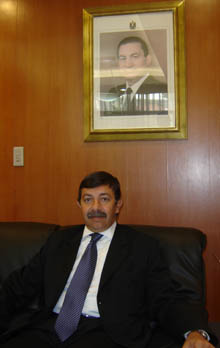 Amb. Amr Helmy of Egypt
"The exhibition entitled 'The Splendor of Egypt' will shed more light on Egypt's ancient history and will help the Korean public understand more about Egypt's heritage as well as to promote Egypt as a cultural and tourist destination," said Amr Helmy, the ambassador of Egypt to Seoul.In recent years the number of South Koreans visiting Egypt has increased. Last year alone approximately 55,000 South Korean tourists visited Egypt.Around 5,000 years ago the ancient Egyptians established an extraordinary and enduring civilization. Their achievements have captured the imagination of the world ever since.Nowadays, the Sphinx and the Pyramids, Tutankhamun and Queen Nefertiti are among the most recognized images on the face of the earth. This exhibition will allow the Korean public to catch a glimpse of our fascinating history, added Amr Helmy.The inauguration ceremony will be held at 10:30 a.m. on Wednesday, April 6, 2005 at the National Library of Korea, and the exhibition will be open to the public from 10 a.m. to 6 p.m. during the week-long event.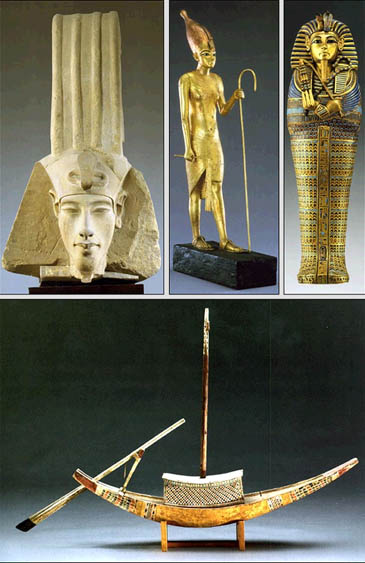 Pictures featuring parts of monuments found in Tutankhamun's tomb discovered by British Egyptologist Howard Carter in 1922
The Egyptian monuments will be displayed in the 330-square-meter exhibition room on the fist floor of the seven-story library building.Admissions are free for all the viewers. "I think it will be a terrific chance for our customers — mostly university students and other young peoples — to view the great legacies of Egyptian culture in our library," said Sung Jung-Hee, deputy director of the library's policy and international relations division.The National Library of Korea is now headed by Director General Kim Tae-Geun. For a map visit the
library website
or for further information call the library at 590-0729.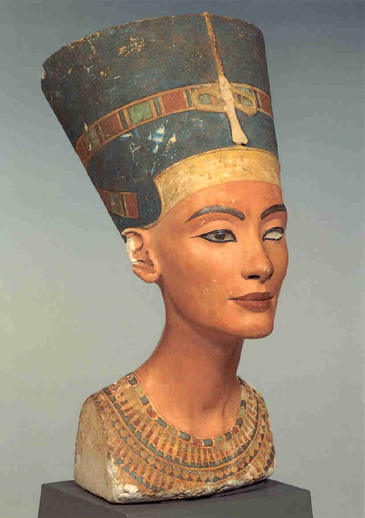 Queen Nefertiti — 1348-1336/5 BCE, Limestone, height 19" (48.3 cm), Staatliche Museen zu Berlin, Agyptisches Museum