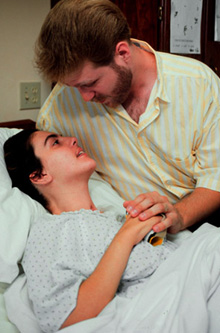 Terri Schiavo gets her last comfort.
Terri Schiavo, the brain-damaged Florida woman at the heart of a bitter legal dispute, has died.
Mrs Schiavo's feeding tube was disconnected on 18 March, following a seven-year battle through the courts. Her husband Michael Schiavo had said his wife would not have wanted to live in her current condition. President George W Bush, who offered his sympathies to her parents Bob and Mary Schindler, said he was attached to a "culture of life. Mr Bush urged those who backed the Schindlers to "continue to work to build a culture of life where all Americans are welcomed and valued and protected, especially those who live at the mercy of others."The essence of civilisation is that the strong have a duty to protect the weak. In cases where there are serious doubts and questions, the presumption should be in the favour of life." Mr Schiavo's overriding concern was to give his wife "a peaceful death with dignity., his lawyer George Felos said.
"No family in the US having to go through the death process for a loved one should have the added worry that a panel of judges is going to order an ambulance to come or that politicians are going to interfere with the death process that your loved one has chosen and has almost completed," he said. The 41-year-old's parents fought to the highest level of the US courts system to keep their daughter alive. The legal battle went as far up as the US Congress, and President Bush rushed through an emergency bill to send the case back to the federal courts soon after the feeding tube was disconnected.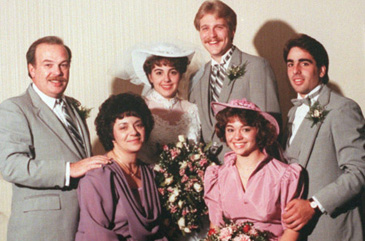 Terri Schiavo poses with her family after wedding
But the US courts at every level supported Michael Schiavo's case and rejected requests by Mrs Schiavo's parents to have her feeding tube reinserted. The case divided the country, with a majority of people agreeing her feeding tube should have been disconnected.
But it fanned the flames of a fierce debate over whether life should be preserved at all costs, the BBC's Lesley Curwen in Washington says. Mrs Schiavo died on Thursday at the Pinellas Park hospice, where she lay for years while her husband - who was her legal guardian - and her parents fought over whether to keep her alive or let her die. Mr Schiavo had been living at the hospice since his wife's feeding tube had been removed in a separate room down the hall from her room, his lawyer said. Her siblings were with her up to 15 minutes before she died, but say they were asked to leave shortly before Mrs Schiavo died. Her parents were not there at the time as earlier reported.
TERRI SCHIAVO CASE
Feb 1990: Terri Schiavo collapses
May 1998: Mr Schiavo files petition to remove feeding tube
Oct 2003: Florida lower house passes "Terri's Law', allowing governor to order doctors to feed Mrs Schiavo
Sept 2004: Florida Supreme Court strikes down law
18 Mar 2005: Florida court allows removal of tube
22 Mar 2005: Federal judge rejects appeal
23 Mar 2005: Appeals court backs federal ruling
29 Mar 2005: Federal court grants parents leave to appeal
30 Mar 2005: Federal court and Supreme Court reject parents' appeal
31 Mar 2005: Terri Schiavo dies