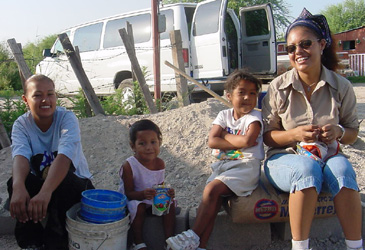 An American lady of Mexican origin poses with her kids.
Not knowing English may mean losing a child for a Mexican woman currently living in Tennessee. Wilson County Judge Barry Tatum instructed the woman to learn English in six months. Failure to do so will mean her parental rights would be terminated.The woman is a Mixteca from the state of Oaxaca and does not speak Spanish or English. She has been accused of neglecting her 11-year-old daughter. Her English fluency must be at the fourth grade level according to the judge.By learning English the woman will be able to assimilate and be able to take care of her child.Sounds fair and easy enough. Unfortunately, the judge has no idea of how difficult it is to learn a language.The challenges to learn English for immigrants are sometimes too great to overcome.The first one is age. Although immigrant kids will learn English like natives, those who come as adults will learn enough to get by. Some may never learn English because of low educational background in their own language. It's very difficult to learn a new language if you don't know your own very well.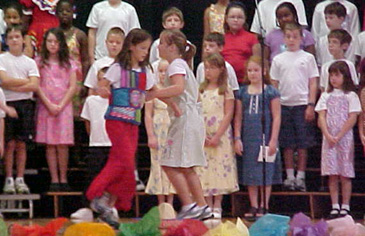 Students perform songs in Spanish on the occasion of Hispanic Heritage Day in an elementary school in the US.
Speakers of European languages who have a high degree of education in their own language usually learn English well although they will always retain a foreign accent. Arnold Schwarzenegger, Arianna Huffington, and Henry Kissinger will bring their accent to their grave.Educated immigrants speaking a non-European language will also learn English but will have a hard time. It might take twice as long for an immigrant from China to learn English as compared to one from France. While English and Chinese have little in common, French and English share a number of linguistic features. These similarities simplify the process of learning English for speakers of French.Gender also affects one's learning ability. Immigrant women, who have a tendency to stay home and care for kids, are less likely to learn than men who go to work and are forced to have some interaction with Americans.One challenge that is common to virtually all immigrants in learning English is time. Immigrants come to the US primarily for economic reasons. Thus they work long hours. It's difficult to attend night classes after having worked hard the entire day although many in fact do it.The Mixteca woman faces a number of challenges of her own. She is not very well educated and her native language has no similarity to English.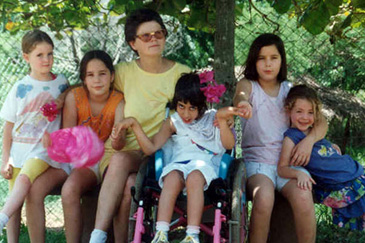 Mexican-American family in the United States
Anyone who thinks learning a language is easy should talk with Americans who have lived overseas for many years. Most of them learn little or no foreign language. Just like it is difficult for Americans to learn other languages, it is also difficult for immigrants to learn English in part because of the particular intricacies of the language. English pronunciation and spelling are particularly difficult for immigrants.Judge Tatum's order has not cost him any popularity in Wilson County. Most people believe that immigrants should learn English and suspect they will not unless they are forced to do so. That is, of course, nonsense. It's the same kind of nonsense people said about immigrants from Europe at the turn of the century who were believed they'd never learn English and never assimilate.Of course, people did learn English and assimilated. In the process their grandchildren lost their ancestors' language which these days many are trying to rediscover. Sadly, now some of these grandchildren have forgotten their grandparents' struggle and treat new arrivals with the same disdain.Judges in juvenile cases have a great deal of freedom to legislate from the bench and give advice to parents about lifestyle changes. Judge Tatum may have thought he'd be doing the Mixteca woman a favor. In reality he may have set up the bar too high that even he, an educated person, would have a very difficult time succeeding.