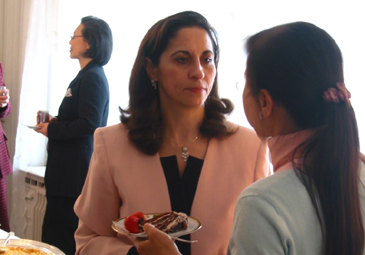 Mrs. Raja Jerandi (left) entertains her friends with food at her residence in Dongbinggo-dong in Seoul.
Mrs. Raja Jerandi, wife of Tunisian Amb. Othman Jerandi, hosted a lovely buffet lunch at her residence in Dongbinggo-dong, Yongsan-gu, Seoul, April 4, 2005. Tunisia, considered a "melting-pot" of different civilizations, occupies the eastern part of the great bulge of North Africa. The predominantly Muslim country is a diverse and vibrant nation that boasts admirable reforms in political, economic and social arenas within the last 15 years.Last January the Embassy hosted a group of 20 professional women from South Korea to visit Tunisia for the promotion of women's empowerment and friendship between the two countries.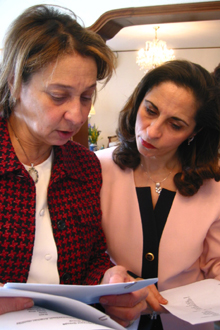 Mingling work and relaxation.
In line with the Embassy's dedication to fostering strong international ties among women, this month Mrs. Jerandi invited about 18 female guests, mostly the wives of foreign ambassadors to Seoul, for an intimate and casual brunch. The April 4 event was the perfect venue for welcoming the warmer weather after a long winter. Attendees, donning fresh spring colors, included the wives of foreign ambassadors from Slovakia, Portugal, Algeria, Japan, Germany and France, making it a truly multinational affair.The women meet semi-regularly, creating a much needed network of support and friendship among the more subtle envoys to Seoul. One Korean woman, a regular figure at many of the functions that are hosted by the wives of amb. to Seoul, smiled as she said, "My friends all joke how I should be the Korean ambassador to Seoul. But it's important too that Korea be represented at these gatherings."
Mrs. Raja Jerandi (center) opens her home to friends, food, and smiles to welcome longer days of light.
The luncheon started with the guests greeting each other and their hostess and engaging in lively conversation. Soon after all the guests arrived, Mrs. Jerandi led them into the dining room where an elegant buffet of Tunisian dishes was offered. As the women dined on couscous, humus, aromatic jasmine rice and lamb, they shared stories about everything from their country's history to their families to political and community involvement. The afternoon closed with an array of Tunisian sweets and tea.For further information on Tunisia, contact its embassy at 790-4334/5.
Related Photos of Mrs. Mrs. Raja Jerandi's Buffet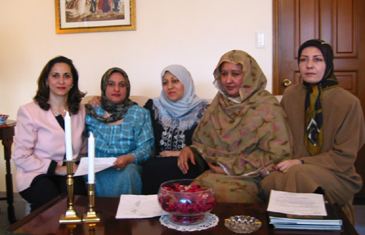 Wives of ambassadors to Seoul pose for a photo.
Ms. Janet Jun, writer and translator of Korean literature into English, currently serves as a staff reporter for The Seoul Times. The Korean-American writer graduated with honor from Columbia University's English Literature Dept in 2001. Ms. Jun covers cultural and social affairs and is currently working on her first book of poems.