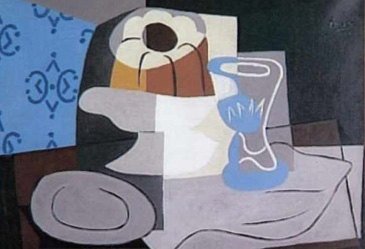 Pablo Picasso's 1924 abstract work "Nature Morte a la Charlotte" discovered by French police and returned to the Pompidou Centre museum.
PARIS — A over 4-million-US-dollar painting by abstract artist Pablo Picasso that disappeared last year has been recovered by French police. Painted in 1924, Nature Morte à la Charlotte was reported missing from the Pompidou Centre museum in Paris last May.Police revealed few details of how they found the painting, but the French news agency Agence France-Presse reported that it was handed over after authorities received a tip about where it was being hidden. Officials located the oil-on-canvas work in a house in the Anthony suburb of Paris behind a wardrobe. It was handed back to the museum on Friday, which marks the 32nd anniversary of Picasso's death from a heart attack.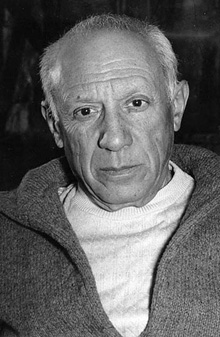 Picasso stood by his Communist ideals until his death in 1973.
When the small Cubist work disappeared, museum officials and art experts said that the very famous painting was unsellable. Because it is such a masterpiece, of which the owners can be easily traced, Nature morte à la charlotte is too famous to be sold legally. Art dealers worldwide have been alerted to the theft and the investigation continued.Nature morte à la charlotte is a small still life of a tart placed on a plate done in shades of brown and blue. It is valued at more than $4 million.The painting was undergoing minor repair work at a restoration studio that belongs to the Pompidou Centre when it disappeared. Officials reported the loss to police and the story became public last May.The Picasso's work was being restored before going on loan to a museum in northern France.The Picasso still life had last been seen five months earlier. Museum workers searched high and low for it before concluding it had been stolen. The investigation into the theft continued.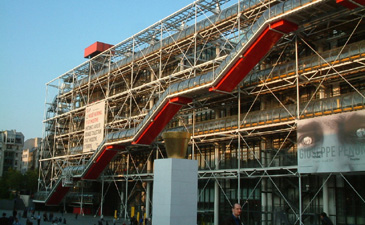 The Pompidou Centre museum in Paris
Profile of Pablo Picasso: Restless genius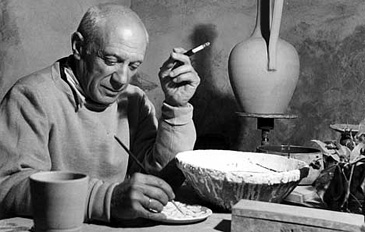 Pablo Picasso is credited with founding the Cubist movement.
Pablo Picasso's Garcon a la Pipe has become the world's most expensive painting, selling at auction in New York for $104m (£58m). BBC News Online looks back at the artist's life. Born in Malaga, Spain on 25 October, 1881, Pablo Picasso was to dominate Western art in the 20th Century. The son of an academic painter, Picasso began to draw at an early age. In 1895, his family moved to Barcelona where Picasso studied at the city's academy of fine arts.
His assocation with fellow artists and intellectuals at the city's landmark cafe Els Quatre Gats saw Picasso's early artistic style flourish. His first exhibition was held in Barcelona in 1900, and the city remained his home until 1904.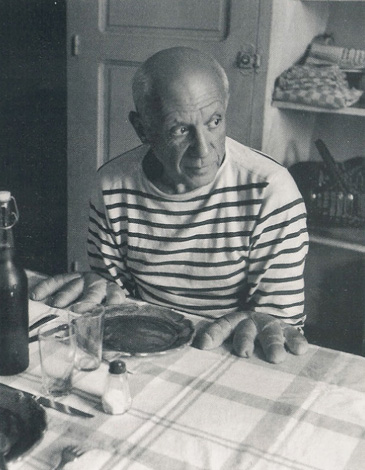 Pablo Picasso seated at meal table
Cubist movement
In April 1904, Picasso moved to Paris where his circle of friends included Gertrude and Leo Stein. Early collectors of Picasso's work, the Steins also counted the artists Matisse and Cezanne among their proteges. From his initial experiments with Impressionism, Picasso's style evolved, giving rise to the Blue Period (1901-1904) and the Rose Period (1905). However, it was his pivotal work Les Demoiselles d'Avignon in 1907, that was to ensure Picasso's place in art history, as founder of the Cubist movement. Through Cubism, Picasso sought to recreate compositional form in terms of planes and angles, fragmenting his subject matter to create "an assemblage of geometric forms."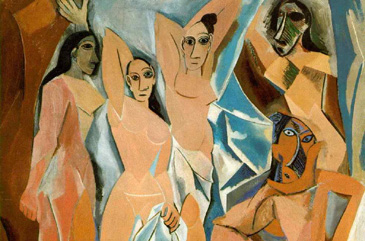 Les Demoiselles d'Avignon by Pablo Picasso, 1907. Oil on canvas 8' x 7' 8" (243.9 x 233.7 cm)
In Cubism, Picasso and co-founder Georges Braque created an austere, often depersonalised pictorial style. Strikingly modern and dauntingly ambiguous, it was to become the most influential art movement of the modern age.
Civil war
From 1912, Picasso began to experiment with new techniques including papier colle - pasting overlapping paper detritus to canvas - to create the style better known today as collage. Turning his back on Cubism in his late 30s, Picasso's work began to take on more colour and saw a return to the use of classical forms. It was a style he would revert to for decades to come while toying with more controversial ideas.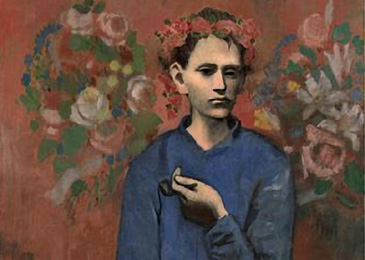 Garçon à la pipe (Boy With a Pipe) by Pablo Ruiz Picasso, in Paris, 1905, Oil on canvas: 81.3 x 100 cm. Garcon a la Pipe is an example of Picasso's Rose Period.
During the 1920s, the artist also contributed to the Surrealist movement, spearheaded by Salvador Dali and Andre Breton, before turning his attention to sculpture. Picasso was hugely affected by the outbreak of civil war in Spain, and in 1936 began one of his most significant works Guernica - depicting the horror and turmoil of war.The potent image, focusing on the bombing of a Spanish villa by Franco's German allies, was displayed at the World Fair in Paris - and at a series of international exhibitions.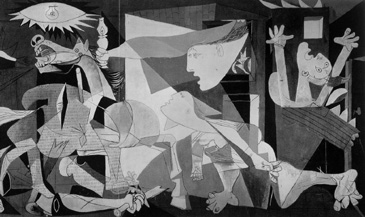 Guernica (1937) de Picasso
Global attention
Protected by his increasing fame, Picasso remained in France throughout World War II, despite the German occupation and the Nazis' low opinion of his "degenerate art."In 1944, the artist joined the French Communist Party and became a loud supporter of Joseph Stalin, a position which saw him rejected for French citizenship, it was recently revealed. Never one to shun the public eye, Picasso continued to work prolifically in painting, drawing and ceramics, as well as flirting with creative writing.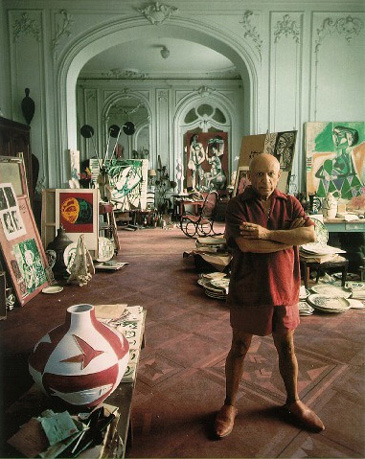 Pablo Picasso at his Paris art studio
A notorious womaniser, who once said women were either "goddesses or doormats," the artist died in 1973 in France at the age of 92, leaving four children (by three different mistresses) and his second wife, Jacqueline Roque. His forceful personality, coupled with his frequent changes of artistic style, ensured that few artists have ever been as famous in their lifetime as Picasso.