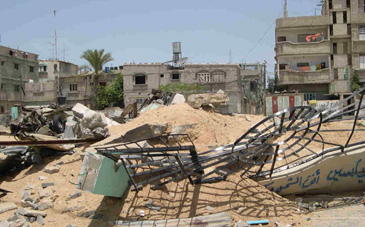 Rafah City in Gaza Strip
Rafah City resident Abu Mohammed whipped out his modern mobile phone and quickly dialed a number, before starting a concise conversation with the other side. "Hello. Please send me 750 watermelons and five crutches, and make that fast," Abu Mohammed said and hung up. An ordinary phone call of a Palestinian merchant working in vegetables and accessories for the elderly or disabled, one might think. However, the sentence bore a meaning that Abu Mohammed largely hides from the public. Donned in a black mask Abu Mohammed spoke about a subject that most Rafah residents fear to mention: weapons trading and smuggling, an industry that has been growing since the eruption of the current intifada almost five years ago. "The only way to get a weapon in Gaza is through tunnels after coordinating with Egyptian arms dealers on the other side of the border," he said, as he smoked one cigarette after another. "The sea can be very risky as Israeli boats keep a close watch on Gaza's coast."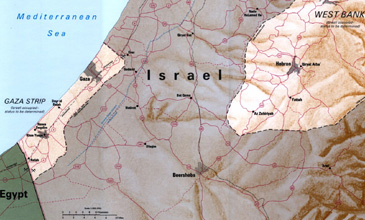 Map of Gaza Srip and surrounding areas
To build a tunnel one must first study the soil of the designated area, explained Abu Mohammed. With primitive tools, he added, digging a tunnel 60 to 105 meters long would cost about $2,500 and take two weeks. However, times changed. Israeli forces began uncovering tunnels and shutting them down, so weapons dealers were forced to build longer tunnels to remain out of the Israeli army's reach, Abu Mohammed said. "When the Israelis started discovering and shutting tunnels down we had to back up, and the distances kept increasing, and with them the costs soared. We began depending on the money we had saved up from previous jobs. Tunnels now cost between $20,000 and $30,000 and take six months to complete," he explained. Abu Mohammed said that he used to smuggle pistols, assault rifles and hand grenades — all of which were light weapons of interest to the various militant groups. "Our shipments were small; between 50 and 70 pieces and 3,000 and 5,000 bullets. We distributed weapons and ammo among the different factions."
A market in Rafah City in Gaza Strip
But, added Abu Mohammed, when the Israeli attacks escalated and heavier weapons were used against the Palestinians, the factions demanded heavier weapons to try and stay on a par with Israel. The use of tunnels took a new twist, said Abu Mohammed, when Israeli forces began their massive attacks on the Gaza Strip. At that point some militants began digging tunnels under Israeli military bases and camps, then blowing them up with explosives. Several similar attacks were used against vital Israeli compounds, including the border terminal in Rafah. Israeli defense minister Shaul Mofaz recently stated that Palestinian groups have acquired anti-air "Strilla" missiles capable of shooting down Israeli jetfighters and combat helicopters. But Abu Mohammed dismissed these claims. "The money we have is not enough to buy heavier weapons. We are not able to buy Strilla missiles and smuggle them into Gaza Strip because they require huge funding. I want to say it clearly that Palestinians have light weapons only, and if there were heavy weapons being smuggled, why did Hamas' military wing, the Izzeddin Al Qassam Brigades, manufacture and fire Qassam rockets instead of buying the smuggled ones?" As for the smuggling methods used, Abu Mohammed revealed that the weapons were smuggled through Egyptian weapons dealers via codes. "For example if I want 50 assault rifles we tell them to bring us 50 crutches, and if we wanted 50 bullets then we ask for 50 watermelons. We send the money for these weapons through the tunnel using electrical motors and the weapons are shipped to us using the same route and the same motors." Though unhappy about diminishing business in recent weeks, Abu Mohammed seemed pleased by the current atmosphere of calm in Gaza. "If the President [Mahmoud Abbas] said there is a truce then we will commit to it and continue to commit, but this truce serves Sharon more than the Palestinian people," he said. He added that the smuggling should stop, "at least for now."