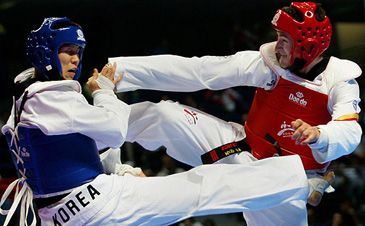 South Korea's Shin Gyeong-Hyun (left) competes with a Belgium player at the World Taekwondo Championships in Madrid April 17, 2005. Shin won the gold medal in the match.
MADRID, Spain (April 17, 2005) – Korea won both men's and women's team titles at the 2005 WTF World Taekwondo Championships, which concluded its five-day run here today.Korean male contestants clinched four gold medals, one silver and one bronze medal, while Korean female players grabbed three gold medals, two silver medals and one bronze medals.About 1,700 athletes and officials from a record 126 countries attended the championships, which were held at the Palacio de Deportes in downtown Madrid.Iran earned one gold medal, three silvers and one bronze medal to finish second in the men's overall team ranking. Spain won one gold, one silver and two bronze medals to finish second in the women's overall ranking.The United States and Russia finished fourth and fifth in the overall men's rankings by hauling two gold medals, and one silver and one bronze medal, respectively.China, the United States and Mexico finished third, fourth and fifth in the women's overall rankings.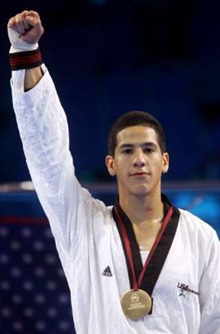 Mark Lopez, US winner of gold medal in under-67 Kg class at the World Taekwondo Championships in Madrid April 17, 2005. Photo Courtesy AP
The Good Fighting Spirit Prizes went to Mali, Afghanistan and Uzbekistan, while the Active Participation Prizes were awarded to South Africa, U.S. Virgin Island, and Chile.The inaugural President Friendship Awards were given to Algeria, Vietnam, Germany and Canada, each representing the WTF's four regional unions.The Best Referee Awards were awarded to six referees: Thekla Oetjens Breitenfeld of Germany, Chakir Chelbat of Sweden, Linda Kwan of Guatemala, Jose Molero Lopez of Spain, Uwe Otterbein of Cuba and Zhao Lei of China.The championships saw the introduction of a golden point system in case of a tied match, and the shortened duration of the men's competition, two of the recommendations proposed by the WTF Reform Committee."We are working hard to introduce a new electronic trunk protector system. We are working hard for the betterment of Taekwondo," said WTF President Chungwon Choue at his closing remarks during the closing ceremony of the championships. "We ask for your understanding in our pursuit for a better system. This is just the beginning of our reforms," said Choue, who was reelected to a four-year term at the 17th WTF General Assembly held here on April 12. Choue won an overwhelming 122 votes against a mere 10 votes by Sun Jae Park of Italy.The WTF Reform Committee produced a package of recommendations on 16 major reform areas, which were unanimously approved by the General Assembly.