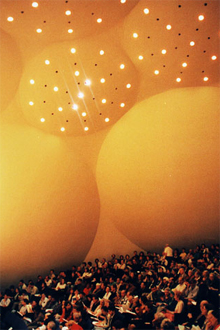 The 11th Van Cliburn International Piano Competition's screening recitals

The Van Cliburn International Piano Competition announced that 35 pianists have been selected to visit Fort Worth, Texas, this spring to participate in the 12th Van Cliburn International Piano Competition.Nineteen women and 16 men will vie for the significant cash awards and international tours offered to the top prizewinners. This is the first time in the history of the competition that more women than men were selected. In the 2001 Competition there were only eight women out of the 30 participants.A total of 13 countries will be represented: Australia (1), Canada (1), China (8), Germany (1), Israel (1), Italy (4), Lithuania (1), Russia (6), South Korea (2), UK (1), Ukraine (3), United States (5), and Venezuela (1). Participating in North America's most prestigious piano competition are two South Korean girls — Lee Soyeon and Joyce Yang (see their profiles at the end of the story).As in the past, many musicians cross many borders. For the first time, a Nigerian pianist will participate in the competition. Sodi Braide is a UK national currently living in France. Albert Mamriev, an Israeli citizen currently living in Germany, was born in Dagestan. Rem Urasin, a Russian competitor, lives in Tartarstan. Seven of the eight Chinese competitors are women.Three of the five US competitors were born in the United States. They are Stephen Beus, from Othello, Washington; Grace Fong, from Temple City, California; and Elizabeth Joy Roe, from Aurora, Illinois. US national Ning An was born in China and currently lives in Ooltewah, Tennessee, and Esther Park, also American, was born in South Korea and lives in Little Ferry, New Jersey.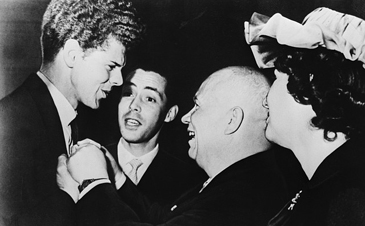 Van Cliburn gets congratulations from the former Soviet Union leader Nikita Kruschev (1894-1971) after he wins the First International Tchaikovsky Competition in Moscow in 1958.
Photo Courtesy Corbis
The selected pianists' ages range from 19 to 30. Six of the 35 selected pianists are visiting Fort Worth for the second time. Two of the six were finalists in 2001: Alexey Koltakov and Wang Xiaohan.As in past years, these 35 pianists have passed through extensive screening rounds. Written applications were received from 270 pianists worldwide, and from those, 147 pianists from 34 countries were invited to audition for the opportunity to compete.Auditions were held in Utrecht, the Netherlands; St. Petersburg, Russia; Lugano, Switzerland; New York City, and Fort Worth. Each artist performed a 40-minute solo recital, comprised of repertoire of his or her choice. The recitals were free and open to the public in order to create a natural concert setting for the auditions.The five-person screening jury consisted of John Giordano: chairman of the jury since 1973; Marcello Abbado: pianist and composer; Thomas Frost: senior executive producer for Sony Classical since 1989; Yoheved Kaplinsky: chair of the Piano Department of the Juilliard School of Music; and Jurgen Meyer-Josten: pianist, former head of Bavarian Radio, and director of the International Music Competition of the ARD (Broadcasting Companies of Germany) in Munich.
Van Cliburn
Born in 1934 the American classical musician Van Cliburn became world famous musician when he won the First International Tchaikovsky Competition in Moscow in 1958 at the height of the Cold War. In 2001, Cliburn was inducted into the American Classical Music Hall of Fame.
Ms. Yoheved Kaplinsky, one of the 12 competition jurors, asked to be relieved of her position, citing the fact that seven of her pupils were accepted into the competition. "I regretfully feel I must step down from the jury," said Ms. Kaplinsky. "I believe it is in the best interests of the competition for me to do so." Cliburn President Richard Rodzinski added, "having so many of her pianists accepted to the competition is an extraordinary tribute to such a great teacher." Ms. Kaplinsky's position will not be filled and the 12th Cliburn Competition will be adjudicated by 11 jurors, including Chairman John Giordano.The Van Cliburn International Piano Competition will begin on May 20, 2005. The winners will be announced on June 5, 2005 at 5:00 p.m. Because of the strong showing in the screening recitals this year, 35 competitors were selected instead of the intended 30, as in the 11th competition.For this reason, extra sessions will be added to the competition schedule, which will be updated and announced shortly.Ticket Information: Subscriptions range in price from $75 to $1,413. Please call 800-462-7979. Subscriptions are also available online at www.cliburntickets.org
. For further information, please visit the Foundation's website: www.cliburn.org.The following is the list of name, nationality, and age of pianists who will compete as finalist, in the 12th Van Cliburn International Piano Competition.
Name & Nationality & Age (as of May 20)
Ms. Lilian Akopova, Ukraine, 21
Mr. Ning An, USA (Ooltewah, TN), 28
Mr. Giuseppe Andaloro, Italy, 22
Mr. Stephen Beus, USA (Othello, WA), 23
Mr. Sodi Braide, Nigeria/UK, 29
Mr. Davide Cabassi, Italy, 28
Ms. Jie Chen, China, 19
Ms. Sa Chen, China, 25
Ms. Ying Feng, China, 28
Ms. Grace Fong, USA (Temple City, CA), 26
Mr. Davide Franceschetti, Italy, 28
Mr. Alexei Grynyuk, Ukraine, 27
Ms. Chu-Fang Huang, China, 22
Ms. Mariya Kim, Ukraine, 23
Mr. Alexander Kobrin, Russia, 25
Ms. Marina Kolomiytseva, Russia, 25
Mr. Alexey Koltakov, Australia, 26
Ms. Soyeon Lee, S. Korea, 25
Ms. Ang Li, Canada, 20
Mr. Albert Mamriev, Israel 30
Ms. Gabriela Martinez, Venezuela, 21
Ms. Maria Mazo, Germany/Russia, 22
Mr. Alexandre Moutouzkine, Russia, 24
Ms. Esther Park, USA (Little Ferry, NJ), 20
Mr. Roberto Plano, Italy, 26
Ms. Daria Rabotkina, Russia, 24
Mr. Ilya Rashkovskiy, Russia, 20
Ms. Elizabeth Joy Roe, USA (Aurora, IL), 23
Ms. Rui Shi, China, 21
Mr. Rem Urasin, Russia, 29
Mr. Xiaohan Wang, China, 24
Ms. Di Wu, China, 20
Ms. ChenXin Xu, China, 23
Ms. Joyce Yang, S. Korea, 19
Mr. Andrius Zlabys, Lithuania, 28
Exxon Mobil is the principal corporate sponsor of the Van Cliburn Foundation. American Airlines, Bank of America, City of Fort Worth, Star-Telegram, Steinway & Sons, and XTO Energy Inc. are official corporate sponsors, and RadioShack is the Cliburn's Corporate Sponsor. Official sponsors are the Arts Council of Fort Worth and Tarrant County, The Burnett Foundation, and the Sid W. Richardson Foundation.For more information on individual applicants, please visit www.cliburn.org http://www.cliburn.org/
Profiles of Lee Soyeon & Joyce Yang
Lee Soyeon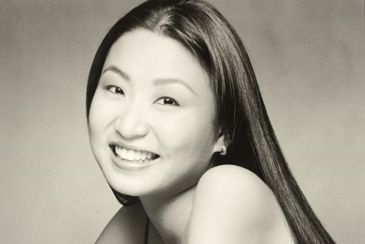 South Korean pianist Lee Soyeon
Korean pianist Soyeon Lee was selected as a winner of the Concert Artists Guild International Competition in March 2004. Following her subsequent showcase performance at Weill Recital Hall at Carnegie Hall, she was also awarded numerous performance prizes including the Park Avenue Symphony Concerto Prize, the first ever R.G. Niederhoffer Capital Management Audience Prize and a new CAG Commissioning Prize, which will result in a world premiere to be included in her recital on the CAG New York Concert series at Weill Recital Hall in March 2005.At the age of 25, Ms. Lee has already performed with many notable orchestras such as the Cleveland Orchestra, London Symphony, and the Filharmonia de Galicia. She has worked with conductors including Jahja Ling, Otto-Werner Mueller, Rafael Frühbeck de Burgos, and Graeme Jenkins. Ms. Lee has appeared in recital at Washington D.C.'s Phillips Collection, Spain's Palacio de Festivales de Cantabria, and Germany's Altes Rathaus, as well as in chamber music performances at the Leipzig Gewandhaus, Washington D.C.'s Kennedy Center, and New York's Alice Tully Hall, among others.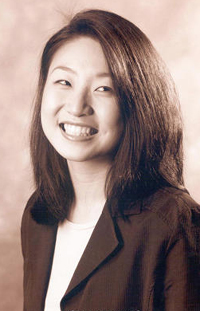 S. Korean pianist Lee Soyeon

During the 2003-2004 season, Ms. Lee performed throughout the United States and abroad. As a recipient of the 2004 Juilliard William Petschek Piano Debut Recital Award, she gave her New York debut recital at Lincoln Center's Alice Tully Hall in April 2004. This past October, Ms. Lee performed with the Orquesta Sinfónica Nacional in the Dominican Republic (October 2003). Additional US appearances included recitals at the University of Tennessee Evelyn Miller Young Pianist Series, Emelin Theater, and Rockefeller University.Highlights of Ms. Lee's 2004-2005 season include her Madrid debut at the Auditorio Nacional, recitals in Cleveland's Reinberger Hall and Carnegie's Weill Recital Hall, and her debut with the San Diego Symphony Orchestra.In addition to being a winner of the 2004 CAG Competition and Julliard's Petschek Award, Ms. Lee has won numerous prominent competitions including both the second prize and the Mozart Prize in the 2003 Cleveland International Piano Competition, the bronze medal in the 2002 Paloma O'Shea Santander International Piano Competition, and two consecutive prizes in Juilliard's Gina Bachauer Piano Competition. She made her New York orchestral debut at Avery Fisher Hall with the Juilliard Orchestra in 1999, as a winner of Juilliard's Rachmaninov Concerto Competition.Ms. Lee has been heard live on WQXR's McGraw-Hill Young Artists Showcase, hosted by Robert Sherman, in New York, on Washington DC's WGMS, and on Cleveland's WCLV. This season, a classical music documentary featuring Ms. Lee will air on Japanese network television NHK.Soyeon Lee began studying piano at the age of five in South Korea. Four years later, she moved to the United States with her family. She attended the Interlochen Arts Academy in Michigan, graduating with the school's highest honors in music. Ms. Lee earned her Bachelor's and Master's Degrees from the Juilliard School, where she is currently enrolled in the prestigious Artist Diploma Program. She continues her studies with Robert McDonald, and also works with Jerome Lowenthal and Yoheved Kaplinsky.
Joyce Yang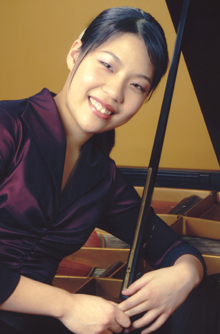 S. Korean pianist Joyce Yang
18-year-old Joyce Yang received her first piano lessons at age four from her aunt. She quickly took the instrument, which she received as a birthday present, and within the next few years, she had won several national competitions in South Korea.Miss Yang came to the United States at age 10 and began studies with Yoheved Kaplinsky at the Juilliard School. During her seven years at the Juilliard Pre-College, she won its concerto competitions, resulting in performances of the Haydn Piano Concerto in D and the Prokofiev Piano Concerto No. 2, and she was invited to perform at a benefit concert with the Juilliard Orchestra conducted by Leonard Slatkin.In 1998 Miss Yang won the Philadelphia Orchestra's Albert M. Greenfield Student Competition, playing the Saint-Saën Piano Concerto No. 2. Her victory led to the performance of the Prokofiev Piano Concerto No. 3 with the Philadelphia Orchestra at her age 13.Highlights of Miss Yang's previous seasons include concerto performances with the National Symphony Orchestra, the Baltimore Symphony Orchestra, the Ravinia Festival Orchestra, the Long Island Philharmonic Orchestra, the
California Symphony, the Reno Philharmonic Orchestra, the Missouri Chamber Orchestra, the Albany Symphony Orchestra, the Knoxville Symphony Orchestra, the Orlando Philharmonic Orchestra, and the Korea Symphony Orchestra in South Korea.In 2003-2004 season, she gave a pair of recitals in the Rising Star Series in the Ravinia Festival, Chicago and the Gilmore International Keyboard Festival, Kalamazoo. She also has appeared at the Bridgehampton Chamber Music
Festival regularly as an avid chamber musician.Miss Yang received a Sony/USA Fellowship Grant from Salon De Virtuosi and a Joseph Fidelman Scholarship from the Juilliard School.
Reviews
"Promising Prelude" ... a brilliant tone, effortless technique and interpretive sensitivity... — the Washington Post"Vitality and elegance ... a pianist who can put the spirit across" — Orlando Sentinel"An expressivity and sense of wide-eyed wonder to the music" — Newsday"Superior professional pianist for the years ahead" — Kalamazoo Gazette