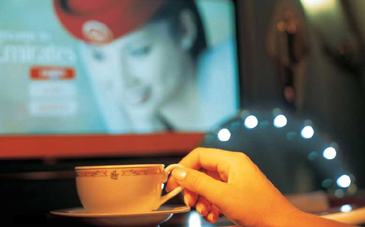 Emirates Airlines launches non-stop flights on Dubai-Seoul route.
Emirates Airlines, one of the world's fastest growing airlines, will start its new daily non-stop service on Dubai-Seoul route on May 1, 2005.The new air service will certainly support the strong demand for air links between the two cities, and boost trade and tourism exchanges between them.Dubai's importance as a growing Middle East commercial hub is attracting strong interest from Korean businesses. Lee Sang-jin, area manager Korea of Emirates Airlines said that Emirates' new non-stop service linking Dubai and Seoul will stimulate greater business and tourism flows between the two cities." Korea is among Dubai's top 10 trading partners. Dubai's main Korean imports include textiles, automobiles and appliances, while main non-oil exports to Korea include base metals, plastics and animal products.When asked what are favorable and unfavorable factors facing Emirates Airlines facing in Korea, Lee said "As you are well aware of, Dubai-based Emirates is one of the fastest growing airlines in the world and has received more than 250 international awards for excellence since its launch in 1985."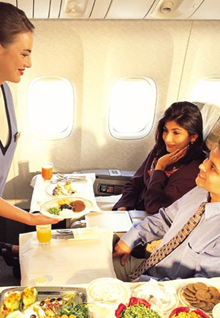 Cabin service of Emirates Airlines
With the latest addition of new route to Incheon, we can now take you to 78 destinations in 55 countries. Our fleet is constantly being upgraded to keep it one of the youngest in the skies. Emirates is also financially solid with handsome profits each year. Thanks to state-of-the-art terminal of Dubai Airport, Emirates' hub, your journey to or through Dubai is even easier and more enjoyable. One negative factor associated with Dubai, however, is misinformation about safety in Dubai. Unlike other Middle East spots where terrorism and war more often than not make international news headlines, Dubai is the safest place in the world for tourists and businessmen Dubai is the cosmopolitan city where east meets west as financial and international trade hub with the most modern infrastructure.As long as Korean travelers are concerned, there are not enough facilities such as traditional Korean restaurants, travel agents and other service establishments yet. We have to overcome these problems to increase market pie in due course, however.Touching on business strategies of Emirates Airlines in Korea , he said that "why not fly with us to see Dubai with your own eyes and experience Dubai's combination of Arabian charm and world-class infrastructure"He went on to say that visitors will then realize Dubai is the world's safest place for sightseeing as well as international businesses.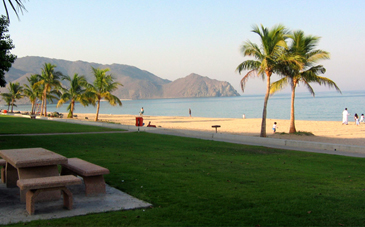 Khorfakkan Beach — khorfakkan is located in the eastern part of UAE, near to Al-Fujayrah.It host one of the UAE's beautiful beach. Photo Courtesy Bharat R Sharma
Taking advantage of new Seoul-Dubai air service, Emirates Airlines plans to invite 200 to 250 prominent Korean representatives from news media, travel trade and cargo forwarders for familiarization tour.As to attractions of Korean market, he said that . Korea's outbound market has recently been expanding by leaps and bounds. Twenty years or so have passed since restrictions on overseas travel for Koreans were lifted. Korean tourists are sophisticated now that more of them turn to long haul trips nowadays namely Europe and Africa. Sooner or later, more Korean tourists, particularly those in upscale, are expected to turn their eyes to such a specific destination as Dubai."That is why the Korean National Tourism Organization(KNTO) has recently opened its office in Dubai to cope with changing market pattern," said Lee. "So far, mainstay of Korean visitors to Dubai were business travelers but tourists are increasing lately at impressive pace.""I think that Emirates Airlines will play an important role in galvanizing two-way tourist traffic between Korea and Middle East as Dubai is gateway to Europe as well as Gulf states such as Qatar, Saudi Arabia and Kuwait with huge inbound market potential for Korea," Lee concluded. "I'm convinced that Incheon-Dubai direct air service will be a catalyst in enlarging market pie for both inbound and outbound market for Korea and UAE."
.