Russian President Vladimir Putin (left) and his Egyptian counterpart Hosni Mubarak meet in Cairo April 27, 2005. Putin arrived in Egypt April 26 on the first visit by a Russian head of state in more than 40 years. Courtesy AFP/Str
President Hosni Mubarak held an important session of talks in Cairo with visiting Russian President Vladimir Putin on April 27, 2005, dealing with the developments in the Middle East, the joint Egyptian Russian cooperation for pushing forward the Middle East peace process and ways of shoring up stability in the region. "The two leaders also discussed a number of important issues mainly the reform of the United Nations, coordinating efforts for confronting international terrorism and evacuating Middle East region of weapons of mass destruction," Amr Helmy, Egyptian ambassador to Seoul said.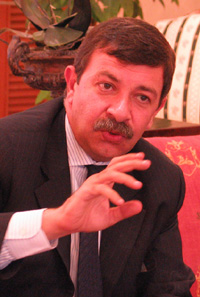 Amr Helmy, Egyptian ambassador to Seoul
An Egyptian-Russian statement was issued at the end of the visit of Russian President Vladimir Putin to Egypt. In the statement Russia expressed its support for Egypt to become a permanent member in an enlarged security council."The Russian Federation regards the Arab Republic of Egypt as an influential and major member of the international community, and in this connection declares that Egypt is a worthy candidate for a permanent seat in an enlarged UN Security Council, provided reaching the broadest possible agreement on the Security Council reform," the statement read. "The two leaders also discussed ways of developing economic, commercial and cultural relations and expanding commercial exchange between the two countries," Ambassador Helmy added .