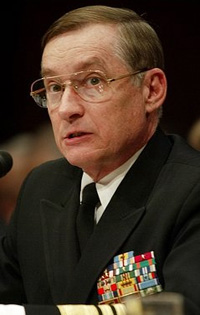 Defense Intelligence Agency (DIA) head, Vice Adm. Lowell E. Jacoby
WASHINGTON — The head of the Defense Intelligence Agency said today (April 28, 2005) that American intelligence agencies believe North Korea has mastered the technology for mounting a nuclear warhead on its missiles, an assessment that, if correct, means the country could build weapons to threaten Japan and perhaps the western United States.The conclusion was part of a total reassessment of North Korea's capabilities that the D.I.A.'s chief, Vice Adm. Lowell E. Jacoby, said was still under way. While Admiral Jacoby said North Korea was judged to have the capability to put a nuclear weapon atop its missiles, he stopped well short of saying they have already done so, or even that they had assembled warheads small enough for the purpose. Nor did he give any evidence to back up his view during the public session of the Senate Armed Services Committee.But he appeared to be putting a final conclusion on a study the intelligence community has had under way for at least two years. In 2003, the United States warned South Korea and Japan that satellite imagery had identified an advanced nuclear testing site in a remote corner of North Korea where equipment had been set up to test conventional explosives that, when detonated, could compress a plutonium core and set off a compact nuclear explosion. Since then, American investigators have been pressing Pakistan for details of what kind of technology North Korean engineers might have been given in visits they made to Pakistani nuclear sites. North Korea supplied Pakistan with many of the missiles Pakistan uses for its own nuclear arsenal.North Korea is considered one of the most opaque intelligence targets for American analysts, and the absence of reliable human spies had made it all the more difficult to understand the progress of its program.But when asked by Senator Hillary Rodham Clinton in a hearing today (April 28, 2005) whether "North Korea has the ability to arm a missile with a nuclear device," Admiral Jacoby responded, "The assessment is that they have the capability to do that, yes ma'am."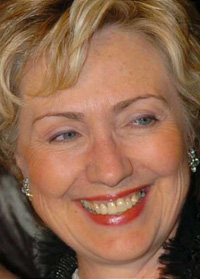 US Sen. Hillary Rodham Clinton
If President Bush accepts that judgment, it could significantly complicate choices he must make in the next several months. North Korea declared publicly for the first time in February that it had nuclear weapons. Earlier this month, American spy satellites detected that the country had shut down its nuclear power plant at Yongbyon and could be preparing to reprocess the plant's spent fuel, a move that could result in the production of enough plutonium to build up to two or three more nuclear bombs.Admiral Jacoby said that the United States had increased its assessment of the current North Korean arsenal's size, but he gave no numbers.Six-nation talks the United States is backing in an effort to persuade Pyongyang to abandon its nuclear program have been stalled since last June. China, a neighbor and ally of Communist North Korea, has been host to three inconclusive rounds of the negotiations, which involved the United States, North and South Korea, China, Japan, and Russia.Senator Clinton called Admiral Jacoby's testimony "troubling beyond words."She added: "We have been locked into this six-party idea now for a number of years and all the while we've seen North Korea going about the business of acquiring nuclear weapons and the missile capacity to deliver those to the shores of the United States."Admiral Jacoby also confirmed the assessment that North Korea has the ability to deploy a two-stage intercontinental missile that could reach portions of the continental United States, in addition to Hawaii and Alaska. He added that a formal assessment under way by United States intelligence agencies of North Korea's nuclear program would be completed next month.
The above article is from The New York Times.