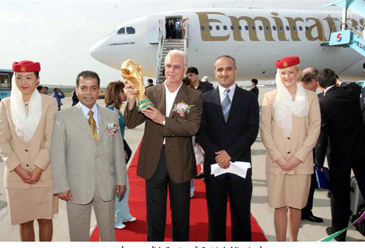 The first of Emirates Airline's daily flights between Dubai and Seoul landed at Inchon Airport here on May 1, 2005 to the rousing welcome of traditional drums from a Korean dance troupe performing the Samulnori dance on the tarmac.Sporting the FIFA World Cup logo on the aircraft livery, Emirates flight EK323 arrived at Inchon International Airport at 15:55hours, after flying eight and a half hours from Dubai International Airport.On board were Ghaith Al Ghaith, Emirates Executive Vice President Commercial Operations Worldwide, Richard Vaughan, Senior Vice President Commercial Operations Far East and Australasia, and Emirates' Ambassador for Sport and Social Activities, football icon Franz Beckenbauer, holding the FIFA World Cup trophy.They were met by a VIP delegation led by Ibrahim Al Monsuri, charge d'affairs of UAE Embassy in Korea and Geu Hae Park, Vice President of Inchon Airport.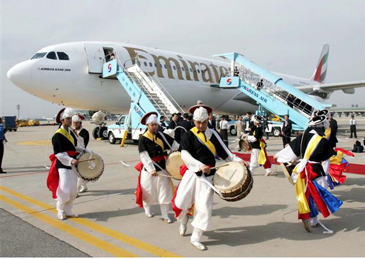 Addressing Korean media representatives at the airport, Al Ghaith said: "Emirates is delighted to launch our new daily nonstop service between Dubai and Seoul. On behalf of Emirates, I would like to thank the Korean authorities and Inchon airport officials for the tremendous welcome and for making Emirates' service to Seoul possible.He added: "We look forward to serving Korean travelers with our award-winning service, and providing them with more travel options to Dubai and the many other exciting destinations served by our airline. Emirates will work with our travel industry partners to promote Korea and bring travelers from Dubai and other cities across the world to visit Korea." Al Ghaith also said he is confident of the success of Emirates' new Dubai-Seoul route, which will support greater trade and tourism exchange between the two cities by providing a speedy daily air link for both travelers and cargo.Korea is among Dubai's top 10 trading partners. In 2003, non-oil trade between Dubai and Seoul was AED 4.7 billion (US$1.3 billion).Dubai's main Korean imports include textiles, automobiles and appliances, while main non-oil exports to Korea include base metals, plastics and animal products.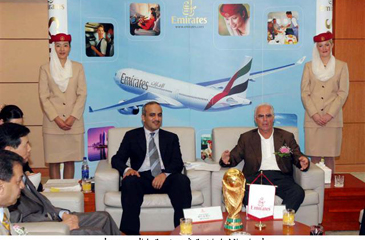 Emirates operate an Airbus 340-300 aircraft in three-class configuration on the Dubai-Seoul route offering a capacity of 267 passengers and 13 tones of belly hold space for cargo. Customers flying on Emirates' Dubai-Seoul service can look forward to international gourmet cuisine with options tailored to Korean palates, a wide selection of the latest in-flight movies including some of the most popular Korean shows, and top-class service from the airline's award-winning cabin crew, which includes over 220 Korean nationals.To celebrate its new daily service, from now until 30th June, Emirates is offering passengers flying First or Business class to Seoul with complimentary hotel stays in Korea.