Ambassador of Sweden in Seoul Harald Sandberg and his wife Mrs. Else Sandberg ready to greets guests at Hyatt reception
Swedish Ambassador to Seoul Harald Sandberg and his wife, Else Sandberg, hosted a reception to mark the 59th birthday (April 30, 2005) of His Majesty the King of Sweden, King Carl XVI Gustaf at the Regency Room of the Hyatt Hotel in Seoul April 27, 2005.Amb. Sandberg delivered a speech in front of about 700 high-profile guests gathered to celebrate the birthday of King Carl XVI Gustaf. In the speech he explained how Swedish usually celebrate the king's birthday. The top Swedish diplomat in Seoul exchanged greetings with and thanked each of the at the entrance of the reception."The important guests today are Koreans because we are here to boost the people-to-people relations between Sweden and Korea," he stressed the bilateral ties in his speech.
The congratulatory event included songs by "Mamma Mia."
King Carl XVI Gustaf Folke Hubertus, king of Sweden, was born on April 30, 1946. Carl Gustaf became crown prince.When Gustaf VI Adolf passed away Sept. 15, 1973, Crown Prince Carl Gustaf, then 27 years old, became Sweden's head of state.The new King took as his motto "For Sweden - With the Times," thereby declaring his intention of meeting the demands of society on a modern monarch.The gala reception, titled "Definitely Swedish 2005," is composed of traditional Swedish songs and dances, exhibitions of Swedish products as well as authentic Swedish cuisine.
Reception hall of the 59th birthday (April 30, 2005) of His Majesty the King of Sweden, King Carl XVI Gustaf.
A "smorgasbord," a Swedish-style buffet featuring a variety of hot and cold dishes, and "Absolut Vodka," Swedish premium spirit, were among the large selection of delicacies served for the party.The smorgasbord included herring, salmon, and eel. To ensure authenticity, a veteran Swedish chef, Gunnar Forssell,, had to be flown in Seoul from Sweden. He spent three days preparing the smorgasbord. "These herrings came directly from the North Sea, the cold waters, where the herrings are very fat," Forssell explained.Coupled with a presence of a Swedish driving machine — Volvo's SAAB 93 Convertible, congratulatory songs by the world-famous Swedish musical group "Mamma Mia" members added flavor to the Swedish king's birthday reception. Mamma Mis sang several hits of the Swedish group ABBA including "Dancing Queen."
The "Absoult Bar" set up at the reception
The exhibition by Swedish companies operating in Seoul served as a good chance to catch a glimpse of Swedish industry. It showed not only automobiles, Absolut Vodkas but also telecommunications products.The standing buffet reception was attended by unusually large crowd of both local and foreign guests including top foreign envoys and other senior diplomats serving in Seoul. The number of guests was reaching well over 700 by Swedish Embassy estimates.The distinguished guests from the diplomatic circle included Amb. Rene Francisco Umana (Chinchilla) of Honduras, Amb. Zaid Al-Sherida of Kuwait, Amb. Carlos M.L. Frota of Portugal, Amb. Sydney Bafana Kubheka of South Africa, and Amb. Toshiyuki Takano of Japan. Korean dignitaries were among the VIP participants.
The new Volvo's Saab 93 convertible car shown at the reception
South Korea forged the formal ties with the Scandinavian IT (information technology) superpower in 1959. Sweden established diplomatic relations with North Korean in 1973. Now on major front in information and telecommunication industry South Korean is surpassing Sweden. There are 61 Swedish companies operating in South Korea and some 1,000 South Koreans are now living in Sweden.
Country profile: Sweden
Sweden's position as one of the world's most highly developed post-industrial societies looks fundamentally secure.
Overview
Exibition area of the Swedish reception at Hyatt Hotel
Sweden, where the Social Democrats have been in government for most of the last 70 years, developed "the Swedish model" - a mixed economy founded on public-private partnership. It traditionally featured centralised wage negotiations and a heavily tax-subsidised social security network. The Swedes still enjoy an advanced welfare system, and their standard of living and life expectancy are almost second to none. The country is also a common destination for refugees and asylum seekers - over 10% of its population are immigrants. Sweden is known throughout the world for its neutrality. This policy has led to a number of Swedish politicians taking on international roles, often mediating between conflicting groups or ideologies. With the ending of the Cold War, Sweden felt able to join the European Union in 1995 although it still declines to become a Nato member.
Ambassador of Sweden in Seoul Harald Sandberg and his wife Mrs. Else Sandberg are welcoming the guests.
Sweden was one of three EU countries not to join the single European currency. In the first referendum on membership after the euro's introduction in 12 of 15 EU countries, Swedish voters rejected it by a clear majority in September 2003. The vote went ahead despite the shocking death just days before of Foreign Minister Anna Lindh who had spearheaded the government's pro-euro campaign. She was stabbed as she shopped in Stockholm without bodyguards. A man was subsequently convicted of her murder and sentenced to life imprisonment.
Facts
Population: 8.9 million (UN, 2005)
Capital: Stockholm
Area: 449,964 sq km (173,732 sq miles)
Major language: Swedish
Major religion: Christianity
Life expectancy: 78 years (men), 83 years (women) (UN)
Monetary unit: 1 Swedish krona = 100 ore
Main exports: Machinery and transport equipment, paper products, chemicals
GNI per capita: US $28,840 (World Bank, 2003)
Internet domain: .se
International dialling code: +46
Leaders
King: Carl XVI Gustaf
Prime minister: Goran Persson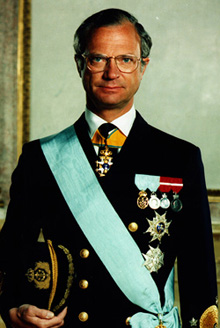 King of Sweden Carl XVI Gustaf
Social Democrat Party leader Goran Persson continued into a third term as prime minister in a minority government following elections in September 2002. He campaigned on a ticket of support for the welfare state and generous funding for education and health care. Contrary to some expectations, the elections saw the Social Democrats increase their presence to 144 seats in the 349-member parliament. The Left won 30 seats and the Greens gained the balance of power with 17. Mr Persson refused to enter into any formal coalition arrangement with either, largely because of their opposition to EU membership. However, their support is needed to keep the prime minister in office. Although the country and his own cabinet were divided on the issue, Mr Persson declared support for the euro and called a referendum in September 2003. He suffered a double blow when voters rejected membership just days after the murder of his popular foreign minister, Anna Lindh, who had led the "Yes" campaign. Foreign minister: Laila Freivalds
Finance minister: Paer Nuder
Media
A juggling barterder at Absolut Vodka is surrounded by guests.
Swedish audiences enjoy a wide variety of public and commercial broadcast services, though until relatively recently public TV and radio had a near-monopoly of the airwaves. Public television is run by Sveriges Television (SVT). Its main competitor is TV4, a commercial station which launched in 1992 and which broadcasts terrestrially. The country is home to the regional media giants Bonnier and the Modern Times Group (MTG). Around 66% of households have cable or satellite TV and can choose from among dozens of channels. Digital terrestrial broadcasting was launched by SVT in 1999; pay-TV channels are also broadcast in the format. The government aims to complete the digitisation of TV broadcasting by 2008.
Guests are enjoying the Swedish-style buffet dinner at reception.
Public radio is run by Sveriges Radio. Commercial radio began in 1993, and there are nearly 100 stations on the air. Some of the main stations have consolidated into near-national networks. Most Swedish households take a daily newspaper and the country is among the top consumers of newspapers in the world. Many titles have a regional readership. The government provides subsidies to newspapers regardless of their political affiliation.
Photos of Swedish King's Birthday Reception
Amb. Sandberg is welcoming the guests at the reception.
A Swedish car exhibited at the Swedish reception at Hyatt Hotel
Swedish Amb. Sandberg makes a welcoming speech.
The Swedish reception included cultural performances.
Swedish Amb. Sandberg (right) talks with one local man.
Amb. Sandberg talks with a guest. At right is Mrs. Sandberg.