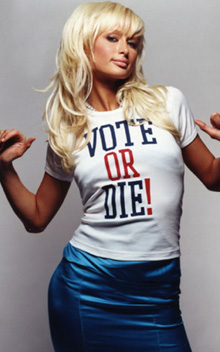 Paris Hilton
After years of being a ubiquitous presence on the global nightlife scene, dancing on tabletops and sauntering down red carpets from Australia to Los Angeles, Paris Hilton says she is eager to leave her Red Bull-fueled evenings behind and make the leap from globe-trotting sex kitten to savvy business titan."I'm glad I got the partying out of my system when I was young, because now I'm so over it and I can focus on my career," Ms. Hilton said one balmy afternoon late last week. "Now I'm trying to build an empire. I don't want to be known as this Hilton hotel girl my whole life. I want to make my own name."To this end, Ms. Hilton, 24, has made notable changes in her business camp in recent weeks. To further her fledgling movie career, she has signed with Endeavor, the Hollywood talent agency. Though her new film, "House of Wax," a remake of the 1953 horror flick, opens on Friday, Ms. Hilton's best-known work has been an infamous sex tape that features her in flagrante with a boyfriend. She changed publicity houses, defecting from PMK/HBH to Dan Klores Communications, where she is handled by Rob Shuter, whose clients include Sean Combs, Kimora Lee Simmons, and the cosmetics companies M.A.C. and Estée Lauder. And the power plays have not been only behind the scenes. Ms. Hilton also publicly parted ways with Nicole Richie, daughter of the singer Lionel and her co-star on the hit Fox series "The Simple Life." If Ms. Hilton has her way, Kimberly Stewart, the comely scion of Rod Stewart, will play her second banana on her show. Ms. Hilton said that she was sexing-up the fourth installment of that fish-out-of-water series, which she produces. Next season's "Simple Life," as per her request, will be shot in Hawaii. Expect loads of bikinis, Ms. Hilton said. "I'm tired of the cold and dowdy clothes."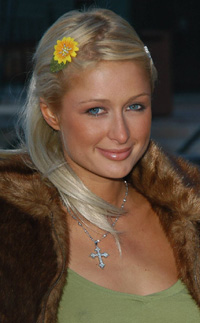 Paris Hilton
She said that she was pursued by dozens of talent agencies, but chose Endeavor because "they know how to do branding and they're really smart." Over an early dinner of Chilean sea bass and salad at the Cipriani in SoHo, Ms. Hilton said she intended to model her career after those of the moguls Sean Combs and Donald Trump. "Puffy is a genius," she said of Mr. Combs. "He does everything. Music. Clothing. I totally look up to him and Donald Trump because he's built this whole empire - hotels, casinos, resorts, a television show."It appears that Ms. Hilton's blond ambition knows no bounds and she is clearly intent on capitalizing on her fame; she commands anywhere from $150,000 to $200,000 to appear at a party for 20 minutes, she said. "If it's in Japan I get more," she said.Last year she began her perfume line, Paris Hilton, which is marketed through Parlux Fragrances. She is working with Parlux again for her makeup line, as well as for a men's fragrance, which will appear in stores next month. Ms. Hilton said - ahem, purred - that her cologne is "so hot that when guys wear it it makes girls want them." In December, with Fred Khalilian, a Florida-based businessman who made his fortune in the fitness world, Ms. Hilton opened Club Paris in Orlando. She plans to open another outpost in Miami in August and another in Las Vegas on New Year's Eve. Mr. Khalilian splits the profits with Ms. Hilton and reportedly paid her seven figures to join forces."I wanted a business model that could work for at least five years, and Paris will definitely be around," he predicted. "Every day they say her 15 minutes is up, and every day you have to add another 15 minutes."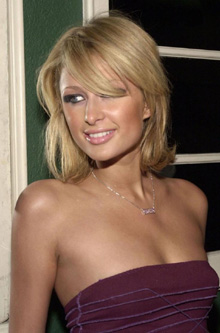 Paris Hilton
Her Amazon.com jewelry has done well, according to Jani Strand, a spokeswoman for the site. "It's been eight months since we launched her line and her pieces are still in the top 20 out of 100,000 items," Ms. Strand said. Her jewelry line, like the other products Ms. Hilton peddles, is not high-end, more befitting Cosmo Girl than Vogue. A handbag line, a clothing line, an album (think Blondie meets Gwen Stefani, Ms. Hilton said), an energy drink and a chain of boutique hotels are also on the horizon. When asked what Hotel Paris will look like, Ms. Hilton's voice rose several octaves. "It will be pink and hot," she said, sounding very much like a shy first-grader.Ms. Hilton is recording an album, and plans to collaborate with the producer Lil Jon, who produced Usher's hit song "Yeah!" "When I was saying I was going to work with Paris, people were like, 'You've got to be kidding, she can't sing,' " he said. "But it didn't really matter to me because she is sexy. And if you can capture that on a record, she could easily sell a million quick."In the past it has been all too easy to write off Ms. Hilton as a publicity-hungry heirhead given to inane pronouncements like, "that's hot," but increasingly people in the business world are taking her seriously and many believe it may be Ms. Hilton and not her detractors who has the last laugh."She is the Donald Trump of the younger generation," said Al Ries, chairman of Ries & Ries, marketing consultants in Roswell, Ga. Behind Ms. Hilton's glassy blue eyes and glossy pink lips, Mr. Ries believes there is a brain. "She's definitely got good instincts and she understands the power of being in the public eye," he said. "You don't have to have stories saying nice things about you; you just have to have stories saying something about you."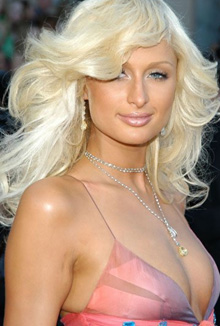 Paris Hilton
Ms. Hilton may not come across as the sharpest knife in the drawer, but she is a Mensa-caliber genius at being a celebrity. That afternoon, before dinner, as Ms. Hilton, in a flirty floral minidress and Manolo Blahnik sandals, exited her taping of the "Late Show With David Letterman," she happily posed before the phalanx of paparazzi that yelled her name. Ms. Hilton even has a paparazzi strut: hips forward, shoulders back, derrière swinging like a slow pendulum, smile to the left, smile to the right, strike a pose and repeat. After dinner, Ms. Hilton headed next door to the designer Patricia Field's boutique. She picked up several dresses and contemplated buying a $1,000 pair of pumps, but then the businesswoman in her took over. "You all should give these to me for free," Ms. Hilton told the three salespeople who swirled about her like ladies in waiting, "because once I wear them, you know that they are going to be in all the magazines and everyone is going to write about them." She was given the shoes.Joel Silver, who produced "House of Wax," said that Ms. Hilton's celebrity helped her land the part of a teenager named Paige, who in one scene performs a striptease. "Of course I don't think it will hurt us promotionally," Mr. Silver said, "but if the casting director wasn't happy with her, she would not have been in the movie. I didn't want to ruin the movie. Fortunately, she's great in it."Ms. Hilton refused to discuss the split with her "Simple Life" co-star. Did Ms. Richie's metamorphosis from chunky fashion disaster to skinny glamour girl play a role? "I've been skinny all my life, but I guess something like that changes people," Ms. Hilton said. "But it's deeper than that." Ms. Hilton said that she is not the imbecile that she appears to be on her show. "If you want to make fun of yourself and play into the whole stereotype, then why not? I have a hit show," she said. "Obviously I know what I'm doing." And, Ms. Hilton continued, "I learn more about people when they don't think I know what they're talking about. People are more loose and they don't realize that I know what's going on."A sex tape might have derailed another young woman's career, but as with her idols Mr. Trump and Mr. Combs, scandal has made Ms. Hilton an even bigger name and generated publicity for her budding brand. It also generated revenue. Ms. Hilton's lawyer, Peter Lopez, confirmed that she is profiting from what is now titled "One Night in Paris." "Whenever anything happens in her life, her book sales go up," said Trish Todd, editor in chief of Touchstone/Fireside, which published "Confessions of an Heiress" (2004), the New York Times best seller that Ms. Hilton wrote with the journalist Merle Ginsberg. "When she lost her dog, book sales when up." Ms. Hilton, a book industry insider said, received more than $200,000 for "Confessions," which is in its 12th printing. Well over 100,000 copies have sold since the title arrived on shelves in September and another Hilton book is on the way, Ms. Todd said. When asked to explain her popularity, Ms. Hilton said: "I live a fantasy life. It's not a fantasy to me, because that's all I know, but a lot of people are interested." Ms. Hilton said that she consulted with her father, Rick Hilton, on all her business ventures. Mr. Hilton, whose grandfather Conrad founded the Hilton hotel company, is chairman of the Los Angeles real estate company Hilton & Hyland. What is the best career advice her dad has given her? "Never settle," Ms. Hilton said. "You can always get a lot more." Ms. Hilton shares a home with her "soul mate" of five months, Paris Latsis, an heir to a Greek shipping fortune. She said that she hoped to marry Mr. Latsis and have children. "I want a big princess wedding," she said, her voice again rising octaves. Ms. Hilton has absolutely no plans to go into the business that made her family name famous. "I can do my own hotels, so why would I work for somebody else?" she asked. "It's better for me to be in charge. I can do it, so why not?"