Pablo Picasso, "Les Femmes d'Alger," 1955 (d'après Delacroix). Huile sur toile 114 x 146 cm. Coll. W. Ganz, New York.
NEW YORK, May 5, 2005 — 'Les Femmes d'Alger (J)" by Pablo Picasso and a self-portrait by Max Beckmann sold at Sotheby's for $18.6 million and $16.8 million, respectively.
The huge prices Tuesday (May 3) night highlight the thinness of the market in a sale that was short on masterpieces but realized a total of $91.29 million.
Picasso's "Les Femmes d'Alger (J)," dated "26.1.55" on the back of the canvas, is part of a series of 15 pictures numbered A to O. All were painted between Dec. 13, 1954, and Feb. 14, 1955.Of these, 13 (including Sotheby's picture) represent a group of three or four women seated or standing. The painter is said to have had in mind "Les Femmes d'Alger" by Eugène Delacroix as he was working on the series.
Sotheby's picture, which was consigned from the collection of Dr. and Mrs. John A. Cook, looks like a schoolboy's spoof of Delacroix. It sends back faint echoes of Picasso's early Cubist phase associated with a palette in intense blues, reds and acid yellow borrowed from the work of Henri Matisse in the years 1908 to 1912.
Last seen on the market in 1962, "Les Femmes d'Alger (J)" matches to perfection Picasso's image in the general public's mind. The human figure looks roughly hewn and distorted; the color scheme is highly contrasted. The huge estimate of $15 million to $20 million might have harmed it. But the picture was seen as an icon, and that ensured it a safe passage.
Max Beckmann's self-portrait, dated 1936, was acquired in 1938 from the artist by a German collector of then-contemporary art. The picture remained in the collector's family and was never offered in the market until this week.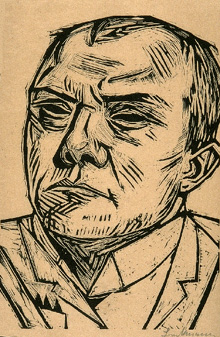 Max Beckmann, Self-Portrait, Woodcut, 1922, Image: 230, mm x 153 mm, Museum Purchase, 67.74
The self-portrait is one of the last works that Beckmann painted before fleeing Nazi Germany for the Netherlands in 1936. The strong black outlines and the contrasted color scheme hark back to Beckmann's Expressionist phase on the eve of World War I. The treatment of the face, however, is purely figural. With its big shadows under the eyes and its tightly pressed lips, the self-portrait has a dramatic intensity.
The painter holds a big crystal ball (hence the title "Self-Portrait with a Crystal Ball," by which it is now known) as if he were trying to find out what the future holds in store. The emotional charge of the picture, with its implicit allusion to the tragedy that was unfolding in Germany combined with its painterly achievement make it a rare icon within Beckmann's œuvre. This explains the ease with which the work precisely matched the upper end of the estimate.
The same enthusiasm was displayed by bidders over bronzes that could also be seen as icons within the work of the artists who signed them. "Eve," the standing figure of a nude woman trying to hide her face, was conceived by Rodin in 1881 and cast before his death in 1917. The bronze, which is 29.5 inches, or 75 centimeters, tall, more than doubled its high estimate as it ended its upward course at $2.36 million.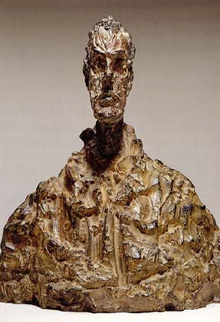 Alberto Giacometti, Bust of Diego, 1954, bronze, painted 15 1/4 x 13 1/4 x 8 in. at MoMA
Alberto Giacometti's bust of his brother Diego titled "L'homme au chandail" ("Man in a Sweater") was doubly iconic. Likewise cast within the sculptor's lifetime, it is typical of Giacometti's rugged stylization. Moreover, the bronze represents a man who played a significant role in the production of Giacometti's œuvre. It was Diego who trimmed the bronzes when they were taken out of their mold, and it was also he who patinated them. The double icon brought a gigantic $3.6 million.
The scarcity of top-quality works, which accounts for the high prices paid on Tuesday, also explains why many second-rate works were included in the catalogue. These often carried overly optimistic "estimates," apparently reflecting the vendors' wishes rather than reality. As a result, 20 of the 65 works offered failed to find takers.
The above article is from IHT.