"The Iraq experience demonstrated that inspections can be effective even when the country being inspected is less than co-operative" said Dr. Mohamed ElBaradei, IAEA secretary general.
UN nuclear watchdog chief Mohammed ElBaradei has said North Korea could possess several nuclear bombs.
Speaking on US television, he said Pyongyang had enough plutonium to make five or six nuclear weapons. The country also has the necessary infrastructure to convert the plutonium into weapons, Mr ElBaradei added. North Korea announced in February that it had nuclear arms - but that claim has not been verified by Mr ElBaradei's International Atomic Energy Agency. When asked by CNN if it was the IAEA's assessment that North Korea already had as many as six bombs, Mr ElBaradei replied: "I think that would be close to our estimation." "We knew they had the plutonium that could be converted into five or six North Korea weapons," he went on to say. "We know that they had the industrial infrastructure to weaponise this plutonium. We have read also that they have the delivery system." IAEA spokeswoman Melissa Fleming told the BBC there was no way the agency could know for sure whether North Korea had six bombs. But she said it would not be surprising if it did.
'Cry for help'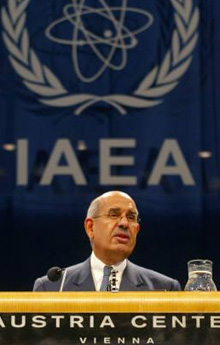 Mohamed ElBaradei has spent 20 years at the IAEA.
The agency's inspectors were kicked out of North Korea at the end of 2002. Pyongyang has shunned multilateral talks on its nuclear programme for almost a year. Recently, reports have suggested it is preparing to test a nuclear bomb. Mr ElBaradei warned that a nuclear test would have disastrous political and environmental consequences. "I do hope that the North Koreans would absolutely reconsider such a reckless, reckless step," he told CNN. He said that whether the activity observed by satellites was real or simply a bluff, "it involves crying for help, frankly." "North Korea, I think, has been seeking a dialogue with the United States, with the rest of the international community... through their usual policy of nuclear blackmail, nuclear brinkmanship, to force the other parties to engage them," he said. Mr ElBaradei has already urged the international community to put pressure on North Korea not to go ahead with the test, and appealed to Pyongyang to return to the negotiating table.
Profile: Mohamed ElBaradei
Mohamed ElBaradei aboard reading a newspaper
As head of the United Nations' nuclear watchdog, Mohamed ElBaradei has frequently found himself in the spotlight.
Dr ElBaradei is a former Egyptian diplomat who joined the International Atomic Energy Agency (IAEA) in 1984 and held a series of high-level policy positions in the organisation before becoming director 13 years later. The United States supported his nomination back in 1997, although relations between Washington and the IAEA have not been without tensions in recent years. For although Dr ElBaradei has agreed with the current administration on a number of key nuclear-related issues, he is not afraid to speak his mind. He has particularly lambasted what he sees as double standards on the part of countries which have nuclear weapons, but which seek to prevent others from procuring them. "We must abandon the unworkable notion that it is morally reprehensible for some countries to pursue weapons of mass destruction, yet morally acceptable for others to rely on them for security - and indeed to continue to refine their capacities and postulate plans for their use," he has declared.
Treading carefully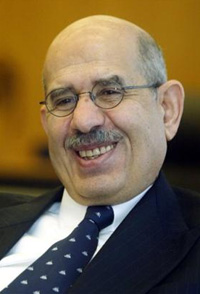 IAEA Sec. Gen. Mohamed ElBaradei has spent 20 years at the IAEA.
Born in Egypt in 1942, Dr ElBaradei studied law at the University of Cairo. He began his career in the Egyptian Ministry of Foreign Affairs in 1964, and worked in Egypt's permanent mission to the UN both in New York and in Geneva. Dr ElBaradei holds a doctorate in international law from New York University's law school. In 1980 he became a senior fellow in charge of the International Law Programme at the UN's Institute for Training and Research. His early diplomatic training is apparent in everything he does - from the relaxed but careful way he talks to journalists, to his dealings with countries' nuclear programmes. Since taking over from Swedish diplomat Hans Blix in 1997, Dr ElBaradei has employed diplomacy to deal with nuclear rows over Iraq, North Korea and Iran, and insists that even in the most difficult situations, progress can be made. "Verification and diplomacy, used together, can work," he says. "The Iraq experience demonstrated that inspections can be effective even when the country being inspected is less than co-operative. All the evidence indicates that Iraq's nuclear weapons programme had been effectively dismantled in the 1990s through IAEA inspection, as we were nearly ready to conclude before the war. Inspections in Iran over the past year have also been key to uncovering a nuclear programme that had remained hidden since the 1980s." Dr ElBaradei's views on Iraq inevitably contributed to tensions with the US, and his approach to Iran has not convinced many members of the Bush administration. They want a tougher response to the country's uranium enrichment activities - a part of the nuclear fuel cycle that can be directed to both energy and weapons purposes.
Tipped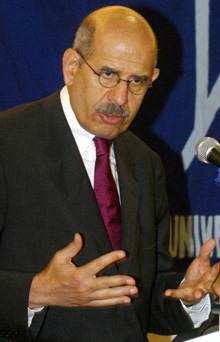 Dr. Mohamed ElBaradei as IAEA chief
However, Dr ElBaradei has found consensus with President Bush on a number of issues - notably on the need to supplement the Nuclear Non-proliferation Treaty, the main treaty that seeks to limit the spread of nuclear weapons, and the need to penalise states that opt out of the treaty after acquiring nuclear equipment under the guise of a peaceful program. Both are keen to find a way to deny countries that refuse to sign the treaty, or those that are suspected of cheating on it, access to technology that enriches uranium or reprocesses fuel that has been used in peaceful nuclear reactors and which can also be used in nuclear bombs. There has however been suggestion that the US will not support his bid for a third term as head of the IAEA. According to officials, Washington is in favour of the so-called "Geneva rule," the position of the Geneva group of top 10 contributors that heads of international organisations should not serve more than two terms. However if he wins the Nobel Peace Prize, as he has been tipped to do, it is thought unlikely that they would oppose his reinvestiture.
The above article is from BBC.