Ambassador of Dominican Republic Hector Galvan
"The people of the Dominican Republic are among the friendliest in the Caribbean, and the hospitality here seems more genuine compared to some more commercialized Puerto Rico," said the Ambassador of Dominican Republic Hector Galvan in a special interview with The Seoul Times, "The Dominican Republic's white sand beaches, inexpensive resorts, and rich natural beauty are among the finest in the Caribbean."Amb. Galvan said that the Dominican Republic is the oldest country in the New World. He talked about the economy, industrial infrastructure, tourism of Dominican Republic and also the harmonic bilateral relation between Dominican Republic and Republic of Korea. Following are the questions and answers of the interview:
Q1: How long have you been serving here in Seoul as top Dominican Republic envoy? What area of bilateral diplomatic relations will you focus on during your tenure in Seoul?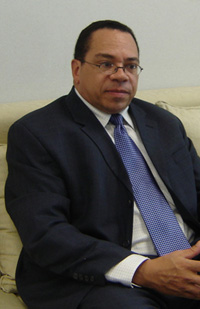 Ambassador of Dominican Republic Hector Galvan
A1:
I have been serving here in Korea for around three months. I am very focused on working seriously to establish cooperation on the information technology (IT) and biotechnology between Korea and Dominican Republic. Because I know that Korea has strong development in those areas, and Dominican Republic offers a great and strategic location on the Caribbean and Center American countries. We are so very close to the USA market and that can help to save money and time for Korean investors who could install in my country.
Q2: How large is the trade volume between Republic of Korea and Dominican Republic? What, do you think, could be done for increasing trade volume between the two countries?
A2:
At this moment, the trade volume between the Republic of Korea and the Dominican Republic is most favorable to Korea. A lot of Dominicans buy cars, air conditioners, and other electronic equipments made in Korea. But we have some products that could be interesting to Korea like organic bananas, juice, marmalades, amber, chocolate, and cigars. Also, we have very good rum and beer. We are meeting with the Korean importers association and showing them what we have. Also, we are promoting the potential of Korean market to the Dominican Association of Exporting in order that they can send products and samples to the Korean market.
El Santo Cerro (The Holly Hill) en la Vega, the heart of the Cibao Valley. This church, built atop a hill overlooking the valley in all directions, is a shrine for Nuestra Señora de las Mercedes. Photo Courtesy Eric Periche
Q3: What are your plans to attract more South Korean corporations in your country or vice versa?
A3:
We are talking to some Korean governmental institutions like the Ministry of Industry and Energy to establish some cooperation agreements with the Dominican government in order to increase the bilateral cooperation between our two countries. We are planning to create a website for the embassy of Dominican Republic in Korean language and also Spanish where all Korean companies could have direct access to Dominican market information and to the different institutions of my country in order to help investors. Also, we are promoting the geographical location of Dominican Republic for Korean investors, which are added to the appropriate climate and all government support.
Q4: What are some of the important economic issues between the two countries? What should be done to boost bilateral relations in general? What, do you think, you can do to further enhance bilateral ties?
A4:
The possibilities of establishing an IT center of Korea in Dominican Republic could be a boost to the bilateral relations between the two countries. We are making a strong effort in that way.
"La Marina" at Casa de Campo Hotel, La Romana. SE of Santo Domingo. Photo Courtesy Emile De Boyrie
Q5: What is the present state of the people's exchanges and cultural exchanges between the two countries? Do you have any plans to introduce more Dominican Republic culture to Korean people or vice versa?

A5:
At this moment, we have around 25 Korean companies established in the textile sector and Free Trade Zone (FTA) of my country. They have around 70 million US dollars of investment and have created more than 5,000 jobs. My government is very thankful for the investment, especially on the new items and niches, like electronic, technology, and biotechnology. We have natural resources that with the Korean technologies we could do a lot new things together. A lot of Korean plays golf in my country, because the weather is very good most of the year.
We have very good food; the meringues music is so attractive and contagious. I think Koreans like the Caribbean music and Dominican are very good in meringue and Bachata. We like the cultural traditions as Dominicans on Independence Day and the celebration period s of different provinces. I think Koreans shall visit my country and they will enjoy our beach, and also the friendliness and hospitality of my people. Dominican likes to make friends and Koreans too.
Q6: Have there been any important developments or events between Korea and your esteemed country in the last year in the economic, political, cultural, or other fields? If yes, please elaborate.
A6:
What the Dominican Republic is looking for from Korea is the way to establish one computer to each professor and teacher in all Dominican schools. Korea shall invest on the technological corridor for the Caribbean. Seoul can be a partner in "Technological Institute of Las Americas" to teach new technology and it could be used for its own factories for exporting.
Las Galeras is a charming village at the end of the peninsula of Samana, in the northeast of the Dominican Republic.Photo Courtesy Serge Holzemer
Q7: Do you foresee any chance that within this year chief executive of your country visits South Korea? Are there any economic delegations or any other delegations coming to Korea?
A7:
President Leonel Fernandez would like to visit the Republic of Korea very soon. There are some similarities between Mr. Fernandez and Mr. Roh Moo-Hyun. It could be a very interest meeting between my president and the Korean president. If it does occur, the relationship between those two countries could be increased and there would be more opportunities to increase our economic and cultural exchange.
Q8: What are the major tourist destinations of your country? Please explain in detail.
A8:
The United States is the country that most visits the Dominican Republic. More than 240,000 visited my country during the year 2004. Also, Canadian people are popular. Europeans are also very common in my country, like Germany, UK, Spanish and Italian. From South America, Venezuela and Argentina come the most visitors.
Q9: Could you please tell us in detail about your family? Are they all here in Korea? What do they do?
A9:
I have male twins about eight years old. They live with their mother in New York. My mother also lives with one of my sisters in the USA.
Ambassador of Dominican Republic Hector Galvan
Country profile: Dominican Republic
Once dependent on the export of sugar and other agricultural products, the Dominican Republic has become the most popular tourist destination in the Caribbean. Tourism, and the Dominican Republic's free-trade zones, have become major employers and key sources of foreign exchange. The largely mountainous country includes Pico Duarte - the highest point in the West Indies, the Cibao Valley, which is noted for its fertility, large stretches of desert and Lake Enriquillo, the lowest point in the region.
Overview
Although inhabited mostly by people of mixed European and African origins, Western influence is a distinctive feature and is manifested in the colonial buildings of the capital, Santo Domingo, as well as in art and literature. The African heritage is reflected most noticeably in the music. The two heritages blend in the popular song and dance, the merengue. No blending of fortunes, however, is evident in the distribution of wealth between ethnic groups. While the DR remains one of the poorest countries in the Caribbean, it suffers from a huge gap between the rich and the poor, with the richest being the white descendants of Spanish settlers, who own most of the land, and the poorest comprising people of African descent. In between, the mixed race majority controls much of the commerce.
Facts
Population: 9 million (UN, 2005)
Capital: Santo Domingo
Area: 48,072 sq km (18,696 sq miles)
Major language: Spanish
Major religion: Christianity
Life expectancy: 64 years (men), 69 years (women) (UN)
Monetary unit: 1 Dominican peso = 100 centavos
Main exports: Ferronickel, sugar, gold, silver, coffee, cocoa, tobacco, meats
GNI per capita: US$2,070 (World Bank, 2003)
Internet domain: .do
International dialling code: +1809
Leaders
President: Leonel Fernandez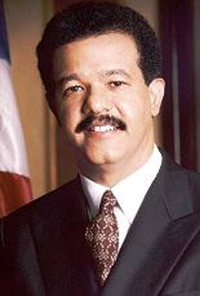 President Leonel Fernandez
Leonel Fernandez began his second non-consecutive term as president in August 2004, after winning elections in May. Campaigning amid economic turmoil, Mr Fernandez had pledged to reduce inflation, to stabilise the exchange rate and to restore investor confidence. Leonel Fernandez pledged to reduce inflation and stabilise the exchange rate Upon taking office he announced the start of a period of austerity, to include cuts to state spending.The lawyer and former university professor joined the Dominican Liberation Party as a young man and was a running mate of the party's founder Juan Bosch in 1990. He successfully ran for president in 1996. During his first term in office the DR experienced economic growth of 7% a year. But his successor, Hipolito Mejia, oversaw rampant inflation, a plummeting currency and high unemployment.The Hipolito government accused Mr Fernandez of corruption whilst in office. He denied the charges and said they were part of a smear campaign by the opposition.Born in 1953, the son of an army officer, the young Leonel Fernandez moved to New York with his family. He returned to the Dominican Republic and attended the Autonomous University of Santo Domingo. Active in student politics, Mr Fernandez obtained a doctorate in 1978. He speaks Spanish, French and English, and is married with three children. Vice-president: Rafael Alburquerque
Foreign minister: Carlos Morales
Finance minister: Vicente Bengoa
The statue of Gen. Gregorio Luperon, truly a Dominican patriot. Photo Courtesy Robert Matthews
Media
Ownership of TV channels, radio stations and newspapers is concentrated in a few economically or politically-powerful hands. Fraud charges levelled against one of the country's main media magnates in 2003, and the collapse of banking group, led to the seizure by the authorities of many press and broadcast outlets. Two dailies subsequently ceased publication. There are several terrestrial TV channels and some 30 multichannel cable TV operators. More than 200 radio stations are on the air, most of them commercial. There are two government stations.The media are regulated by the government and are considered to be only partially free. Newspapers are diverse but subject to government pressure through denial of advertising and taxes on imported newsprint.But the government rarely interferes with programmes, though some subjects, such as the Catholic Church and the army, are generally avoided.
The press
El Caribe - daily
Hoy - daily
Listin Diario - daily
El Nacional - evening and Sunday
Diario Libre - daily
Television Radio Television Dominicana (Canal 4) - government-owned
Color Vision (Canal 9)
Canal 6
Telesistema (Canal 11)
Teleantillas (Canal 2)
Rahintel (Canal 7) - state-owned
Cadena de Noticias (CDN) - news-based station Radio Cadena de Noticias (CDN) Radio - news station
Radio Television Dominicana - government-owned
Rumba FM - one of Santo Domingo's many merengue, salsa music stations Internet DR1 - online news, English-language range of sometimes critical views.