In the mid 1700's Benjamin Franklin complained about German-English bilingual street signs in Philadelphia. Franklin was also concerned that the prevalence of the German language might end up requiring interpreters in the Pennsylvania's Parliament.Not much has changed in the US about language worries. These days though, it's Spanish that raises concerns. Letters to the editors of American newspapers about the importance of the English language are commonplace. One recent one stated that we should keep the heritage language alive at home, but when we go to the bank, shopping, or work we should speak "English."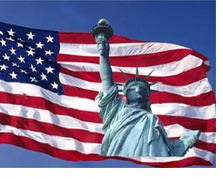 To a large extent the reader was absolutely right. The US is primarily an English-speaking country. Yet, throughout its history, it has been (and continues to be) a multilingual country. Spanish, Italian, French, Apache, Cherokee, and other languages have all been part of the American linguistic landscape. According to U.S. English, an organization created to protect the English language in America, 329 foreign languages are currently spoken in the US. Some languages have very small numbers of speakers. Americans have probably never heard of Zuni, Cushite, Amharic, or Hidatsa.Yet, America holds among its inhabitants speakers of these languages. But Spanish is without a doubt the main "competitor" to English these days. The use of Spanish is visible in all areas of American culture.Major American companies use Spanish to attract customers. AT&T and other phone companies ask you to choose between English and Spanish when you use a phone card. ATM machines ask the same question. Commercials by American and international companies are ubiquitous in Spanish language radio and television. And just as American companies make the sensible choice to address potential customers in their languages, educators use Spanish and other languages to reach immigrant children who don't know English. Although several states have virtually eliminated bilingual education, most of them retain it because using the students' native language softens the hard landing for immigrant children. The government also makes use of foreign languages to provide services to those who have limited English skills. Some government publications are available in other languages, particularly in Spanish. In most states you can take a driver's license test in a foreign language. Being able to drive legally makes it easier to integrate because it facilitates transportation and school attendance, and provides the means of getting to work as well. Some local governments provide extensive services in key foreign languages. The Oakland City Council last year approved an ordinance to hire bilingual employees in departments that interact with the public to better serve Spanish and Chinese speaking residents of the city. The departments affected by the new ordinance deal with public health, police, fire, and business-related issues such as obtaining permits and licenses. In addition, the ordinance would require hiring translators to provide Spanish and Chinese versions of essential documents. No city employee will be fired, but as vacancies occur in these departments every effort will be made to hire bilingual employees. Politicians have discovered that a language other then English may provide an entry to voters' hearts and minds. The most visible example of using Spanish for political gain is George W. Bush, the current US president.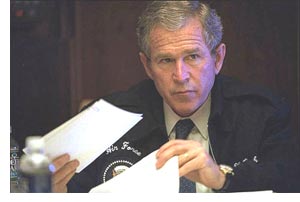 In the 2000 campaign, Bush often sprinkled his speeches with Spanish phrases, particularly when addressing audiences with considerable numbers of Latinos present. Democratic opponent Al Gore, unwilling to be outdone, eventually adopted a similar strategy. The Republican Party has recently adopted a plan to offer Spanish language lessons to key leaders in certain states. Even the FBI relies on linguistic knowledge to investigate crimes, particularly the tragedy of 9-11. Shortly after the attack, the FBI issued an urgent request for Arabic and Farsi speakers. Unfortunately, some Americans view the existence of languages other than English as a cancer that needs to be excised. That explains the 27 American states, which have passed English-only laws. It also explains the virtual elimination of bilingual education programs in several states.These attacks on foreign languages produce very little. Rather than pass English-only laws, which make immigrants feel unwelcome, we should look at the linguistic abilities newcomers possess and make use of them. These talents can and should be used to solve problems in the US, but are also vital to help solve international conflicts. We did so during World War II. Japanese Americans, Italian Americans, and German Americans provided critical linguistic resources to the US in the war effort. American officials also used the Navajo language as a code, which, because of its linguistics complexities, our enemies could not break.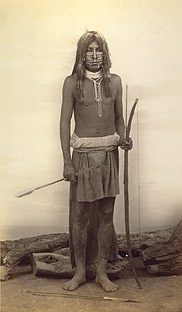 There is no doubt that English is the dominant language of the country and anyone willing to participate in American life needs to know this language. But knowledge of other languages is also vital. The strength of America has always been and will continue to be its people and our ability to integrate the energy brought in by immigrants. Regardless of what language people brought into this country, their contributions have built the nation. The presence of many languages in the US, a fundamentally English-speaking country, has not deterred it from prospering. On the contrary, the languages and the people represented by them have made that prosperity possible.If America ever becomes a perfectly monolingual country, it will only be because it has become an undesirable place to live that no longer attracts people from all over the world. That America draws people speaking nearly every language on the face of the earth is a sign of its strength and greatness, not its weakness. Domenico Maceri (dmaceri@aol.com), PhD, UC Santa Barbara, teaches foreign languages at Allan Hancock College in Santa Maria, CA. His articles have appeared in such world-class newspapers as the Los Angeles Times, The Washington Times, The San Francisco Chronicle, Hispanic Magazine, The Japan Times. His articles have won awards from the National Association of Hispanic Publications.