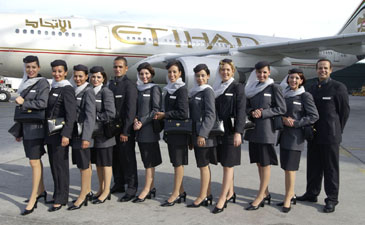 Abu Dhabi, UAE - Etihad Airways, the national airline of the United Arab Emirates, has announced that starting from May 12th it will further expand its cargo services from Abu Dhabi into Italy and South Europe. The second regional freighter, an Airbus A310-300F, has a payload of 39 tons and will operate twice weekly from Abu Dhabi to Milan (Malpensa Airport) every Thursday and Sunday. Additional new routes including Khartoum, Almaty, Addis Ababa, Bangalore and Chennai are expected to be launched soon within the coming few months.This expansion of Crystal Cargo services will further strengthen Etihad's position in Europe, reflecting the airline's ambitious growth strategy and a continuous effort to develop a truly global network. The new service will also enhance Abu Dhabi as the regional link for both cargo and passenger services between the Middle East and Europe.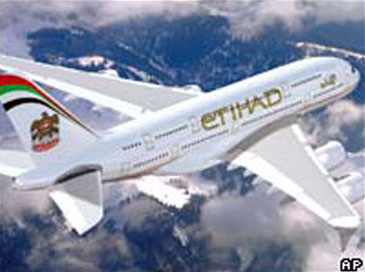 In 2004, the first full year of operation, Etihad Crystal Cargo moved almost 20.000 tons of cargo. The cargo production target for 2005 is in excess of 100.000 tons. By the end of 2006 Etihad Crystal Cargo plans to add four new regional freighter aircraft to its fleet.In the meantime,Etihad Airways from June 1 will increase frequency of flights to various Asian destinations as Asia is emerging one of the key travel spots with Bangkok appears major hub in the region.
The airline will introduce daily flights to Bangkok, where the airline has been flying to four times each week since the launch of the route in April 2004. It will also increase the number of flights to Colombo from three to five flights weekly.
Dr. Shaikh Ahmed bin Saif Al Nahyan, Chairman of Civil Aviation Department in Abu Dhabi and Chairman of Etihad Airways said:"This strategic move demonstrates our commitment to providing passengers with greater access to travel opportunities between the two hubs. It will help building stronger ties between the UAE and Asia.""We are very confident that the increased frequency of flights to Bangkok and Colombo will further motivate our guests to explore this vibrant region rich in tradition and cultural heritage," he added.The expansion of Etihad flights to the Asian region comes at an important time as the airline gears up for the busy summer season. The Far East is fast becoming one of the world's most popular travel destinations, and Etihad Airways is pleased to provide more flights for visitors to the region.