Communist leader Mao Zedong (left) and KMT leader Chiang Kai Shek are making a toast during peace talk in Chongqing in 1945.
The realities between Taiwan and mainland China are "economically hot, politically cold." Their ever-increasing economic ties demand far better political relations. One highly feasible resolution is a "federation." Would it work? The answer: economically, the time is right; politically, it is only few steps away. A federal system would mean more autonomy for Taiwan than Hong Kong and Macau enjoy; for Beijing it would mean the revolutionary concept of a unified China with multiple power centers. Under a federal system, the island would keep its own government, military, judicial and other systems. Its political leadership would not bow to Beijing.In short, it would be a political partnership between equals. Both political entities would be subject only to a "federation" law. And anything is open for discussion under the "one China" principle.
Taiwan's love affair with the mainland
Chairman Lien Chan (連戰) of the Nationalist Party (KMT), Taiwan's largest opposition party, is greeted by Chinese President Hu Jintao (right) at the Great Hall of the People in Beijing April 29, 2005. Photo Courtesy Reuters
Economically, Taiwan and mainland China are well connected. The mainland is Taiwan's biggest trading partner as well as its No. 1 export market. In 2004, total cross-strait trade reached US$61.6 billion, a jump of 33.1percent over 2003; of which Taiwan's exports accounted for $45 billion, by Taiwan's own accounting. Besides ever-increasing trade, investment is another major activity. In 2004 alone, Taiwan Inc invested $6.94 billion in the mainland. Officially, Taiwan's total investment stood at about $40 billion by 2004. But some people estimate it as high as over $100 billion. This discrepancy in numbers comes from numerous government restrictions on Taiwan investment in the mainland; as a result, many members of Taiwan Inc may go to the mainland from a third location. One popular way is via tax-shelter islands. Behind the ever-increasing trade, there is an ever-increasing tide of investment from Taiwan Inc. The mainland is its biggest destination already and it now has over 60,000 Taiwan enterprises.
Taiwan's second largest opposition People First Party Chairman James Soong (宋楚瑜) shakes hands with Chinese President Hu Jintao at the Great Hall of the People in Beijing May 12, 2005.
Photo Courtesy AP
It also has more than 1 million Taiwan residents as well. Shanghai alone has more than 300,000 Taiwan residents. Living and working opportunities in the mainland will only increase for the Taiwan residents, as there are more opportunities for them over there. This cross-strait trade has made a huge difference in the island's economic health. Lately, nearly all the island's growth has been attributed to mainland trade. In particular, cross-strait trade has created 1 million jobs in Taiwan. There are vast additional benefits as well. In reality, there is huge room for improvement, as there are numerous restrictions in Taiwan opposing bilateral trade and investment. For example, its largest energy company, China Power, is allowed only to buy up to one-third of the coal it needs from the mainland. As a result, China Power must spend more money to buy the additional coal from places far away. If such bans were lifted, cross-strait trade could easily double. In reality, better political ties are demanded for both sides to enjoy all the benefits from their huge economic cooperation.
A big step towards a solution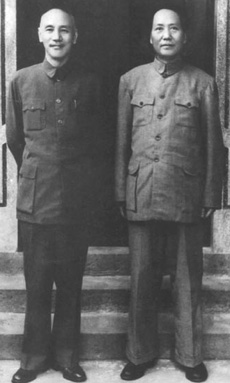 Communist leader Mao Zedong (right) poses with KMT leader Chiang Kai Shek during peace talk in Chongqing in 1945.
Like Hong Kong and Macau, Taiwan is moving fast in integrating its economy with that of the mainland. This process has been accelerating year after year. Taiwan has gained enormously and its economic benefits will directly promote better political relations. The current cross-strait difficulties are caused by the unfinished business of the long-term civil war between the Communist Party and the Kuomintang (KMT), the nationalist party that lost the Chinese civil war and fled to Taiwan. For now, the KMT has become more involved, officially visiting the mainland. Despite all the political uneasiness, the general direction can hardly be reversed. Indeed, in the past six decades, there have been dramatic improvements, from past exchanges in bombshells to vast human and economic exchanges, as is the case today. Simply put, more rational measures will only offer the island's political leadership more advantages. Despite all the frictions between Beijing and Taipei, the roads for peaceful resolutions are wide open. The recent trip to the mainland by the Kuomintang chairman Lien Chan is a very healthy start. It also opens a wider door for more direct exchanges between Beijing and Taipei. Immediately following Lien's trip, James Soong led his People First Party for an extensive trip in the Mainland as well. All this opens a brand new chapter for both sides.For both parties, being Chinese is their greatest strength and nothing is more significant. For now, there are also positive signs from Taipei. In particular, Taipei is considering widening access for mainland Chinese tourists. Also, more political groups from Taiwan are on their way to visit the mainland. As such, widening peaceful contacts and dialogues are emerging. All this points to bright prospects for both sides.
The gift is being offered to mark Lien Chan's visit to China.
In the long run, the most crucial factor determining the ultimate outcome of the unity issue is sustained progress in the mainland, both economically and politically. A progressive and prosperous mainland China will change all the dynamics in the cross-strait relations. Happily, by now, mainland China is entering a new era of deepening institutional and political reforms, besides possibly new rounds of economic advancement. This will fundamentally enhance a peaceful resolution of the unity issue. At the same time, the choices to bring about unity are also vast. They include the choice of a new federation for China, for example. As a matter of fact, it is the best choice on the table.
Why federation?
The central concern is that the island's government is afraid to become a "local government" under a central government from Beijing. Instead, it wishes to maintain itself as an independent political center, having all the autonomy possible. It wishes to keep its independent government body, military, currency and judicial systems, among other things. In short, it does not intend to be subject to a higher central power. For Beijing, the concern is more about political unity. It has become very pragmatic in its thinking and dealings. In its mind, anything can be and should be discussed provided that there is one China. This position of Beijing means that it has walked out on the traditional mentality that a unified China must be governed under one centralized government. This change in mentality and policy lays down the very political foundation for a federation.
| | |
| --- | --- |
| | Casino Lisboa is the first and the biggest casino in Macau at least untill 2004. Situated at the mouth of Macau the most famous casino in the former Portugues colony is one of the biggest attraction in the area. Macau consists of three Islands — Macau, Taipa, and Coloane. Photo Courtesy David Mesquita |
Already, Hong Kong's and Macau's returns to China are exemplary. The situation is different from the United States federal system, for example. In the US, the governor of New York State is elected by the state's residents and his actions are independent of the central government in Washington, DC. However, federal law overrides state and local statutes. Financially, the central government levies a federal tax on New York residents. But in both Hong Kong and Macau, Beijing does not have tax claims over those residents living in those highly self-governed cities, though politically, Beijing remains as the central authority. However, the good will of Beijing goes far beyond the degree of autonomy for Hong Kong and Macau - as far as the special case of Taiwan is concerned. Indeed, Beijing's position is that Taiwan can gain much more autonomy in the future. For a long time, Beijing has been proposing that the island maintain its government and key institutions. Its political leadership would not be subject to Beijing. Both political entities would be subject only to a "federation" law. Anything could be discussed under the "one China" principle. So, China has already moved toward a federation, though Beijing has not used the word "federation." This "federal" approach is revolutionary for China, as it has never happened before. It means that a unified China can have more than one political center. Indeed, Taipei will become another political center under a federation. Gaining multiple political centers would certainly be new to all Chinese. But this is demanded by the current realities and it is the best possible resolution that accommodates the needs of the various political entities.
"Hong Kong Symphony of Lights" show stars at 8 p.m. everyday in the Kowloon, Hong Kong Photo Courtesy Siu Leung Lam
Would this federal alterative do Taiwan any good? It certainly would. Above all, it gets rid of all unwanted political tensions and offers all the opportunities for Taiwan. In short, the island's political establishment would gain all the advantages, while keeping all its existing positive institutions and ways in a federation. Otherwise, continued cross-strait tensions will cause unnecessary damages, even catastrophic damages, if they escalate. Hostility toward mainland China with 1.3 billion Chinese would be most irrational as well as unacceptable to all Chinese around globe. But a change in mentality as well as approach would open the doors to a better world. Above all, they are all Chinese, separated only by an unfinished business of a painful civil war. Now, the Chinese people have all the opportunities to move forward creatively and productively. It means a peaceful unification for the Chinese people living on both sides of the Taiwan Strait. It roots out all the elements for political tensions and the unwanted consequences. Both sides will benefit directly from peaceful unity. This great prospect of a federal alternative has emerged at this time. The rational resolution of the cross-strait tension will enhance global peace and progress, not just for China. For many decades, and even centuries, the Taiwan issue has been a key de-stabilizing factor for East Asia and beyond. A peaceful and progressive outcome would bring benefits to the entire world. So, therefore, the outside world has every reason to be supportive and constructive in promoting the federation concept.