Sec. Gen. of KGGCI Wolfgang Niedermark (center) is attending the press conference (center) with KGCCI President Dieter Brinkmann (2nd from right), German Amb. Michael Geier (2nd from left), head of DAAD Frau Liane Garnatz (far left), and the representative of invest of Germany Gerhart Maier (far right).
A large-scale German business fair is currently underway in Seoul, offering a rare chance for South Koreans to view high-quality products ranging from electric, electronic, education, pharmacy, and machinery to automobile.There are around 100 items in seven different kinds are shown at the business fair dubbed "German World 2005" at COEX Indian Hall in Samsung-dong in Seoul from 10 a.m. to 5 p.m. everyday until May 15, 2005. It was started on May 12.Sixty German companies operating in Seoul are participating in the exhibition organized by the Korean-German Chamber of Commerce and Industry (KGCCI).The German companies include Siemens Ltd. Seoul, BMW Group Korea, Lufthansa German Airlines, Bayer Korea Ltd., EADS Astrium GmbH, MAN Turbo Ltd., Merck Limited Korea, Lahmeyer International GmbH, BASF Company Ltd., Adidas Korea Ltd., and Fuchs Lubricants (Korea) Ltd.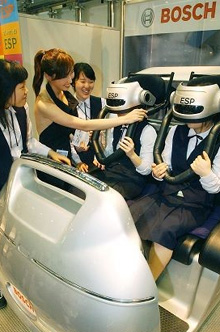 An ESP simulator at Bosch boot of "German World 2005"
Among the exhibition items are Bosch, Generators CT, Angiography, Gas Turbine, Compressors & turbine oil, Refineries, Petrochemical plant, Motors, 7 Series car, Motorcycles, Agrochemicals, Plastics, Polyurethane, Coatings, Space radars, Pigments and Cosmetic Ingredients, Liquid Crystal, Styrene Monomer, Lysine and Vitamin B2, Sports item, Industrial Oils, Engine Oils, Greases, and Rust Preventives."German World 2005 is an image fair organized by the Korean-German Chamber of Commerce and Industry to promote German high-tech products and world-class services," said KGCCI President Dieter Brinkmann at a press meeting held at the Millennium Seoul Hilton Hotel in Seoul on May 11, 2005."We want to attract our Korean customers and let them experience the excellent quality and high standard for which 'Made in Germany' stands," said Brinkmann.Also attended at the press meeting were Amb. Michael Geier of German embassy in Seoul, secretary general of KGGCI Wolfgang Niedermark, head of DAAD Frau Liane Garnatz, and representative of invest of Germany Gerhart Maier.The exhibition is the fourth hosted by KGCCI, and the largest in its scale.As part of the "the German World 2005," the German Academic Exchange Service (DAAD- Deautscher Akademischer Dienst) hosted a German education fair in the same exhibition area.Approximately 15 universities are introducing the German academic system for the future Korean students to highlight the prospects and possibilities of study and research in Germany.The Goethe Institute is also doing its part to help local spectators sample contemporary German culture. Traditional German cuisines and beverages are also availabe in the restaurant set up at the exhibition area.KGCCI was established in 1981 with the aim of promoting economic relations between the Federal Republic of Germany and the Republic of Korea.With the steady increase in bilateral trade between Korea and Germany over the past several decades, the activities of the KGCCI and the demand for its professional services have been increased accordingly.South Korea is Germany's third largest trade partner in Asia whereas Germany is the world's six biggest economic partner to Korea. Bilateral trade volume reached 16 billion US dollars in 2004.KGCCI has now over 350 corporations as its member covering all types of businesses and all fields of industry.