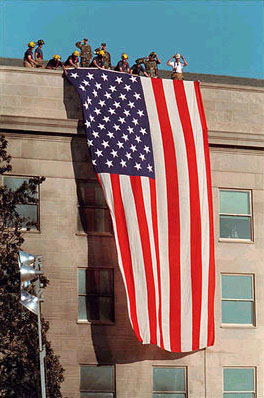 The newspaper headline showed that 83% of Santa Ana, CA, residents speak a language other than English (74% of them Spanish). In the State of California that figure is 39%, while the national average is 17%, lower, but still significant numbers.If you looked beyond the headline, however, you found that these figure apply to the language used at home. The article did not make clear that these people also spoke English in addition to their native language.
When you add those who speak only English at home and those who speak English and another language, the total number of people who don't know English drops considerably. It's difficult to understand why a major Southern California newspaper would consider this piece of information from the 2000 US Census newsworthy. With an already charged atmosphere of anti-immigrant feelings only a few months after the terrorist attacks in New York, the headline can only add to the negative feelings Americans have about outsiders. The question of language has been, and will, in all likelihood, continue to be a controversial issue in the US, particularly in the southwest. In the last several years, the anti-immigrant climate has pushed a number of states, including California and Arizona, to pass initiatives to eliminate bilingual education from the public schools. Many voters felt that immigrants' kids were not learning English and the programs were a failure. Mostly, the underlying motivating factors for approving the initiatives had to do with the feeling that too many immigrants were coming to the US and that either they learn English and Americanize or else they should go back to where they came from.Another anti-immigrant signal emerged also through language.
In recent years, voters of more than twenty-six states approved legislation declaring English the official language.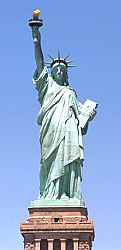 Legislation in Congress was also introduced to declare English the national language but it has not moved forward. The hope is that by focusing on English we would also save money, since services in other languages would not have to be provided. We would not need officials who speak other languages to meet special needs required by immigrants. The focus on English goes beyond monetary cost. Americans' insecurity about controlling the borders certainly influences voters' reactions to questions of language. Since people from other countries, particularly Spanish-speakers, continue to enter the US, at least they will be forced to learn English. The push for English monolingualism also sends a message to those who advocate multi-lingualism and multi-culturalism. The US is one country, with one flag, and one language. Monolingualism is the glue that holds the country together. We don't want to be like Canada, which, some believe, can come apart at any time because of bilingualism.Unfortunately, monolingualism will provide no answers to problems facing America. Whether we like it or not, the US depends on other countries to maintain our standard of living. We can't isolate ourselves from the rest of the world. Building an English-only fence around our borders and not going out nor letting anyone in is out of the question. Thus we need to face up to the fact that language is the key to our relationship with the rest of the world. I always find it interesting that when newspapers show world leaders shaking hands, they appear to be talking to each other. In fact, in most cases they aren't. They can't. They need interpreters, otherwise they would be speechless. The fact that interpreters never appear in the photos gives us the wrong impression about the importance of languages. There is little doubt that we live in a multi-lingual and multi-cultural world. To a certain extent, the US has always been a multi-lingual and multi-cultural country. Rather than pass English-only laws, which make immigrants feel unwelcome, we should look at the linguistic abilities newcomers possess and make use of them.These are talents that can and should be used to solve problems in the US but are also tools to solve international problems. We did so during World War II. Japanese Americans, Italian Americans, and German Americans provided critical linguistic resources to the US in the war effort. American officials also used the Navajo language as a code, which, because of its linguistics complexities, our enemies could not break. Multilingualism does not translate into problems, as Americans seem to believe. Languages do not cause countries to break apart. If that were the case, Switzerland, with four languages, would have come apart centuries ago. Languages are the link to the rest of the world. If we can't talk to people and show them what we are really like, we'll let extremists describe us. And that leads to disasters.