California Gov. Arnold Schwarzenegger
When California Gov. Arnold Schwarzenegger said that the US should "close the border" with Mexico in a speech before the Newspaper Association of America, he soon apologized saying he meant "securing the border." Schwarzenegger blamed his faulty English and joked that he needs to go back to school.It was difficult to apologize when he praised the Minutemen Project, an armed citizen group, for doing a "terrific job" in stopping illegal immigrants from Mexico. This is a group that President George W. Bush called vigilantes.Both statements reveal Schwarzenegger's true feelings about illegal immigration and at the same time his political desperation.Soon after becoming governor of California, Schwarzenegger pressured the state's legislature to repeal a law that would have allowed undocumented workers to obtain driver's licenses.He was able to convince legislators he would support a new law that would do the same thing. That law never became a reality in part because Schwarzenegger wanted undocumented residents of the state to have licenses which would essentially identify them as illegal immigrants.Unable to attack California's unions and restructure the government according to the wishes of big business, for which he is a stand-in, Schwarzenegger is now using Pete Wilson's tactics of attacking the most vulnerable people in California to improve his political future.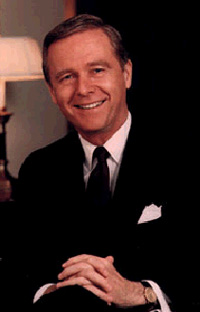 Ex-California Gov. Pete Wilson
Wilson, as is well known, was a key adviser to Schwarzenegger when the Austrian body-builder-cum actor ran for governor. Wilson has a great deal of experience in attacking undocumented workers.Many Californians still remember his offensive commercials in which he accused Mexicans of "invading" California. Wilson used the illegal immigration issue to his political advantage and eventually got reelected.The prejudice against undocumented immigrants is strong among Americans and Schwarzenegger is using this bigotry to show that he is a true conservative — even more conservative than George W. Bush who disapproves of the Minutemen Project.The reaction from the Minutemen Project to Schwarzenegger's words has predictably been enthusiastic.Grey Deacon, the administrator of the Minutemen Project, praised Schwarzenegger, calling him "the most responsible governor in the west."The Minutemen Project plans to extend its operation to California in June and expects to have the support of the governor.It may be that Schwarzenegger not simply does not understand the English language as he stated, but he also does not understand the law he vowed to uphold.When the president of the United States and the Border Patrol say that the Minutemen may not have the legal right to patrol the border, you would think that a governor would pay heed.However, supporting the armed citizen group in their patrol of the California-Mexico border could backfire. If deaths occur during the patrol of the Minutemen Project, Schwarzenegger could be considered responsible for encouraging them.Whatever happens, there is little doubt that Schwarzenegger's diminishing political fortunes may have pushed him to direct attention away from California's substantive issues. His approval rating is around 40 percent. California's state budget is still a disaster. Unable to cut spending or increase taxes, Schwarzenegger convinced Californians to approve a bond, which means our kids and grandkids will pay the bills.With his political agenda stalled because of Democratic opposition and little Republican support, Schwarzenegger may have found a winning issue in attacking undocumented workers. As an immigrant himself, Schwarzenegger says he understands immigration issues. Indeed, he has stated that he is a "champion" of immigrants. But what Schwarzenegger understands best is politics. Politically, becoming an advocate of "closing" the border with Mexico is a winning issue. Morally, it's as bankrupt as you can get.