Tunisian Minister of Communications Technologies Montasser Ouaili speaks to journalists at a press conference.
Tunisian Minister of Communications Technologies Montasser Ouaili calls Korean IT operators for an active participation in the second phase World Summit on the Information Society (WSIS) to be hosted by Tunisia next November.Mr. Montasser Ouaili came to Seoul to attend Seoul Digital Forum held from May 18th to 20th, 2005. The event was organized by Seoul Broadcasting System (SBS) and the Korean Ministry of Information and Communication.The annual forum brings together top business executives and prominent leaders from different countries to exchange experiences on the current digital era and discover strategies for the most efficient use of digital technologies.Aware that the widening gap between rich and poor countries gave birth to new cleavages and challenges that are illustrated through the increasing digital gap between peoples and countries, Tunisia was among the first countries to call the international community to tackle this sensitive issue by convening an international Summit under the auspices of the United Nations Organization.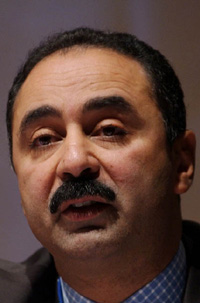 Tunisian Minister of Communications Technologies Montasser Ouaili
It is, in fact, upon the proposal made by Tunisia, in 1998 in Minneapolis, that the International Telecommunication Union (ITU) Plenipotentiary Conference adopted a resolution to hold a World Summit on the Information Society, aiming to reduce disparities between rich and poor countries in terms of development and access to knowledge and information technologies.In 2001, the UN Organization entrusted the "ITU" with the organization of a Summit in two phases: the first one was already held at Geneva in December 2003, while the second phase will take place at Tunis from the 16th till the 18th of November 2005.WSIS aims to bring together heads of state and government, executive heads of United Nations agencies, non-governmental organizations, civil society entities, industry leaders and media in a truly multi-stakeholder process to promote a common approach aiming at reducing the digital gap.During a lecture given on the occasion of Seoul Digital Forum, Mr.Montasser Ouaili underlined Tunisia's commitment for consolidating the foundations of the information and knowledge society as well as its determination to ensuring the success of this historic event, through a close cooperation and coordination with participating governments, international organizations, and the relevant partners from the civil society and the private sector.Several Korean firms and IT institute have either confirmed their participation to the WSIS or are seriously considering the contribution to Tunis Summit and take advantage of the numerous opportunities of contact, commercial events, exhibitions and workshops to be organized on the sideline of this event , from November 14th to 19th, 2005. In its 2004-2005 report on the new information and communication technologies, the Davos World Economic Forum, Tunisia was classified 31st among 104 most advanced countries in terms of access and mastering of the new information technologies.