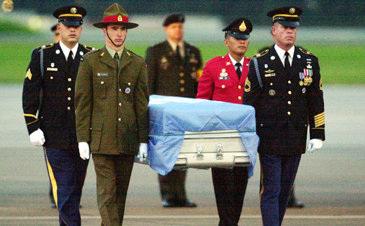 A joint service honor guard carries the remains of a U.S. serviceman killed during the Korean War. Three sets of American servicemen's remains were repatriated during the service at Hickam Air Force Base, Hawaii. The remains were recovered from North Korean burial sites in areas where hundreds of American soldiers fell in battle.
The United States has suspended its efforts to recover the remains of missing US servicemen in North Korea. A Pentagon spokesman said the restrictions placed on the US teams inside North Korea were too great to make the recovery operations feasible. The teams have been searching the reclusive state since 1996 for the Korean War remains. They have recovered hundreds of sets of remains, and North Korea has been paid millions of dollars. But the North Koreans - who are sensitive to having foreigners on their soil for fear of espionage - have always strictly controlled the movements and communications of the American teams. On Wednesday, the US said the conditions under which the recovery teams worked had become intolerable. 'Unconducive environment' A US government official said the final straw was the refusal by the North Korean authorities to allow any kind of communication system operating between teams in different areas.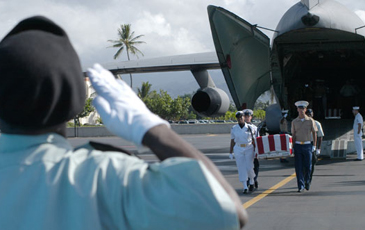 Members of the United Nations Command Honor Guard unload a casket carrying believed remains of U.S. war dead from the Korean War from a C-130 aircraft here. Around three hundred people attended a solemn repatriation ceremony.
The official said this had become a safety issue for American personnel and the recovery operations had been suspended. "North Korea has, over the last several weeks, created an atmosphere and an environment unconducive to the continued presence of American personnel in North Korea," said Lt-Cmdr Jason Salata, a spokesman for US Pacific Command. But a statement by the command said the co-operation would be resumed if an "appropriate environment" was created. BBC Pentagon correspondent Adam Brookes says that these operations are one of only a tiny handful of official contacts between the US and North Korea. Their suspension reflects the near-impossibility of cooperation between these two countries on even the simplest of tasks, he says. There are thousands more US servicemen missing in North Korea, and many of their remains are thought to be recoverable.
The above article is from BBC.