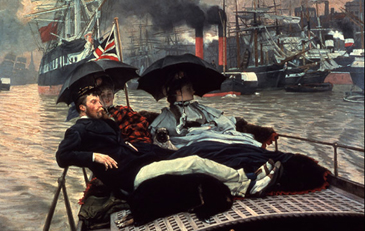 "The Thames," an 1876 oil by James Tissot, part of the exhibition "Monet's London." Wakefield Art Gallery, England
YOU can see why museums keep playing the Monet card, as the Brooklyn Museum is doing in "Monet's London: Artists' Reflections on the Thames, 1859-1914," a polished and studious traveling show that gives much pleasure, yet causes some frustration.Monet made the world look wildly, paradisically pretty at a time when it was anything but. He turned the eradicating grind and dishevelment of the industrial era into a lyrical music, bathing smokestacks and haystacks alike in a symphonic gauze of color and light. By painting an anti-Romantic reality in a Romantic way, he let his middle-class audience, the new art audience, have its illusions, and we continue to reward him with our loyal attention. This attention is not hard to give because his art is omnipresent. Big museums own piles of his paintings, and smaller institutions have their share. The Museum of Fine Arts in St. Petersburg, Fla., has one - "Effect of Fog" (1904) from the "Houses of Parliament" series - that it values highly, so highly that it built "Monet's London" around it.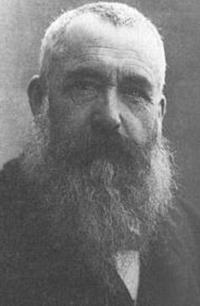 Claude Monet (1840-1926)

The painting is one of a dozen Monets in the exhibition, organized by Jennifer Hardin, chief curator at the St. Petersburg museum. And those are among the many dozens he produced, or sketched out, during three extended trips to London, the first as a political refugee from the Franco-Prussian War in 1870, the other two in 1899 and 1900-1 when he came expressly to paint the city. Once there, he zeroed in on just a few subjects - sections of the Thames, several of its bridges, the Houses of Parliament - and painted them repeatedly. The London paintings are famously gorgeous. The handful in Brooklyn, installed on two curving walls at the center of the show, certainly are. They are surrounded, however, by many other images of London: more than 100 paintings, prints, drawings and photographs by 50 other artists. Some of the pictures - including those by James Abbott McNeill Whistler, Winslow Homer, André Derain and Camille Pissarro - are knockouts. Others by American, French and British artists now known primarily to art historians range from very fine to blandly informational. As a group they quickly make clear that the show is not about Monet, but about London itself, a city with specific attractions for artists in the late 19th century. One of the attractions was commercial. As the art historian Petra ten-Doesschate Chu points out in the catalog, patronage in France remained in the grip of an academy that sanctioned only by-the-book religious art and history painting, leaving nonconformists like the Impressionists out in the cold. London, by contrast, had a network of independent dealers and private patrons interested in genres from portraiture to landscape to still life. Here, the Impressionists reasoned, they might make some sales.Equally important was the appeal of London as an image, a subject for art. The Victorian city was modernizing at almost reckless speed, a process particularly evident on the Thames. For centuries, the riverfront had been blighted terrain, its neighborhoods poor, its banks slippery with raw sewage.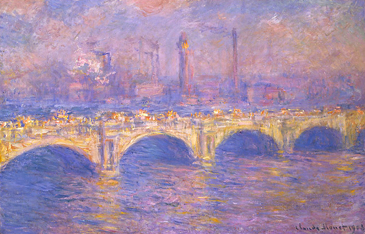 In Londontown: Claude Monet's "Waterloo Bridge, London" (1903). Carnegie Museum of Art
During the broiling summer of 1858, the water gave off a stench so foul that Parliament had to shut down. As a result of the Great Stink, as it was called, a new sewer system was finally installed, with underground pipes along the river creating pedestrian embankments. The transition of the Thames from cesspool to modern scenic attraction was under way. Modern meant making sweeping alterations to every aspect of the riverfront, including bridges. This is the subject of "The Last of the Old Westminster" (1862), an early Whistler painting that opens the show. It depicts a bridge indelibly associated with Wordsworth being dismantled as its replacement rises beside it. Despite a tinge of nostalgia in the title, the image is clinically objective. For the American-born Whistler, child of an engineer, documenting urban demolition and construction was far less an occasion for Romantic meditations on time and change than an opportunity to graphically work out structural design in action.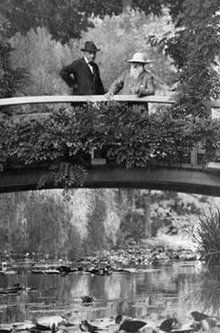 Claude Monet (1840-1926), French Impressionist in his Garden at Vernon in Normandy, France in 1922
Modern also meant an environmental crisis. Where Wordsworth in 1802 saw London "glittering in the smokeless air," Dickens half a century later saw a different scene: "Fog everywhere. Fog up the river, where it flows among green aits and meadows; fog down the river, where it rolls defiled among the tiers of shipping and the waterside pollutions of a great (and dirty) city." But where Dickens used London's smoke-generated fog - smog - as a symbol of moral blindness and political corruption in "Bleak House," Whistler and Monet exploited it as an exotic scenic effect, no comments attached. This was modern, too, the insistence that art was not a vehicle for social or sentimental edification, but a self-referential activity; a self-sufficient universe. From this aestheticist standpoint, fog was ideal weather and night the perfect time of day, transforming toxic reality into soft-focus visual theater. Whistler, whose "Nocturne" paintings and "Thames Set" prints were in circulation in London in 1870, may first have inspired the younger Monet to see the city that way. There is no question that the presence of Whistler and the example of Monet prompted many other artists to take London as a theme and to portray it in specific ways. The bulk of the exhibition, coordinated at the Brooklyn Museum by Elizabeth A. Easton, chairwoman of the department of European painting and sculpture, is basically a record of that influence playing itself out. Several painters followed closely in Monet's track. The American Impressionist Childe Hassam is one; the neo-Impressionists Georges Lemmen, from Belgium, and Henri Le Sidaner, from France, are others. Whistler had an especially potent effect on a trans-Atlantic generation of printmakers, among them Clifford Addams, Henri Guérard, Bertha Jaques, Thomas Way and, most notably, Joseph Pennell.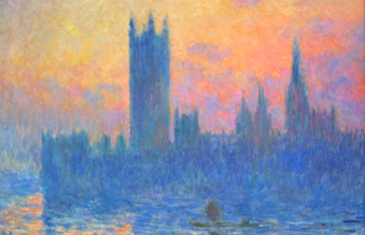 "Houses of Parliament" by Claude Monet (1840-1926)
The American-born Pennell (1857-1926), whose work is seen in some depth, worked with Whistler, and created an approximation in print media of his "Nocturne" painting style. So did another expatriate American, Alvin Langdon Coburn (1882-1966), in another medium, photography. But frankly, all of this is old information. The show finds novelty by ferreting out a number of now-obscure artists to flesh out its Monet's London - or Whistler's London - premise. But the premise itself is restricted primarily to stylistic affinity, demonstrated in an accumulation of illustrative examples, like data supporting a graduate thesis. Meanwhile, certain other questions about London, art and modernity, specifically social and political questions, are skimmed over. And here I am thinking of the wealth of intriguing information suggested by James Tissot's painting "The Thames" (1876), which looks like nothing else in the show. It depicts a man with two women of questionable respectability surveying the river from the deck of a boat, equipped with a picnic and Champagne. It is one of the few paintings in the show that actually situate us on the Thames, at water level. It is also one of the few pictures in which people play a significant role, and fogs and mists almost none. Here we see, without filters, hard details of an insalubrious city, its water and air colored the same greasy gray-brown. The wall of ships in the background makes the reality of British sea power, the strength of the empire, look at once commanding and ignoble, even brutal. The same description might apply to the man stretched out on the boat in the foreground, a representative of the new urban culture whose view of the world is self-confidently proprietary, the opposite of soft. True, there are hints of this London in other pictures, but how interesting it would be to have them drawn out. Most of the pictures in the show are about aesthetic distancing. Yet modern art and artists were an integral part of the new ruling culture, Whistler and Monet as much as Tissot. They are the ones who made its power look pretty, lyrical, romantic.But of course, to have taken the show in that direction would have been to divert it from the uncomplicated focus on beauty that in the end, all exhibitions with the word "Monet" in their titles promise. That promise is what keeps us coming back to this artist. It is also what keeps us from seeing him, or the world he painted, with unmisted eyes.
"Monet's London: Artists' Reflections on the Thames, 1859-1914" remains at the Brooklyn Museum, 200 Eastern Parkway, at Prospect Park, (718) 638-5000, through Sept. 4. It travels to the Baltimore Museum of Art, Oct. 2 to Dec. 31.The above article is from The New York Times.