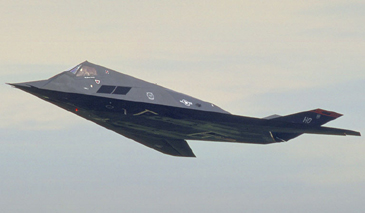 Nighthawks stealth fighter
WASHINGTON (May 29, 2005) — The deployment last week of 15 stealth fighters to South Korea, along with the severing of the American military's only official interaction with North Korea, appears to be part of a new push by the Bush administration to further isolate North Korea despite China's hesitation to join the effort.The deployment, confirmed by the Pentagon on Friday after several news reports, came just after the Defense Department said Wednesday that it was suspending the search for soldiers missing in action since the Korean War.The search was the Pentagon's only mission inside North Korea and its only formal contact with the country's military. The Pentagon said it acted to ensure American troops' safety in the "uncertain environment created by North Korea's unwillingness to participate in the six-party talks," as a spokesman put it, referring to the lack of negotiations on the North's nuclear arms program over 11 months.Although senior Pentagon officials say the F-117 stealth fighters are part of preparation for a long-planned training exercise, the show of force comes at a delicate moment both militarily and politically. China, South Korea and some experts in the United States have urged the administration to make a more specific offer to North Korea, laying out what it would get in return for giving up its nuclear arms program. Administration officials, however, have suggested in recent interviews that they are headed toward taking a hard line, cracking down on the North's exports of missiles, drugs and counterfeit currency.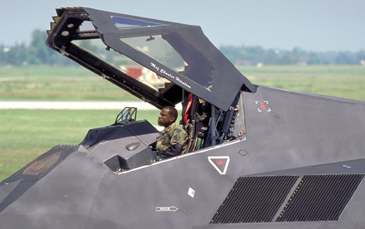 Nighthawks stealth fighter
The United States warned its allies this month that the North might be preparing to test a nuclear weapon. Now senior officials say American intelligence agencies are still monitoring several locations in North Korea where a nuclear test might be held, though they readily concede the evidence that the North will proceed with a test is "partial."Some officials say they doubt that North Korea's leaders are ready to risk galvanizing its neighbors against it by conducting a test and removing all ambiguity about claims that it has built nuclear weapons."It's a very tough calculus for the North Koreans," said one senior official. In struggling to deal with the North's threats and its demands for concessions in return for coming back to the negotiating table, the Bush administration has sent a series of seemingly mixed messages. President Bush himself has repeatedly said he has no "intention" of attacking North Korea. Secretary of State Condoleezza Rice said several weeks ago that the United States recognized the North as a sovereign state. But she and other senior officials have pointedly reminded the North of the extensive American military presence in South Korea. Now, some officials say, the stealth fighters are an added way of making it clear to Kim Jong Il, the nation's leader, that even though the American military is tied up in Iraq, it can reach his capital, Pyongyang, and the nuclear facilities north of it.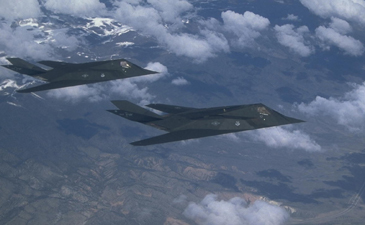 F-117 Nighthawks stealth fighters
North Korea, for its part, on Sunday called the stealth fighter deployment "a risky prelude to war," a term it has often used about American military exercises.North Korea walked away from six-nation nuclear disarmament talks last June. While neither the United States nor its allies plan to abandon disarmament talks that were begun almost two years ago, several senior officials involved in the policy discussions said they viewed the current deadlock as untenable. They added that the administration was deep in consultations to find a new strategy to persuade the Koreans to disarm.In a change that reflects a failure of the present policy, some officials say they will no longer rely heavily on China to sway the North Koreans. Ms. Rice met with China's leaders in Beijing in March specifically to ask them to pressure North Korea. That pressure has continued. But senior officials say they now realize that China may never be willing to use its leverage over North Korea, which relies on China for much of its food, energy and other resources.The Chinese appear to be perfectly happy to have North Korea "roll along in this seemingly stable netherworld," one official said, rather than risk destabilizing the nation, possibly unleashing a flood of desperate and hungry refugees across its eastern border.The officials said another Chinese consideration was that if the North Korean government collapsed, South Korea might claim sovereignty over the North - placing a well-armed American ally on China's border. Several officials said that in the wide-ranging reappraisal of the administration's strategy toward North Korea, every option was being considered - possibly including a richer package of security guarantees and economic cooperation if the North came back to negotiations. But in the absence of talks, much of the discussion inside the administration now is about instituting strong punitive measures, including interceptions of any shipments of suspected illicit goods. On Saturday, however, one official said that such an effort "just won't work if we can't get the Chinese to go along."China opposes a blockade or other new punitive measures and says it is, in fact, pressing North Korea by holding out the promise of a state visit by President Hu Jintao, should North Korea agree to disarm.One senior official closely involved in the issue said that even though getting China to cut off trade with North Korea seemed difficult now, "a good portion" of the North's foreign exchange "is from illegal activity."Increasingly I think the countries of the region are going to recognize that these are unhealthy activities," he said, "and we will act together to try to shut them down."The official also noted that if North Korea went ahead with nuclear testing, it might "galvanize" the other parties in the talks into joint action against the North. In August 2003, North Korea agreed to join six-nation talks involving the United States, China, South Korea, Japan and Russia. The last of several sessions took place in Beijing in June 2004. At that meeting, Washington and the other parties offered to provide security guarantees and some aid if North Korea dismantled its nuclear program. North Korea never responded. To date, whenever Ms. Rice and other officials are asked if Washington should offer more to North Korea, they have routinely said they are still waiting for North Korea to respond to the first proposal. But a senior administration official strongly suggested in an interview that Mr. Bush was not about to improve on the offer made last June. Even as the administration accepts a more pessimistic view of China's willingness to help, almost every option under discussion similarly relies on China. For example, should the United States or others take the issue before the United Nations Security Council, American officials and senior diplomats say they worry that China would veto any effort to impose economic sanctions. A senior State Department official said the Chinese "are genuinely concerned about North Korea's nuclear weapons." The official added: "They can make life uncomfortable for them in small ways. They are still working on it. Will they succeed? I don't know."
David E. Sanger and Thom Shanker contributed reporting for this article.The above article is from The New York Times.