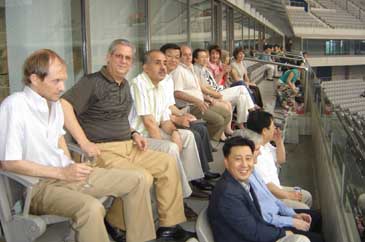 Chairman David Kim of Westech Korea Inc. watches a soccer game with foreign envoys and their wives at Sangam World Cup Stadium May 29, 2005.
Foreign ambassadors and their family need to be introduced to various sectors of South Korean society so that they can better observe the local culture and better understand its people. In actuality, in a lot of cases the members of the diplomatic corps are offered such chances.On May 29, 2005 several foreign ambassadors and their wives were invited to a rare opportunity to watch a local soccer match between FC Seoul and Daejeon Citizen by a local business couple.The couple was Chairman David Kim of Westech Korea Inc. and his wife Kay Lee that helped the top foreign envoys – some with their wives – get the taste of local sport event.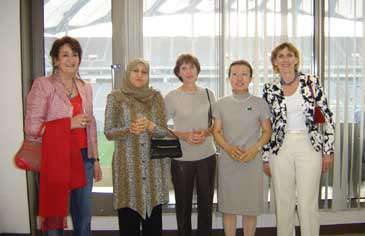 Ms. Kay Lee (second from right) poses with wives of foreign ambassadors to Seoul at Sangam World Cup Stadium May 29, 2005.
The ambassadors were Arild Braastad of Norway, Ahriz Abdelmoun'aam of Algeria, Hussein Rammal of Lebanon, Jaafar Alj Hakim of Morocco, and Roberto Alvarez Henriquez of Chile. Norwegian, Algerian, and Moroccan ambassadors came with their wife. Counselor Guy Ledoux of European Union also brought his wife to the event.Against the backdrop of downing sun over the gigantic state-of-the-art Sangam World Cup Stadium in the western Seoul, they were totally engrossed in the K-League pro soccer match between FC Seoul and Daejeon Citizen, which kicked off at 7 p.m. on that Sunday.Bracing the quite humid and stuffy mid-Summer afternoon, the ambassadorial couples had to drive all the way for nearly one hour to the stadium at the western tip of the Seoul.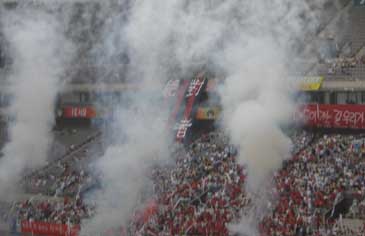 Sangam World Cup Stadium
They were led by security officials and aides to the fourth floor where the entire floor are compartmentalized with huge window for the façade. Food and drinks served by waiting staff may not have been of superb quality but adequate enough to make everyone feel that it was some experience.The buffet dinner was accompanied by both soft and hard drinks including red and white wine, and champagne.Amb. Hakim of Morocco was exhilarated when a Daejeon Citizen's player scored a goal soon after the start of the first half of the game. He looked as if he had some kind of special ties with the provincial city of Daejeon. It soon added another goal within the first half.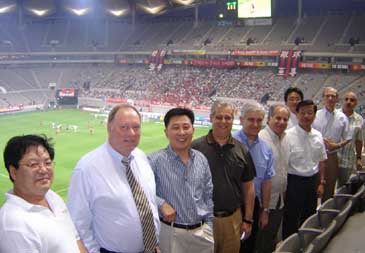 Chairman David Kim (third from right) poses with foreign ambassadors at Sangam World Cup Stadium.
On the other hand, everyone else seemed to side with FC Seoul. FC Seoul's director Lee Jang-Soo is a close confidant of Chairman Kim. Yet, they all cheered every time FC or Daejeon players were about to get a goal. It was not only the top foreign envoys and their spouses but some local and foreign businesspeople as well who were equally excited at the movement of the soccer players.They included President Lee Wan-Kyoung GS Sports, Vice President Jim Doh of Qualcomm CDMA Technology, President Tanaka Katsuhiko of Sumitomo Corporation Korea Ltd.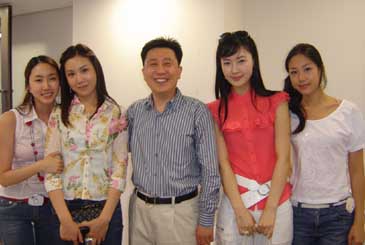 Chairman David Kim poses with Miss Koreas.
In another VIP room near them were a group of beauties holding a variety of Miss Korea titles. They were also invited by Chairman Kim and Mrs. Kim.The FC Seoul had their best scoring chance in the earliy part of the first half when they got a penalty kick but they failed to score due to the excellent performance by the Daejeon Citizen's goalie.Daejeon Citizen had an opportunity to make their score 3-2 with barely a couple of minutes left. But its third goal was declared "not valid" due to the offside. The match ended in a draw with both teams scoring two goals, each.
Foreign envoys visit Sangam World Cup Starium