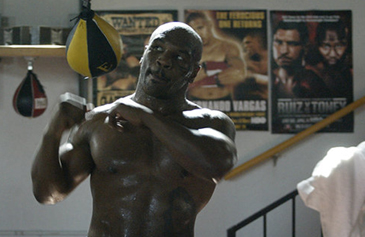 "He's a folk hero, as hard as it is to believe," said lawyer James Cooks, a friend of Mike Tyson. "Because of where he came from, to where he rose, to where he has fallen."
Photo Credit: By Jonathan Newton for The Washington Post
On June 27, 1988, in Atlantic City, three days before his 22nd birthday, Mike Tyson reached the peak of his boxing career. His opponent, Michael Spinks, walked terrified to the ring, a gentle man wearing a mask of fear. You could feel the heat of the crowd. You had to shout to be heard. White lights flashed, and photographers, desperate to have their film developed, struggled against one another inside a darkroom with a ferocity one said he had never experienced. They had it, from one angle or another: Spinks stretched on the canvas, Tyson still the heavyweight king. It happened in 91 seconds.There would not be another night like it in Tyson's time.Seventeen years later, having lost most of his ring skills, bitten off part of Evander Holyfield's ear, served a prison sentence for rape, exhibited repeatedly bizarre behavior and squandered almost $300 million before declaring bankruptcy in 2003, Tyson, almost 39, comes to Washington to do battle Saturday night at MCI Center. Contradicting his decline as a boxer, Tyson can still sell tickets; a crowd of more than 12,000 already is assured. Although his scheduled match with one Kevin McBride is a far cry from that memorable night in Atlantic City, thousands more tickets are expected to be sold, and tens of thousands will watch on pay-per-view television. But virtually no one is anticipating a classic boxing match.What then is the attraction for the paying customers? Are they undying fans of Tyson? Rubberneckers to a crash? The impetuous? The curious? Fight fans hoping to enjoy a decent card? Those who want to take a last look at a heavyweight who once gave promise of being ranked with the likes of Joe Louis, Rocky Marciano and maybe even Muhammad Ali?
| | |
| --- | --- |
| | Tatooed Tyson — At age 20, Mike Tyson became the youngest heavyweight boxing champion in history in 1986. In 1992 he was found guilty of the rape of a Miss Black America Contestant and served 3 years. In 1997 he was disqualified from a fight and temporarily banned from boxing for biting a chunk out of opponent Evander Holyfield's ear during a fight. In 2003 Tyson had his face tatooed. |
In his last fight 11 months ago, Tyson (50-5) was left on his backside by the little-known Danny Williams in Louisville. Before that he knocked out the undistinguished Clifford Etienne in Memphis. Washington seems to be the latest stop in a road show of minor talents. The 6-foot-6 McBride (32-4-1) was beaten by a British heavyweight who was in the process of losing 17 of his last 18 fights before retiring. The Tyson-McBride kind of matchup used to be regular fare in fight clubs and circus tents, a hoot that broke life's monotony for thirsting crowds. These days, in a sport without strict governance, it goes on under a sprinkle of glitz and the cloak of modern buildings.A handful of explanations can account for Tyson's enduring attraction, but none would be in order if this were not boxing, where the participants can linger about as long as they care to, and have never wanted for witnesses to their ignominy."Most good fighters hang around far longer than they should," said Gerald Early, author of "The Culture of Bruising: Essays on Prizefighting, Literature, and Modern American Culture," responding recently by e-mail to questions about Tyson's enduring lure. "Perhaps this is true of elite athletes in general. 'The Roar of the Greasepaint, The Smell of the Crowd,' to use the title of the famous Anthony Newley musical from the 1960s. But there is more to it."Tyson is interesting," said Early, who is a professor of English, and African and Afro-American Studies, and director of the Center for the Humanities at Washington University in St. Louis, "because he has such an act, a persona, that accompanies his athletic achievement. In a sense, he seems trapped by the persona that has enabled him to make money and has been a source of great disruption and distress for him, although his self-absorption borders on the pathological, even more so than most successful athletes.
| | |
| --- | --- |
| | MIKE TYSON shoves Evander Holyfield after Tyson bit Holyfield's ear in the third round of their WBA Heavyweight match Saturday, June 28, 1997, at the MGM Grand in Las Vegas. The fight was stopped after the third round. Photo Courtesy AP |
"In one way, he reminds me of Paul Reubens who played Pee Wee Herman to the point where it was impossible for the public to understand that Paul Reubens was not Pee Wee Herman. Mike Tyson cannot stop being Mike Tyson. What else would he be if he stopped? What else could he do?"
Downward Spiral
Tyson's descent has lasted longer than that of any once-great athlete. The deaths of his original trainer, Cus D'Amato, in 1985 and later co-manager Jim Jacobs began Tyson's downward spiral. He sued his other co-manager, Bill Cayton, at the time of the Spinks fight and broke off with his trainer, Kevin Rooney, after the fight. From that point, Tyson seemed to heed no one's advice, and although he knocked out Carl Williams in 93 seconds only two fights after ending Spinks's career, he already was evolving into an aimless swinger and short-cutting his training. On Feb. 11, 1990, Buster Douglas left him groping on the canvas for his mouthpiece. In years to come, Holyfield and Lennox Lewis would keep him reeling.Tyson discarded the demands and the art of the sport, taught to him in the tradition of Jose Torres and Archie Moore and such greats. Worthy successor to Ali? Unbeatable like Marciano? The beginning of Tyson's greatness also was its end. His jackknifed career and its remains have peen painful to observe, strewn over nearly two decades and exceeded in frightfulness only by the wreckage of his life as he seemed to act out his baddest-man-on-the-planet persona.His vile rants against Lewis precluded that fight from being held in Las Vegas and continued up to fight time in Memphis. Since then, Tyson has been more docile — although he had his face tattooed shortly before fighting Etienne, taking the risk of having his skin ripped open by a punch. Like a lot of things Tyson has done, it made no sense. Yet over the years, for one reason or another, he has remained a compelling figure and, to some extent, a popular one.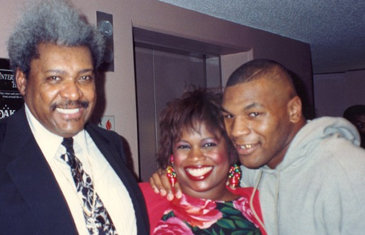 Mike Tyson with Don King, and Jackie Smith at Don King-Mike Tyson Turkey Tour Atlanta
His mystique, however that might be interpreted, and an empathy among ardent supporters, some of whom, perhaps, experienced troubles of their own that lead them to identify with Tyson, certainly account for part of his following. Whatever Tyson has done in a spotlight shone on him since his dramatically quick rise from ghetto to glory and his brief dominating presence as champion, and through all his troubles, people want to stand by him."In the African American community, we believe in forgiveness and redemption," said James Cooks, a Washington lawyer and former boxing manager who considers himself a friend of Tyson. "He's a folk hero, as hard as it is to believe. There is some sense of the hero about him because of where he came from, to where he rose, to where he has fallen."Budd Schulberg's is another sympathetic voice. "It's amazing the hold he still has on the public," said Schulberg, a boxing authority who wrote the script for the 1954 film "On the Waterfront," in which Marlon Brando played a former boxer who "could have been a contender." "It doesn't matter to the public whether he wins or loses, and he's not really won a [major] fight in a long time. He's still the hottest ticket. He has that magic, or whatever you want to call it."He caught the imagination of people, like [Jack] Dempsey did. He was so spectacular when he won the title so young. He probably had the power, the strength up there with Joe Louis."I like Mike. I really like Mike very much. Like all his friends, I worry about him in the future. It's been very tough going, very tough going for Mike. My feeling is that he has about as much chance of getting out from under [financially] as Joe did. He'll never make those fantastic hits again, $30 million for a fight."Richard Lapchick, director of the Institute for Diversity and Ethics in Sport at the University of Central Florida, takes more into account Tyson's disordered personality that in itself attracts an audience, enabling his appeal to outlast his ability. "There's a certain segment of the population that has had kind of a morbid fascination with him. There's also a core of people who like him because of what he was, what he could have been, and some empathize with what he has gone through, to what he is now — a sad figure, is how I would characterize it." Some "see him as evil incarnate and would like something bad to happen to him," Lapchick said, but that is only "a small number."Rock Newman, who managed former heavyweight champion Riddick Bowe and is working as an adviser on the Tyson-McBride fight, said that Tyson is popular in Washington, with a following that accounts for the substantial ticket sales for Saturday's fight.
A Moneymaker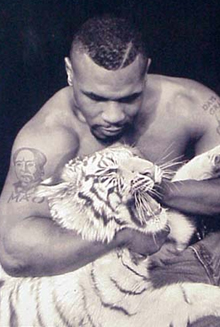 Mike Tyson with his pet tiger
Boxers always have tended to stay long after their prime, aided in part by varying state-to-state regulations. Ali, Louis and Larry Holmes should have stopped sooner. Holyfield is still at it. Bowe, looking overweight and slow, is back. Sugar Ray Robinson couldn't stop when he should have; late in his career, he was hard-pressed to keep up his sagging trunks against a journeyman during a woeful engagement at the Washington Coliseum. Sugar Ray Leonard should never have fought his last two fights but, fortunately, escaped injury. Tyson, too, has overstayed.The crux of his marketability — or what is left of it — clearly is people's fascination with what he might do in the ring, or what might happen to him, not his once-dynamic fighting skills. "I wouldn't pay a dollar to see him," said Bud Greenspan, a boxing aficionado and award-winning filmmaker on the Olympic games, but he knows that others will. "He's a moneymaker."Tyson drew 17,273 to his fight with Danny Williams last July in Louisville, but there has been no clamor for him to return after losing. As the quality of his opposition declines, so, naturally, do his pay-per-view numbers. Lewis-Tyson attracted 1.99 million buys, a record for boxing. Tyson-Williams reportedly did about 230,000. Jay Larkin, a senior executive for Showtime, which will carry Tyson-McBride, declined to confirm that number, but called Tyson "the most compelling figure in boxing — still.""People are now watching Tyson," Larkin said, "because of the event experience, what happens leading up to [the fight] and what happens after it as much as what happens in the ring ... They want to be part of the Tyson event, the Tyson experience."Often, however, that experience has not been uplifting. His ear-bite of Holyfield in 1997 set off pandemonium at the MGM Grand in Las Vegas, which even shut down its casino for a time. In 1999, Tyson tried to break Francois Botha's arm in the midst of their fight, and hit Orlin Norris low and after the bell, leading to a ruling of "no contest" when Norris was unable to continue. A year later, Tyson tested positive for marijuana after stopping Andrew Golota, that, too, resulting in a "no contest."Late in the first round against Williams, Tyson injured his left knee — something that might be expected to happen to an aging fighter. Subsequently, Tyson underwent surgery. There is no question that the injury compromised Tyson's chances of winning. But Freddie Roach, who trained Tyson that night but was not retained, refused to blame the injury entirely for the end result, Tyson being counted out in the fourth round. "I can't take credit away from Danny Williams," Roach said. "By the end of the fight, Mike was tired. Mike had had enough ... I believe it was a decision [by Tyson] to stay down. I think Mike decided to stay down at that point."After the fight, promoter Bob Arum appeared to back off from a reported four-fight, $100 million deal for Tyson. "You can't put him in with legitimate heavyweights," the Associated Press quoted Arum as saying. "If he's going to continue in the ring, it's got to be on a completely different basis. He's got to fight C and D fighters and build his confidence." McBride fits the description."There is the memory of Tyson the unstoppable and that attracts people," Early said, "the sheer memory of how overpowering he was as a fighter, but there is also the mythology of Tyson, constructed self-consciously and inadvertently, that attracts as well. Larry Holmes was a great fighter but he carried no great mythology, no invincibility spiked with tragic self-destructiveness. The only fighter who had that level of mythology [not the same kind] was Muhammad Ali, although the fighter who comes closest to having the same sort of myth was, to my mind, Roberto Duran."The mythology can still help bring in money as long as Tyson doesn't have too many more losing fights. He will continue "as long as there is someone willing to put up the dollars," Lapchick said. He added: "I don't think there's anyone who has endured for so many years without a glimmer of hope, without a chance of reversal of fortune. Ultimately, there's no good end to this story."
The above article is from The Washington Post.