America
Prof. Maceri's special column on bilingualism
Valuing Bilingualism?
Special Contribution
By Domenico Maceri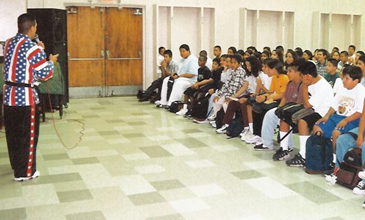 Lennox School District, on Career Day, Mr. Rojas preaches to students to "Say No to Drugs & Gangs."
"As long as you're bilingual, you have an open door," stated José Luis Nuño as he took exception to a new policy in the Lennox School District near Los Angeles which would reduce bilingual education opportunities for his two kids. Currently the District provides the option of bilingual education in all its five schools. Next year that option will be reduced to only one school.
Although some Spanish support will be provided in all the district's schools, much of the instruction will be in English.Moving away from bilingual education will eventually boost test scores, according to Lennox Superintendent Bruce McDaniel, since English is the only language used in the state assessment tests. McDaniel explained that the new policy would only affect students who have reached a reasonable level of English fluency.Mr. Nuño and about 200 other parents are unhappy with the change. Although the opportunity to have their kids taught through bilingual education will still be there, the neighborhood school will not provide it. Travel will be involved for those parents wishing their kids to be educated in two languages.The conflict between the school district and the parents is complicated by Proposition 227, which California voters approved in 1997.The initiative banned bilingual education form the Golden State except in cases where parents sign a waiver and request it.
| | |
| --- | --- |
| | Proposition 227 —In June 1998, Ron Unz's Proposition 227, aks "English for the Children," was passed in California to provide a pogram for LEP students to learn English in one year, however, has no legitimate foundations. Experts assert that Bilingual education offers a rich learning experience for all students. |
That has been the case in Lennox, but state tests added a new wrinkle. A great deal of pressure has been placed on school officials to get students ready for tests regardless of whether or not they reflect actual learning.Mr. Nuño and other parents in the district are not concerned about state tests but rather the education of their kids. Growing up bilingual is a definite plus for anyone living in the US.You don't have to be a genius to figure out that bilingualism will make it easier to find employment.Being bilingual is fast becoming a requirement for jobs in many parts of California and indeed the rest of the country.But there are other advantages to bilingualism which don't emerge in state tests but will do so in the long run. Kids educated in two languages develop a mental agility that monolinguals lack. Studies have shown that bilingualism may indeed make people "smarter" and in some cases may even help prevent Alzheimer.State governments, however, want to know through simple tests that kids are learning. Those tests reduce education to a number which needs to go up and demonstrate quickly to politicians that education is improving. Yet, the tests have little value and do not reflect education. Unfortunately, the tests have a serious impact on funding and both school principals and teachers are under a lot of pressure to improve scores. Eliminating Spanish or other foreign languages is believed to be a way to raise those numbers. "Failing" state tests may mean probation for a school or even dismissal of administrators.Regrettably, if parents don't want to cooperate because they have a different view of education and value bilingualism, which is a long-term goal, conflicts emerge.In the case of Lennox it's not just parents who are not happy. Some teachers have also complained that they have been left out of the process.Proposition 227, which California voters approved by a 2 to 1 margin, took away control from teachers and parents. Unfortunately, voters did not and in general do not know what is best for kids. Parents and teachers do. Mr. Nuño knows what is best for his kids rather than some state tests which push the administration of Lennox to limit bilingual education opportunities for their students.When bilingual education is reduced or eliminated, it's not just the kids who eventually suffer. Monolingualism goes against the needs of society in general and the entire country ultimately pays a price for the lack of vision.

Other Articles by Domenico Maceri
Julián Castro's Monolingualism: a ...
Biden's Immigration Plan: Between Trump and ...
Legal and Illegal Immigration: A Winning ...
World Cup: Beyond the Soccer Field
John Kelly's Fails English and History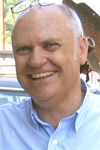 Domenico Maceri, Ph.D., UC Santa Barbara, teaches foreign languages at Allan Hancock College in Santa Maria, CA. His articles have appeared in many newspapers including Los Angeles Times, Washington Times, Japan Times, and The Seoul Times. Some of his stories won awards from the National Association of Hispanic Publications.