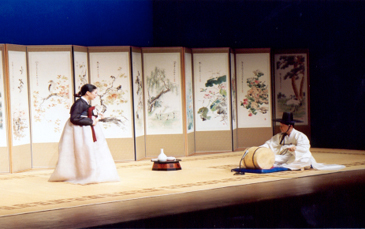 Pansori singer Mili You and Pansori Drummer Junho Jeong
The public of the spiritual capital of the Kingdom of Morocco, the city of Fès, are enjoying a performance of the traditional music "Pansori" by the singer Mili You and her accompanying drummer Junho Jeong.Indeed, the participation of the Korean troupe in the 11th edition of Fès Festival of World Sacred, entitled "Paths of Hope," which are held from June 3 to June 11, 2005, is sponsored by the Korean government. The Pansori performance is scheduled on June 8, 2005 at 5 p.m. at Volubilis site (Fès)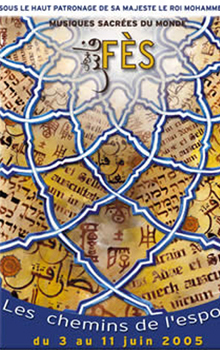 Logo of the 11th edition of Fès Festival of World Sacred Music to be held in Morocco June 3-11, 2005
The presence of Korea at the 2005 Festival undoubtedly enabled the Moroccan general public to discover for the first time the wonderful chant and rhythm of Pansori. Such cultural exchange activity illustrates the close cooperation between the Embassy of Morocco in Seoul and the Korean government, both working and preparing for the success of the Korean participation in the Fès Festival.The Fès Festival is not only a cultural and musical liveliness but in fact a real forum for dialogue, reflection, and fruitful exchange.According to the organizers, the Festival is a project and a vision called the Spirit of Fès. It involves artistic, intercultural and spiritual activities.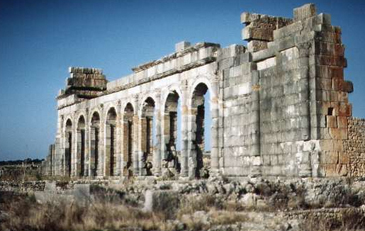 The Roman ruins of the city of Volubilis
The program is also a context for reflection which is entitled "the Encounters of Fès: a soul for globalization." This is an occasion in which people from the entire globe meet for different reasons; for the beauty of the music, for discovering chant, for the sacred in different civilizations and cultures. Music is the direct tool to communicate this soul of the sacred.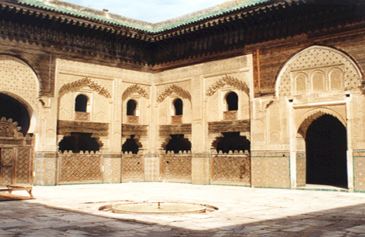 Architecture from Al Andalous mosque in the Medina city of Fès
Sacred Music is an immense repertoire that concerns thousands of years throughout the globe. It is an unlimited exploration since there is always something new to find out in chants and traditions.The Festival is not only an art discovery but also of humanity and of a life style. It is a vision of the world. That is why art is crucial for the promotion of a culture of understanding and tolerance.